Country Style Bedroom Furniture
& Country Bedroom Decor Ideas
You can buy country style bedroom furniture in a staggering number of 'period', national and regional varieties. Or, create your own style with cottage bedroom elements!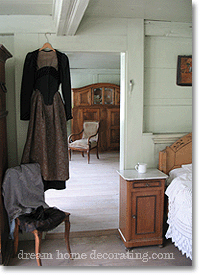 Your personal requirements are key:
1. Do you have a specific country bedroom furniture style in mind?
♦   French country?
♦   Tuscan?
♦   Swedish?
3. What are your priorities for the overall bedroom look?
♦   Do you want traditional shapes and materials?
♦   Do you want to drift off to sleep in simple, natural, peaceful surroundings?
♦   Do you want to recreate memories of beautiful places you've been to?
♦   What do you want to see when you wake up first thing in the morning? Whatever it is, let it inspire your decorating choices. (More about this below!)

3. How are you going to use your bedroom - for sleeping only?   Or will you ...
♦   read, watch TV, listen to music?
♦   eat?
♦   work at a desk?
"Country Style Bedroom Furniture - Your Way!"
One option is to buy your entire country style bedroom furniture in one style and from one manufacturer - it's safe, co-ordinated, you can't really get it wrong that way. But it can look just a little 'samey', sometimes even boring.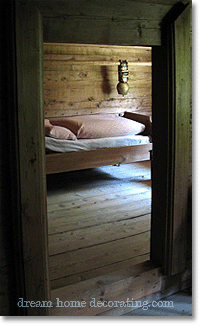 So if you want a bit of a mix, or if you already have one or several pieces and are looking for cottage style bedroom furniture to complement these, you could take several routes.
Have one piece be the 'star', particularly if it's an antique or a beautiful heirloom. Surround it with furniture that is less conspicuous but of similar-quality wood, texture, color, and style.
If you can't find the right cottage style bedroom furniture to match the 'star', you could buy lesser, simpler pieces and blend them into the background by staining or painting them in a muted color within the general room color scheme.

Make sure there's enough space for what's most important.
For example, if you've always wanted a four-poster bed but your bedroom is a bit on the small side, maybe you can have the four-poster but then keep other furniture to a minimum.
Or get a canopy iron bed, which takes up much less visual space.

If you can't get exactly what you want - if it's too expensive, or there's no space for it, or no one has made it yet - then improvise to create your own, personalized country style bedroom furniture.
Customize Your Bed
Really, all you need is a mattress and a bed base. Everything else can be added to fit in with your vision, and with your other country style bedroom furniture.
For example, you could make your own country style headboard from...
a length of picket fence,
large cushions suspended from a curtain rod on the wall,
a bookshelf above a large framed print,
a wide plank of beautifully finished wood fixed to the wall,
a large square of woven leather strips,
silver nails in a rough board :-)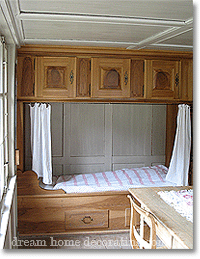 Alternatively, and if you want a more 'upmarket' look for your country style bedroom furniture, consider having a headboard professionally upholstered. It works with most styles.
You could also use textiles to create a canopy bed:
fix sturdy curtain rods (or towel rails) to the ceiling and hang lengths of fabric down the head and sides of the bed, or
create a corona-style canopy, with fabric hanging from an old-fashioned bedcrown, tied back to the sides of the bed.

And here are some more ways to make up for the lack of a country style bedstead:
Place an antique (or moderately modern) chest or bench at the foot of the bed - it could even be a backless wooden garden bench with a nice cushion on it. This will give even the simplest platform bed a more substantial feel.
Use a bed skirt (valance sheet) to cover the distance from mattress to floor and give the bed a more solid look. Ruffles can look a bit girly - box pleats are more 'sober'.

Wall With A View
If you haven't got one, create a view to the countryside by hanging a large-enough picture where you can see it when you wake up in the morning.
Just in case you have a soft spot for Mediterranean (southern French or Tuscan) country bedroom decor, have a look at the pages about Tuscan Wall Art and French Wall Art!
Alternatively, take a photo of your favorite country view and have it professionally enlarged and framed. It will 'anchor' your country style bedroom furniture and give it a sense of place.
This is worth spending a bit of money on - the picture will lift your spirits every time you look at it.
Quick Makeover for Cottage Style Bedrooms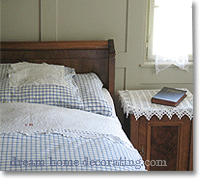 To give your existing country style bedroom furniture a quick facelift, you could
Exchange all door and drawer handles for rustic, or jewel-like, or otherwise very pretty (new) ones.
Exchange the tops of chests of drawers and bedside tables (or just cover them) with matching slabs of marble, wood, or slate.
About The Country Bedroom Furniture On This Page:
All pictures here show country style bedroom furniture from the beautiful museum of Ballenberg in Switzerland - a stunning collection of historic Swiss rural homes. If you ever happen to be in the area, do go and see it. Take a whole day. It's really, really lovely.
Check out the links on the right side of this page - loads of information about country style bedroom furniture and country bedroom decor!
For all about French country bedroom furniture, visit the article on French Country Decorating
Tuscan Decor is another treasure trove of country style bedroom furniture and country bedroom decor ideas.
For lovely watercolors of Scandinavian country style bedrooms, check out the page on Swedish Country Decorating.
Give a city mattress the 'cottage style bedroom' treatment with my list of Country Style Decorating ideas (for good measure, have a look at the Country Decorating Ideas as well :-)
Neutral Color Schemes - The Book:
Learn about using neutral color palettes (anywhere - including country bedroom decor!)   Understand what makes neutral color schemes look their best, and what happens when you inject 'real' color into neutral color palettes.   It's FREE!!
Yet to find the information you're looking for?
Type a word or phrase into the search box below: