Italian Country Decorating:
Italian Country Decor Ideas For A Rustic Cottage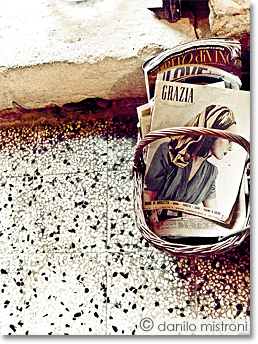 Italian country decorating:
Terrazzo flooring & rustic basket
(© Danilo Mistroni)
Italian country decorating is done with great love and taste.

Below is an Italian designer's thumbnail sketch of rustic Italian decorating and s-l-o-w  Italian country living.
Italian home decor comes in many style varieties ...
... from antique Renaissance marbles and gilt furnishings to simple cotto floors and rustic straw-seated chairs.

This page is about the 'rustic end' of Italian country decor as it's done by 'regular' Italians.

For palazzo Italian decorating, please check out the pages on Tuscan Decor!
Sonia & I studied together for a design B.A. in London (she made the most amazing stitched leather bags!)

She grew up in the Italian regions of Calabria and Tuscany. On this page, Sonia shares her personal memories of Italian country decor and rustic living.
The Most Typical  Elements
Of Italian Country Decorating
The walls in Italian country homes are either whitewashed or painted in warm earthy pastels (like apricot, for example).
Sometimes walls are painted or stencilled with abstract/floral patterns as well.
Framed pictures of saints on the walls, reminders of the Catholic religion, are an important part of Italian country decor. (Click the link for a collection of Tuscan Wall Art Ideas!)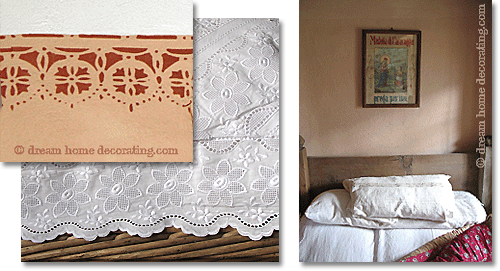 Interior textiles in Italian country style homes are mostly made of cotton. Some bedcovers are thick damask weaves - whites, creams and yellows are used in the summer, darker oranges and deep reds in the winter.
Bedlinen and table linen is generally white in Italian country decorating, and often hand-embroidered in white (or in a pale color), with crochet lace borders.
Crochet cushions, table runners, blankets and bedcovers (mostly in white or ecru) are also typical in Italian country decor  Have a look at this quaint drawing room in Assisi (Umbria):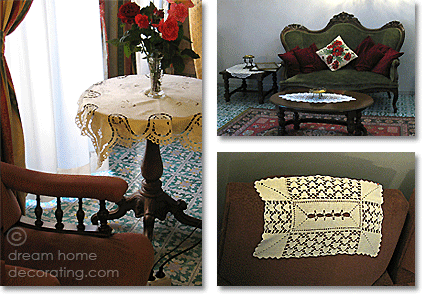 Staying Cool
The window treatments of Italian country homes pay tribute to the relentless summer heat: Many green-painted wooden shutters open at the bottom and filter the light while allowing the air to come in.  (Click the link for more information about Tuscan Window Treatments - most of it applies to Italian country decor in general.)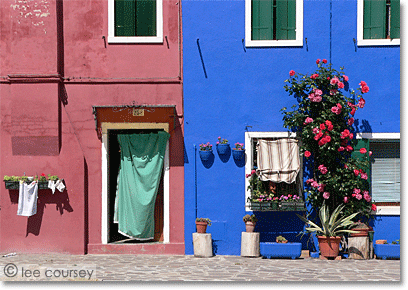 Houses on Burano, Venice, Italy (© Lee Coursey)
The photo above shows houses on the island(s) of Burano in the laguna of Venice. You see, one has to get creative when it comes to letting airflow in and keeping the sun out! You'll find more information about this on the page about Italian Exterior Window Treatments.
However, Italians don't just spend the summer indoors, far from it. For example, an afternoon nap (very important if you don't want to pass out in the heat) is usually spent alfresco, on the veranda, under the pergola. (In inclement weather, the snooze is enjoyed indoors on a recliner chair upholstered in cotton fabric. Every Italian country home has one or two of those!)
Materials For Italian Country Decor
Wood is an important feature in Italian country style homes, with exposed beams as well as wooden furniture. But in this part of the world you'll see more dark-stained woods than in the central and northern parts of Europe.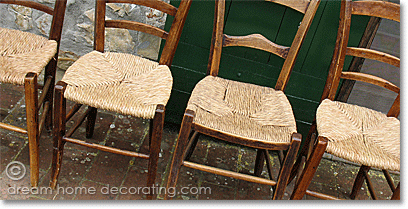 Tuscan and Calabrian country style chairs usually have straw seats.
In old, traditional Italian country homes, the kitchen used to double (actually, treble) as dining room and sitting room.   There was a large, brick-built open fireplace and brown earthenware crockery. (But this isn't where the cooking is done any more - those fabulous Italian bean dishes are now created on gas stoves.)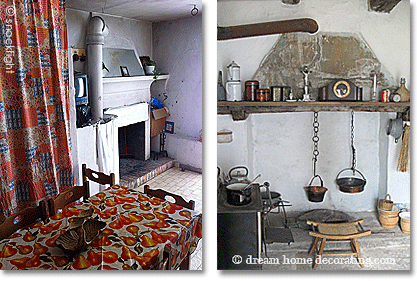 Vintage Italian country kitchens (© left: Michael Calore)
You can see that the Italian country kitchen above (right) has flagstones as flooring. These were usually made of locally sourced stone and came either as large slabs or in smaller squares.
Fired clay is an alternative for floors: lighter terracotta or unglazed, deep Bordeaux red cotto tiles. In the photo below (left), they're interspersed with little marble squares for a more elegant type of flooring.

There are two more options for flooring in Italian country decor: Firstly, ceramic tiles reminiscent of Italian Renaissance design (see the example in the living room photo from Assisi, above).

Secondly, there's terrazzo, a composite type of flooring made of recycled marble offcuts (or other hard materials, like granite or glass). You can see finely ground terrazzo tiles in the photo at the top of this page, and a chunkier version next to the cotto tiles above (right).
Comment from Renate
Sonia, I just had this fantasy of sitting under a pergola  outside an old Italian stone cottage, overlooking the Tuscan countryside after a good day's work, my friends around the table, platefuls of great food, candles, and a bottle of chianti.  (I wish...)
Update (2008)
Wishes do come true!  I've just returned from a two-week work assignment to Tuscany.  And I have to admit ...
... before I went, I used to smile about all those people who want to own a house in Tuscany if it's the last thing they do.  Now I'm one of them ;-)
I've also taken loads of pictures to make sure I can pass all my latest Italian country decorating info on to you.   You'll see what I mean when you read some of the chapters on Tuscan Decor.   Enjoy!
Alternatively, you could of course keep yourself entertained with one or two of these books about Italian country decorating, or do a little more research into European country decor (below):
Yet to find the information you're looking for?
Type a word or phrase into the search box below: