Home

›
French Interiors
› Provençal Style
Provence Interiors:
Country French Decorating Ideas
From The South Of France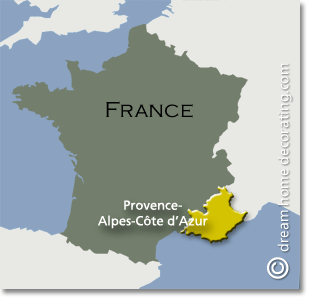 Provence interiors are the darling of French country interior decorating: relaxed, warm, and subtly elegant.
This page has the lowdown on authentic French provincial decor, including ...
♦  Provençal wall treatments & colors,
♦  French provencial furniture,
♦  pottery,
♦  French provincial fabrics, and
♦  French provençal flooring ideas for your home.
There are, of course, many more secrets of Provençal design hidden in Southern French homes than I could ever squeeze into this one page.
So, do check out the thumbnail links below. They'll show you in detail how to get the 'Provence look'!

Essential Elements Of Provence Interiors: Click A Pic:
Provence Interiors 1:
Wall Treatments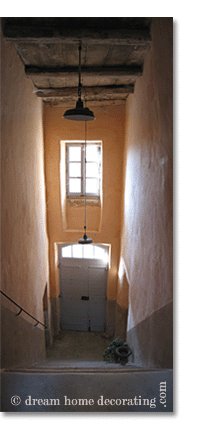 From farmhouses (mas or bastides) to small cottages (cabanons), most houses in Provence are built of local stone.

Sometimes the interior walls are left unrendered to show off the beautiful grayish-golden rock.
If they're rendered (or plastered), they'll usually be whitewashed once a year, or painted with lime-based distempers in pale yellow ochres (the most common choice), pale blues or pale greens.
The effect of this paint is almost like watercolor with a chalky, matte finish.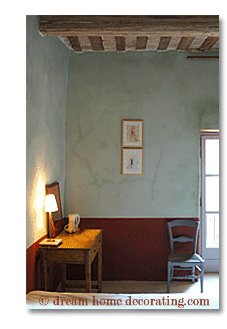 And since these walls are never quite straight or quite flat, the paint gives them an almost translucent, organic, 'alive' look.

In the photos on this page, you'll notice that the lower parts of the walls are painted in a darker color - this is often done to conceal the inevitable knocks and scuff marks of everyday life. (More about this on the page about French Country Colors!)

Provence Interiors 2:
French Provençal Furniture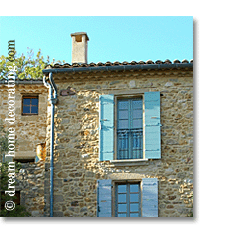 Traditional Provence Furniture is usually made of walnut. It is either ...
left a natural brown and polished to a high sheen, or
painted.
The most popular colors for painting furniture are the light, grayish blues and greens that are also used on the wooden shutters and doors, but you'll also see sideboards and dressers with antique white, 'distressed' paint finishes.
You will occasionally come across the claim that Provençal shutters, walls or even furniture are painted in lavender tones. I've been to Provence several times, and I've never seen any evidence of this. I'm not saying that in all of Provence, nobody ever dips a paintbrush in lavender paint. But lavender is most definitely not a "traditional" paint color.
Provence interiors are traditionally sparse, never lavishly furnished or overdecorated. Here are the essential items:
a) Chairs: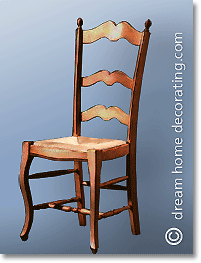 The most typical piece of furniture in Provence home decorating is probably the straw seated chair.
Provençal straw-seated chairs come in many shapes and sizes, from simple and sturdy (as in the picture at the top of this page) to elaborate Louis XV and classic Louis XVI styles.
Traditional Provençal designs (like the 'bonne femme' chair, left) aren't easy to find outside France.
However, you could easily substitute them with any other Mediterranean-type straw seated wooden ladderback chair.
For a more elegant (and distinctly French) look, cane chairs will best capture the spirit of French provincial decorating (they're actually quite common in Provence interiors).  !
b) Armoires:
Of course, a French provincial house needs at least one armoire - either in natural dark brown (as in traditional French provencal furniture), or painted in subtle hues of gray, blue, sage, or 'shabby' white.
You'll find excellent reproduction pieces in the workshops of designer craftspeople in Provence, and originals in the many antique shops in the area. Alternatively ...
- they're incredibly versatile pieces of French provencal furniture.  Use them to store clothes, laundry or linen, or turn a French style armoire into a bookcase, media center, or a French country china cabinet.
c) Beds: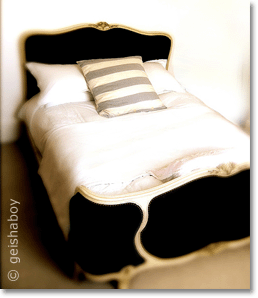 Typical French provencal furniture for bedrooms includes
However, as many examples of authentic French provincial bedrooms show, you can turn a humble platform bed into something so utterly and gorgeously French that it can easily stand up to , (pictured here) ... and there are very few styles that spell 'F-R-E-N-C-H' more convincingly than corbeille beds ;-)
Return to Top
Provence Interiors 3:
French Provincial Fabrics
The little fabric swatches below show traditional Provence cotton prints. The yellow and the blue ones have stylized bees swarming all over them:

That's because the honeybee has been something of a mascot of the Provence region of France since the days of Napoleon Bonaparte, who adopted it as a symbol of his reign.
These printed fabrics in lovely, strong colors are now just as popular as they were in the 17th century. They're used for traditional soft furnishings in French country cottage decorating, particularly for French country kitchen curtains, cushions, and small accessories.  And there's more:

You can occasionally find French provincial fabrics on eBay.
(Click "View all items" to see what's on offer today.)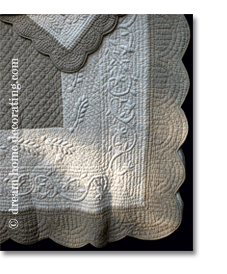 If you're not into traditional Provence interiors, you're no worse off. There's currently a trend towards a slightly more hip, minimalist look that involves unbleached and antique white linens.
For example, the quilt in this picture (taken in Uzès at the Saturday morning market) has scalloped edges like some of the traditional boutis bed coverlets ...
... but instead of being smothered in floral or toile de jouy imagery, it's all in sophisticated ivory and taupe.
So if you would prefer to create a contemporary appearance for your Provence-style home, choose linen (and maybe cotton) in a neutral color scheme; then accessorize with just a few more colorful fabrics (solids & patterns).
For a traditional yet 'cool' look, choose white matelassé blankets or coverlets - not just over beds, loveseats and sofas but also as lavish, elegant tablecloths. The white looks great against walls painted a pale ocher or warm sandstone gray!
Return to Top
Provence Interiors 4:
Flooring Ideas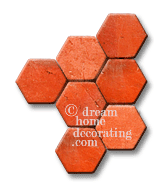 The floors in Provençal homes are usually covered with terracotta tiles in warm reds, browns and oranges.
The oldest, handmade tiles used to be square (you'll find a picture of them in the page on French Country Curtains).
For the past 200 years, though, hexagonal tomettes (pictured right) have been the most widely used. If someone talks about 'typical' floor tiles for Provence interiors, they usually have tomettes in mind.
On the other hand, multi-colored cement tiles have been getting in on the act - and they weren't exactly invented yesterday, either (the first ones were produced in the 1850s).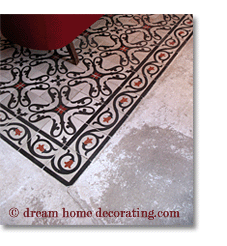 I like the way you can use cement tiles to accentuate an area in a room.
For example, you can
draw a border around the whole room/along the wall,
design a 'ceramic carpet' for the living-room seating, or
make an 'island' for the dinner table.
Both tomettes and cement (encaustic) tiles are ideal for Provence interiors:
they are cool under your feet (very important in the fierce summer heat),
they are extremely hardwearing and
they're easy to clean.
Return to Top
Provence Interiors 5:
Country French Pottery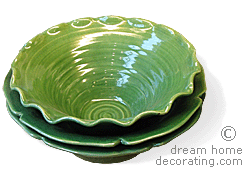 The Provence region of France is an eldorado of beautiful Mediterranean country style crockery - and no Provence interiors are complete without it.
The most traditional colors of Provence pottery are yellow ochre and green (with tones varying between grass green and deep fir green), but you'll find beautiful blues, umber and more 'spicy' reds and browns as well.
Provence has a very old tradition of making fine glazed earthenware.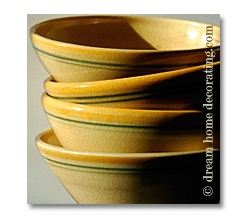 Whole villages are dedicated to the craft; the most well-known are Moustiers (where originated) and Vallauris, the village that Pablo Picasso made world famous.
But there are lesser-known treasure troves of country French pottery all around the region, and these are great places for bargain hunting: Valbonne, Opio, Levens, Gréollières, Cliouscat, Aigues-Vives and Saint-Quentin-la-Poterie.
And country French pottery is not just for the table, either. Go ahead and hang collections of your finest pieces on the wall:
Group a few antique soup tureen lids for an instant, exquisite wall display in your French country style dining room.
Or hang the Most Gorgeous Plate above a doorframe where you'll see it every day.
Return to Top
Yet to find the information you're looking for?
Type a word or phrase into the search box below: