Home

›
Room Color Schemes
› How To Choose Room Paint Colors
Choosing Interior Paint Colors
Choosing interior paint colors for your home is easy with this four-step process. Pick colors that
♦   project the right mood for any room and that
♦   complement & enhance your existing furniture, flooring, and accessories!
If at all possible, leave choosing wall paint colors until last.

There are more paints to match your furniture than furniture to match your paint colors!

Choosing Interior Paint Colors, Step 1:
Take Stock of the Colors in the Room
Make a list of all the colors in the room that you want to keep.
Even if you're not stuck with the proverbial avocado bathroom suite, there are still many things in a room that will impact its paint color scheme.
Here's a list of things to look for before settling on interior paint color combinations: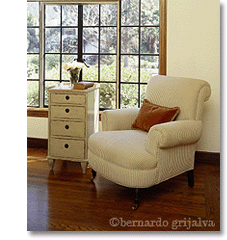 what you see from the windows
what you see before you enter the room, or when the door is open
furniture (natural, stained, painted, upholstered)
flooring/carpet(s)
hardware (appliances, door/drawer knobs, curtain rods)
door(s)
tiles
interior stone/brick surfaces
grouting
curtains, cushions, throws - anything made of fabric
anything on display, e.g. books and pictures.
The room pictured above, for example, would make a great (almost-)blank canvas for choosing interior paint colors, with two exceptions:
1. The furniture has a yellowish bias and the flooboards have an orangey stain. Both colors would have to become part of the overall color concept.
2. Outside colors (e.g. foliage & blossoms) are highly visible in this room.
You wouldn't paint those walls a pure white or 'sweet pea' pastel colors, because that would make the chair & chest of drawers look 'dirty' by comparison. Instead, you would look for semi-neutral or 'colored earth' paint colors that can hold their own with a mix of ivory and orangeish brown.
Now, for the heck of it, let's assume you really love sweet pastels. In this case, you'd have to cover up quite a few of the existing colors:
slipcover the chair;
repaint the chest of drawers;
exchange the cushion;
carpet/paint/re-stain the flooring.
Then you could paint the walls any gorgeous pastel tint you like!
To sum up, whatever you keep on view in this room will be part of the color scheme.
If You're Looking To Sell ...
... you want your home to look 'just right' for a large number of people. In that case you'd stick to safe neutral color palettes. (Check out this list of excellent DIY home selling tips as well!)

Choosing Interior Paint Colors, Step 2:
Decide What Type Of Color The Room Needs
Before you go choosing interior paint colors, ask yourself the following questions:
1. How are you going to use the room? What will you be doing here, and how much time will you spend here every day?  Can you think of interior paint colors for this room that would put you in the right mood while you're here? (Check out the psychological effects of colors here!)
2. How bright is the room? If it's north facing, or doesn't get much natural light, you can warm and brighten it up with wall color (refer to the color wheel chart for ideas). If it's a sunny, 'warm' room, you could tone it down with cool or neutral colors.
3. How large is the room? This will influence whether you use lighter or darker shades of a color. Darker shades, and some warm shades, have a tendency to make a room look smaller. However, you could experiment with deep jewel colors to create a really special, 'bijou' kind of room. More about this decorating step here!

Choosing Interior Paint Colors, Step 3:
Finding Your Color Favorites
We all choose some colors over others, and we sometimes gravitate towards these colors without really knowing why. Which are yours?  And what do you like most about them?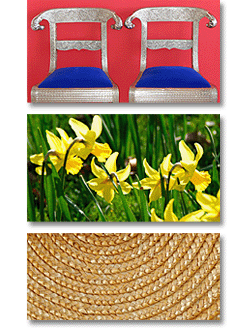 Do they ...
energize you?
put you in a happy mood?
make you feel secure?
make you feel calm and serene?
remind you of good things?
make you hungry?
make you smile?
lift your spirits?
focus and clear your mind?
help you relax?
When you're choosing interior paint colors, always go for the feelgood factor.
Color psychology has found out a lot about the effects of color on people, but your personal responses to a color may be quite different from someone else's. And it's your home and well-being after all!
Here are some ways to test your own responses to different interior paint colors and color combinations:
1.
Look through interior design magazines, or any magazines for that matter - cut out &
collect
any
ideas
for interior paint color combinations that appeal to you.  You could start your own folder, mood board, or 'look book' for inspiring pictures and swatches.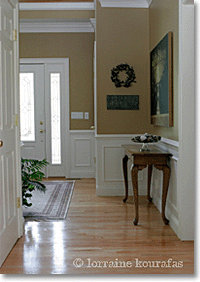 2. Whenever you are in a room, notice how you feel there, and also notice the dominant interior paint colors in that room.  Ask yourself: do these colors have anything to do with the way I feel when I'm here?
3. Take a week, or a month, and allow colors to 'choose you'. Notice it when a color attracts you or 'speaks' to you (anywhere - on a dress, a car, a flower, a shopping bag, a book cover...)
If possible, take a photo or swatch of that color, and add it to your collection of ideas for choosing interior paint colors. You will find that once you turn your attention to it, your 'color sense' sharpens considerably!

Choosing Interior Paint Colors, Step 4:
Find A Happy Compromise Between What You Love
& What The Room Requires
You now have ...
a clear idea of the colors you like best,
a list of colors that are already part of the color scheme,
a mental shortlist of the most appropriate interior paint colors for the room.
Does any color suggest itself as a starting point for a color scheme?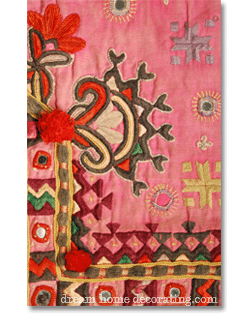 You could run with a color that is already in the room, e.g.
a piece of wall art;
a beautiful quilt;
a carpet or rug;
a bowl on the table, or a cushion;
a fireplace surround;
a gorgeous sofa.
If your room is empty at this point, check out this page for ways to find color inspiration.

Accessories can be a great starting point for choosing interior paint colors. They are often the most colorful items in the room!
For example, let's take this antique garment from Rajasthan (India). It hangs in our hallway, mounted and framed, on a buttery-yellow wall.
If you took it as a starting point for a color scheme, you might come up with a color palette like this:


If you're not quite sure yet which colors will work best for your purposes, have a look at the page about paint color ideas.  And if you know the color family you want, but are undecided about the color scheme that goes with it, check out my series about great color combinations.  And then there's also my ...

... Mini Bookshop (In Partnership With Amazon):
Yet to find the information you're looking for?
Type a word or phrase into the search box below: