Home

›
Living Rooms
› Area Rugs: Design/Budget
Living Room Area Rugs, Part 2:
Design & Budget Tips
Living room area rugs can be the best or the worst asset of your living room. Find out how to pick the right rug for your living room - at a perfect price.

Part 1 of this series contains tips for rug
  ♦  color as well as
  ♦  size & shape,
(to make living room rugs fit perfectly into your space).
This page shows
  ♦  how rug designs can affect a room, and
  ♦  how to get good rugs on the cheap.

Here's our experimental space again: Sharon's white, open-concept living room in an Arizona condo. (Sharon wanted a rug in purple, blackberry, or neutrals.)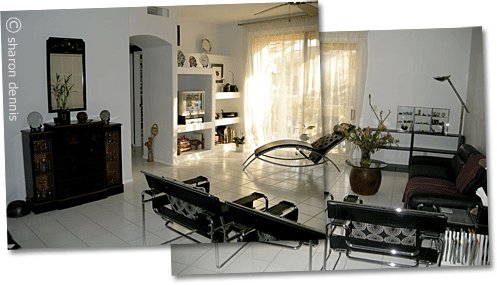 Living Room Area Rugs, #3: Design & Pattern
A Few General Rules
For Using Pattern:
Pattern = visual clutter. (I know I'm harping on about this but it's super important :-)  The larger a design and the higher the dark/light contrast, the greater the visual 'clutter effect' usually is. (You can see an example in this article, too).
Consider the 'patterns' you may already have in the room:
  ♦   picture arrangements on the wall;
  ♦   mantel decorations;
  ♦   throw pillows scattered on the seating;
  ♦   open bookshelves;
  ♦   collection displays;
  ♦   plant arrangements, as well as ...
  ♦   'real' pattern, e.g. on upholstery/cushions/curtains.
Geometric vs. naturalistic: In general, geometric patterns integrate more easily into most rooms than, say, florals.
Large designs are attention-grabbers. Whether geometric, natural or abstract, a rug with a large-scale design is basically the biggest picture in the room. So if you want to focus attention elsewhere, e.g. on a fine painting or a collection of artisan pottery, choose simplified, unconspicuous, or small-scale rug patterns.

Sharon, for example, is planning to hang a large number of black-and-white photos on that sofa wall.

This means a considerable amount of visual clutter, even though the color scheme is as reduced as it can possibly be.

Sharon's easiest choice would be to go for a solid color area rug.
Alternatively, she could look for simple, striped area rugs that fit the bill.
A black and white one would look good. White and charcoal (= a 'soft' black) might be even better:

Black-and-white living room with a large striped area rug.

Even though the pattern is very simple, it dominates the room because the value contrast (= dark/light contrast) is so high. So let's soften the black further - from charcoal to light grey - and we'll also reduce the number of stripes to calm the design down:

Black-and-white living room with a part-striped area rug in grey and white.

Boring, I hear you say? Yeah, well, you have a point. Let's superimpose the faintest of patterns (in a fine black stripe):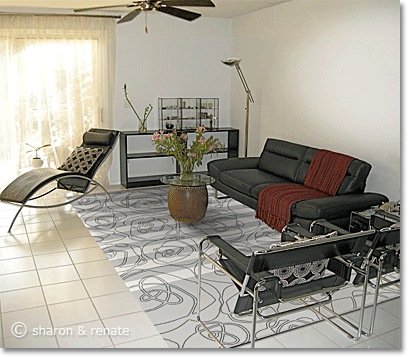 Black-and-white living room with a large area rug in grey, black and white.

Now the design looks more interesting, but with the added 'interest' comes distraction from other things in the room, and an added busyness in the overall impression.
We could go on and on with this, but don't worry, I won't. However, I do want to illustrate that one last point I made earlier about large-scale designs. The following area rug, even though its value contrast is quite low, will dominate a room by virtue of its massive design scale: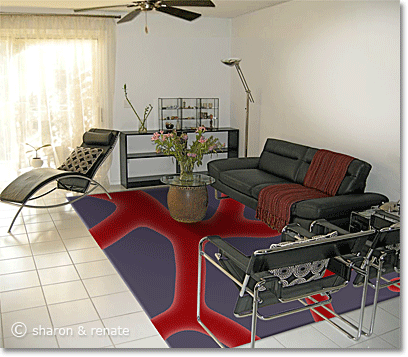 Black-and-white living room with an 'oversized' rug design.

See what I mean?
Now if you read on you'll see the rug design that Sharon ended up choosing ... and it looks nothing like any of the above!
Living Room Area Rugs, #4: Price
How to get the cheapest custom size area rugs:
Many carpet dealers will be happy to cut bulk stock into custom size area rugs for you and finish them with a beautiful border of your choice.
And not just that: You may be able to have your living room area rugs cut in any shape you want! Triangular?  Easy peasy. Trapezoid?  Why not. Cloud-shaped?  If they can do it, they probably will.
This way, some of the most luxurious high-pile carpets with a gorgeous 'artisan' look & feel can be turned into perfectly shaped, custom size area rugs, at much lower cost than if you bought a readymade rug.

Sharon found an even cheaper way of doing things:
Turns out, one of her friends had an entire collection of living room area rugs sitting in her garage! Here's the little beauty she got for - gasp - a mere $50:
In Sharon's own words:
I was at my friends' home for an international club brunch and I said: I love your rugs - I can't afford one right now but at some point I would like an Oriental for my house. I told Annette that I had redecorated and everything was in purples, navy and white and I had never seen Oriental rugs with any purple or violet color. She said: come with me to the garage. There it stood - an 8 by 10 rug. All I could see at the time was the violet/plum border.
The men rolled it up for me and I brought it home, and the next day my photo assistant came by to remove it from my car and shake it out - lots of dust - and bring it into the house. The central portion had grape leaves, and green is not my favorite color, but immediately even I who might have been prejudiced against this rug when I first saw it realized that that green made all of the plants in my house absolutely pop!
So I bought the rug from my friend Annette for $50. (She then donated $50 to the Wounded Warriors Foundation.) Sadly her house was flooded a year ago and she lost her entire collection of about 15 or 20 rugs so my rug is an orphan - the rescue rug!!
For More Living Room Area Rugs & Decorating Ideas,
Click A Pic!
Yet to find the information you're looking for?
Type a word or phrase into the search box below: