Home

›
Living Rooms
› 'Out of Africa' Makeover
Living Room Makeover:
'Out Of Africa' Ideas For A German Living Room



This living room in a German rental home is getting three virtual
budget friendly, movie-inspired makeovers.
A living room makeover, Out-of-Africa style, was what homesick South African expat Shaan had in mind for her cool, contemporary living room in a German rental home.
She wanted no-fuss decorating ideas for a living room that is mostly white and has functional floor tiles and metal door frames and track lighting.
Check out these illustrated living room makeover ideas:
♦   neutral,
♦   feminine, and
♦   'masculine'

Here's Shaan's wish list:
Hello Renate,
I'm from South Africa, and my background is a colonial one, i.e. homes filled with great comfortable floral upholstered couches, leather armchairs, leather travelling cases piled up, beautiful large landscapes on the walls, heavy drapes, dark wood and vases of flowers and books everywhere, etc.
To imagine the style, think Out Of Africa - semi-formal with a few completely informal bits thrown in ... stuffed antelope heads, animal skins on wide wooden floorboards, or Persian-type rugs or wall-to-wall carpeting, and maybe a couple of rough hewn pieces of furniture.
Basically everything was incredibly comfortable and guests always felt relaxed, and that's how I'd like the feeling of my current living room to be as well.
I absolutely love any- and everything old and frayed (especially other people's throw aways!), and books and silverware and touches of rustic.
What's most important is comfort and colour and lightening up the place. I used to love our dark wood furniture, but since moving to Europe I'd love everything to be white with touches of colour. I'm still happy with the dark wood if we could incorporate more colour and perhaps slipcover the seating and a new rug.
I love all colours, with true sky blue being one of my favourites and the colour I'd like to use in the lounge. However, we rent the house and I don't think I can persuade my husband to have all the walls painted in another colour.
I'm a DIY girl and I believe in using what I've got as far as possible. The more uses an item has the happier I am!
I would love it if you've got the time to help me out.
Many, many, many thanks!
Regards,
Shaan (South Africa/Germany)
Out-Of-Africa  Living Room Makeover
Prep: Things To Consider
Shaan wants to go from this ...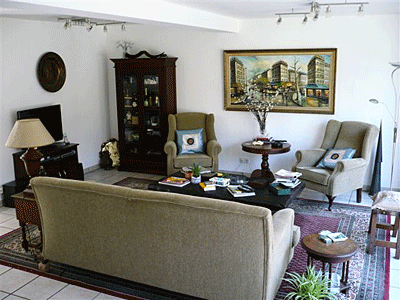 ... to something like this: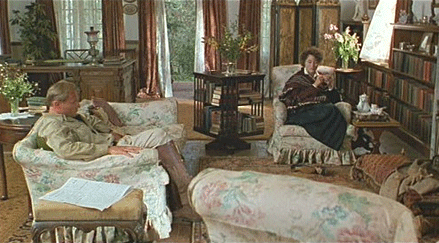 She has a budget living room makeover in mind that would only require:
her current living room furniture (plus a new rug)
the color white
the color blue,
some slipcover fabric, and
her own DIY skills.

How About A Wholesale Style Transplant?
Nah. Not good. Stuffed antelope heads and animal skins just don't blend in convincingly with metal track lighting and white factory-made tiles.
Instead, we'll try to adapt the natural, warm, well-worn, Colonial "Out-Of-Africa" feel to a modern living room design with hard-edged tech detail and Northern European sunlight.

Important: Daylight in Germany is much paler and more blue-tinted than sunlight closer to the Equator, where the sun hits the earth more directly and the red/yellow part of the spectrum isn't filtered out by frequent thick cloud cover. Vivid, highly saturate colors that would look perfect under an African sun will look garish and out of place in all but Mediterranean Europe.
Out-Of-Africa  Living Room Makeover #1:
Neutral/Rustic Materials
Cane chairs are a South African decorating staple, but Shaan already has enough chairs in her living room. So let's introduce "rustic" texture by using a related material, straw, for a large rug. Straw goes extremely well with white tiling and can warm up the room without darkening it too much.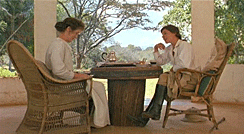 Natural fibres make handsome and robust floor coverings:
coir,
jute,
seagrass, and
mountain grass.

Any of them can be turned into a custom, oversized rug, like this:

More living room decor ideas in this picture:
1. Off-white slipcovers/upholstery will keep the room light and bright.
the color of the upholstery fabric needs to be meticulously matched to the slightly grayish floor tiles and the white walls, and
the material should be substantial - something like heavy duck or canvas. (You don't want wrinkled seating with a 'laundry basket' look.)

2. One blue 'feature' wall, which serves two functions:
to introduce the color blue (which needs to be repeated in cushions and/or other decor elements), and
to replace at least some of the white wall color in an easily manageable way.

3. A larger, well stuffed sofa cushion that adds a floral theme to the room. Ideally, Shaan will need several of these on both sofa and armchairs, to make the seating look
more substantial,
softer, and
more comfortable.
This will help her balance the hardness of the surrounding surfaces, and introduce some 'South African ease' into the room.

Out-Of-Africa  Living Room Makeover #2:
Floral Elements


One way to "soften" modern living room design is to keep the color scheme light and use low-contrast, nature-inspired pattern.
And since South African livingroom designs do feature floral elements, one way to decorate a living room in this vernacular should include a touch of summer!

Small changes from the living room interior designs above:
The 'feature wall' is a lighter sky blue
The dining chairs are (slip-)covered in the same floral fabric as the sofa cushions. This pulls the different areas of the room together.
A few ruffles have entered the picture, too: Shaan could use knife pleats to keep the look more 'neutral'.
(Return to Top)

Out-Of-Africa  Living Room Makeover #3:
Drama & A Masculine Touch
One material used in South African living rooms (as Shaan mentioned above) is leather. In a 'shabby chic' living room, leather goes extremely well with floral textiles, so let's use leather to increase the nature-inspired feel of this room, adding another layer of natural texture and color to our current set of living room decor ideas.
So here's the last one of our budget living room makeover ideas:


Notice how the darker back wall makes the white surfaces look brighter by comparison? It also helps balance the dark wooden living room furniture.
The striped fabric on the dining room chairs introduces a formal element (and a bit of attitude).
(Return to Top)

Additional Living Room Makeover Idea:
'Colonial Style' Wall Art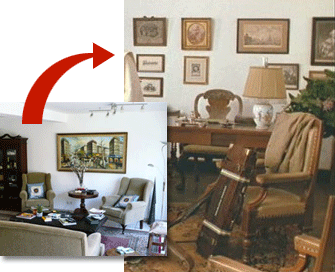 Shaan could add more 'colonial' feel by replacing the large modern cityscape on her wall with an informal collection of smaller pieces -
watercolors,
etchings,
antique maps,
old documents,
drawings ...
... preferably in slightly battered wooden frames. This would mellow the general look of the room and be more reminiscent of South African living room interior designs.

For More Living Room Makeover Ideas,
Click A Pic!
Yet to find the information you're looking for?
Type a word or phrase into the search box below: