Christmas Candle Ideas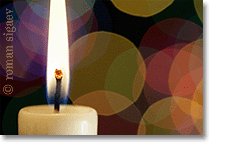 Christmas candles go with every possible decorating style. They ...
add mystery, sparkle and glow to your home...
make you look 10 years younger...
create pure magic!
Click a link and create a lovely 'Candle Christmas':
Christmas Candle Centerpieces
Check out these candle Christmas centerpieces from fellow Dream Home Decorators - they were part of our recent Christmas contest!
More Christmas Candle Centerpiece Ideas: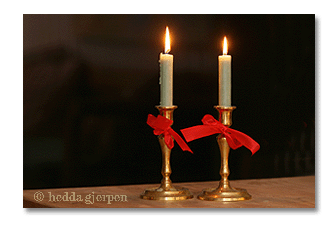 Christmas dinner and candles are a match made in heaven.
In the Northern Hemisphere, the holiday was set in the darkest, coldest time of the year to symbolize the birth of Christ as a victory of light over darkness.
And in the days before electric Christmas lights (let alone twinkling ones!), an abundance of real, burning wax candles meant a sumptuous, luxurious feast.
Tealights are super simple to use. They just have one drawback: they light everyone and everything from below, and only a few movie stars look good with a light source beneath their chin. (You don't get to see that much of the food either.)
However, you could ...
float a combination of cranberries and floating candles in tall(ish), clear glass vases to lift the flames to a good height.
use a candelabra or assemble a bunch of candleholders on the dinner table.
If you don't have enough matching candleholders for a candle Christmas dinner, no problem. Use the same color candles on all candleholders to unify the look.
In addition, you could decorate your candlesticks in the manner of this candle picture from Norway: Treat each of your candleholders to a pretty bow. You could even wrap some of them completely in festive ribbon (fasten with a pin at top & bottom) ... problem solved.
Candle Styles & Color Schemes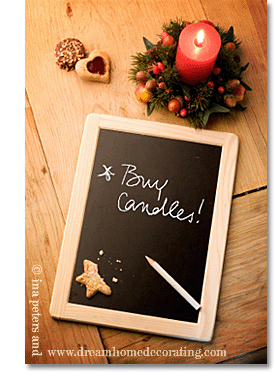 Whether you prefer sleek urban interiors, French antiques, Fifties Formica or seriously rustic digs, there's a candle to go with it.
Some color ideas:
For a strong, stylish impact, decide on one candle color and use it throughout the room. Group the candles and vary their thickness and height.
If your room is decorated in a neutral or subdued color scheme, you could create a gorgeous Christmas theme with colored candles. Check out these color combinations for inspiration!
Return to Top
Aromatic Scented Candles
Aromatic scented candles come in many mouth- watering flavors.
You can fill your home with the rich fragrances of green apple, cinnamon, amber, vanilla, citrus fruits, pine, or herbs.
You can even get wood wick candles that crackle like a real (tiny) log fire while they spread their fragrance.

But there are some health issues surrounding aromatic scented candles: they have been shown to pollute the air in the room significantly more than regular candles do.
In particular, you get more soot, benzene and lead into your system if you burn aromatic scented candles indoors than if you used, say, wax candles. The healthier option is to use candles that ...
don't come in a glass or ceramic container
are made of hard wax
have thin (braided), non-metal wicks that curl over when you burn them
burn with an even flame
don't have a smell.
Even though many aromatic scented candles are sold as 'aromatherapy' items, there is actually nothing therapeutic about them.
If you feel you would really like to burn a scented candle, the least dangerous way to do it is in a well-ventilated area where you are not going to inhale the full amount of toxins that come out of them.
It's a bit sad because many aromatic scented candles smell so lovely, but the healthiest way of dealing with them is actually not to use them.
Return to Top
Tea Light Special
Tea lights are every Christmas decorator's dream: they don't drip, they are easy to replace, they are cheap and incredibly versatile. You can get colored and even aromatic scented candles as tea lights as well (if you must use them, that is).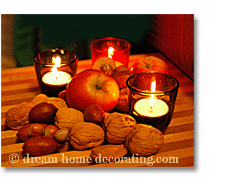 For a stylish 'tea candle Christmas', line up or scatter tea lights in small colored glasses on your mantelpiece, windowsill or table. (The ones in this candle picture here are from my Grandparents - 1950s schnaps glasses in smoky, moody colors.)
Surround the glasses with (crab) apples, nuts & almonds. Make it look as if the apples and nuts had just dropped in irregular clusters around the candles.
Alternatively, try evergreen twigs (pine, holly, or any other evergreen foliage).
If you don't want to go for a 'natural' look, you could surround your tea lights with heaps of little glass ball ornaments in matching colors. They reflect the candlelight beautifully.
To keep the Christmas balls from rolling around and falling off ledges, put a plate underneath the decoration. Cover it with a dark napkin to make it 'invisible' and to show off the sparkling ornaments, and fill it to the absolute brim.
Enjoy your candle Christmas!
Return to Top
Yet to find the information you're looking for?
Type a word or phrase into the search box below: