Christmas Lights And Decorations:
Frugal, Primitive Christmas Decorations To Make

Christmas lights and decorations: Make your own Christmas candle lights and mantel decorations with recycled glasses, tea lights and natural objects!

1. Ideas For Primitive Christmas Decorations
Multiples always look great on a mantel, or as a Christmas table decoration.

Just fill simple glasses with 'Christmassy' things:
2. Christmas Light Decorating Ideas:
From Cast-Off To Gorgeous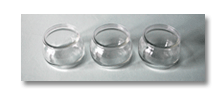 I seem to remember it was crème caramel that came in these little glasses from the supermarket.
They're perfect for creating Christmas lights and decorations, because they're just big enough to hold a tea light, and they have this lovely groove around the top. It will hold all manner of ribbon in place, even if you attach heavier objects to it.
I've turned each of them into a 'prototype' of Christmas light decorating ideas:
2a) Traditional Christmas Lights and Decorations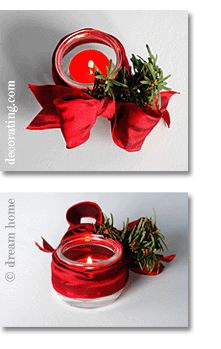 Well, it doesn't get much more traditional than big-red-bows-and-evergreens.
Wired ribbon works best because you can shape it, and work the bow into a really lush sculpture.
Wind the ribbon round the neck of the glass twice. That way, you make sure that the ribbon looks the same width all round the rim. I made two knots; the second one holds the twig in place over the first.

If you're using many of these Christms decorating lights together, you could vary the display a little. For example,
try different types of evergreen leaves, e.g. holly, thuja, juniper, cypress, box, or conifers like fir or pine
include a small pine cone here and there
add a few nostalgic Christmas tree ornaments to some of the glasses
use slightly different hues of red for the ribbon (this will look good if you've got a fair number of lights assembled).
2b) Contemporary Christmas Lights and Decorations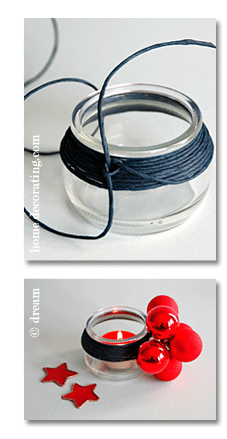 This glass has a broad band of colored string around the rim. Starting at the top, wind the string tightly around the glass and then knot the two ends together carefully.
It might help to glue the string down at the start and at the end to keep it in place. (This is the most fiddly bit; the rest's a piece of cake!)
Thread small Christmas tree balls onto one or both ends of the string, and knot the string together. This pulls the balls into a tight bunch.
For variations, particularly if you're using these lights for Christmas table decorating, you could
add a name tag to each light and use them as 'place cards' on the dinner table
vary the size/number of balls in the decoration
tie in a few Christmas balls in odd colors for added punch
instead of ball ornaments, use other Christmas tree decorations.
2c) "Fruity" Christmas Lights and Decorations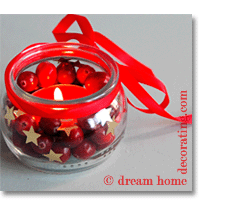 Of the three, these Christmas decorating lights are the easiest to make. Place a tea light in each glass and then fill the sides around it up with fresh cranberries.
At the end, slide a few glitzy bits (stars, little balls...) down the sides so they come to sit right behind the glass and reflect the sparkle from the other Christmas decorating lights.
Make sure the bow is of a generous size; leave one or both ends trailing a little and twist them into graceful wavy shapes. This looks particularly good if you're using several of these lights together.
Yet to find the information you're looking for?
Type a word or phrase into the search box below: