Home

›
Scandinavian Interiors
› Swedish Country Style
Swedish Country Decorating: Get The Look!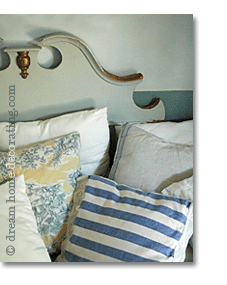 Swedish country decorating is all about space, clean lines, and a light touch.
On this page:
♦  Swedish Gustavian style
♦  Carl & Karin Larsson, world-famous Swedish style 'gurus'
♦  Typical colors in Swedish country homes
♦  Style elements to get the look:
simplicity & comfort  |  multiplying the light  |  celebrating nature  |  surface decoration.
The following decorating tips for Swedish country interiors are from my Swedish designer friend, Ida Jönsson.
We met at Chelsea College in London and shared many long days in the design studio, as well as many deep conversations over steaming mugs of black coffee.
Ida has lived in Sweden for most of her life, and she assures me that it is categorically not true that the Swedes like any color as long as it's blue. Read on for the truth of the matter :-)

Swedish Gustavian Style
The 18th-century "Gustavian"  style is a Swedish interpretation of European neo-classical decor. It goes back to King Gustav III's "French connection": On a visit to Louis XVI's court in Versailles in 1771, the future Swedish monarch was so impressed with his French counterpart's cutting-edge interiors that he decided to introduce the style to Sweden.
Neoclassicism was readily adopted into Swedish architecture and interior design, but in a simplified, no-frills way.  Pared down, airy and calmly elegant, the light-filled Gustavian style spread from the town houses of the well-to-do to rural Swedish country homes. Pale blues, greens and grays are typical decorating colors of the Gustavian style.
Below is an example of Swedish Gustavian decor. The watercolor shows a "Cosy Corner" (Lathörnet) in Carl & Karin Larsson's house, Lilla Hyttnäs, in Sundborn. Carl Larsson painted the room in 1894 (a mere century after King Gustav III's death):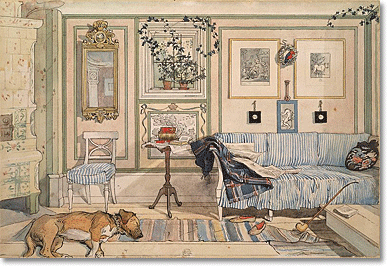 For detailed information about Swedish Gustavian interiors, have a look at some of these books - they all come highly recommended by Amazon customers:
Swedish Country Decorating Style Gurus:
Carl & Karin Larsson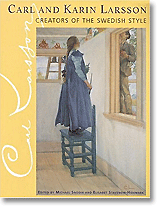 What King Gustav III did for Swedish interior design in the 18th and 19th centuries, Carl & Karin Larsson did for Swedish country decorating in the 20th ... and it seems their legacy is holding up beautifully in the 21st century as well.
The Larssons' timber cottage in the Dalarna countryside has inspired and influenced Swedish decor since the late 1800s. It combines Swedish folk art with elements of the Arts & Crafts movement.
A lot has been written about the Larssons' innovative Scandinavian home design; check out the book (left) for excellent study material!
When Carl & Karin first met (at a Scandinavian artists' colony near Paris), they were both accomplished painters.
As their little family grew (they would eventually have eight children), Karin decided to use her skill and talent to create a highly original family home, while Carl poured his talent into painting that home. Here's Carl's bedroom in 1899: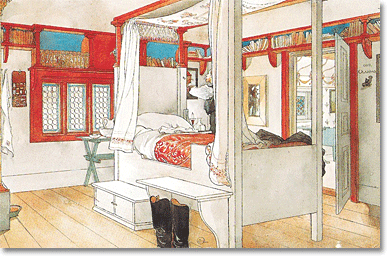 The embroidered bed curtains were Karin's creation; see the original here and one of her woven curtain designs, "kärlekens ros" (Love's Rose) here.
In 1898, Carl Larsson published a book of watercolors celebrating his home and family: Ett Hem  (A Home). The luminous, colorful images of Swedish country living struck a nerve with readers all over the world, and Lilla Hyttnäs became one of the most famous artists' homes ever.
Here is the Larssons' drawing room as it looks today (photo courtesy of The Carl and Karin Larsson Family Association), followed by Carl Larsson's watercolor version of 1894: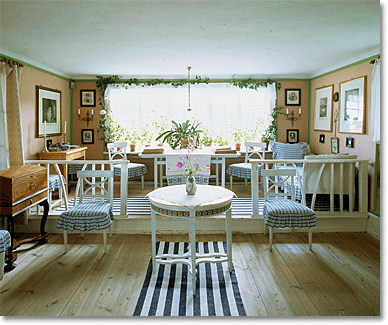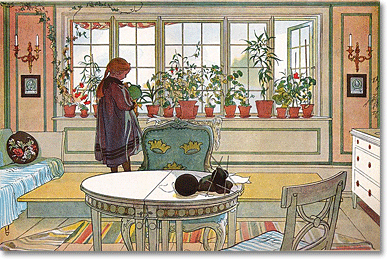 In 1997, the Victoria & Albert Museum in London celebrated the Larssons' creative work with an exhibition, Carl And Karin Larsson, Creators Of The Swedish Style. You'll find more pictures of their Swedish interior design further down this page, as well as here. For yet more, check out these publications:
Typical Colors
In Swedish Country Decorating
In addition to the 'Gustavian' colors (gray, pale blue, pale green), Swedish home decorating is often done in white, cream, light pink or pale yellow. (You'll find gorgeous examples of this in Vibeke's home in next-door Norway)
Generally, people prefer chalky, powdery tints (in the tradition of old water-based distempers and limewashes) to bright, saturated colors.
Deeper accent colors include gold, ochre, red and green. Here is an example from the Larssons' atelier (with Karin's handloom in the background):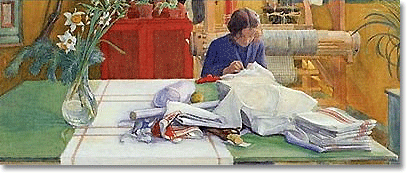 Swedish country homes contain a lot of blond wood (birch, white pine, beech, alder). It is used for furniture, floors and walls, and either left natural, bleached, or painted in pale colors.
Swedish Interior Design & Decorating:
Elements To Get The Look
1. Simplicity & Comfort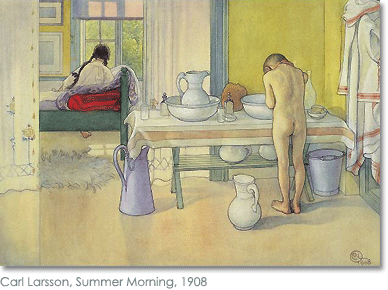 Simplicity is the order of the day in Swedish country decorating (actually, in all  Swedish homes, from farmhouse to city pad - and in Norway as well). Spaces are kept open and light, materials are genuine and furnishings are low-maintenance.
Furniture has mostly straight lines in Swedish country decorating, sometimes with gently curved detail and occasionally with carved accents.
Straight-backed wooden sofas are much used in Swedish houses; with an integrated chest and loose cushions, they combine seating and storage, and are "excellent for an afternoon nap", says Ida ...
... so it's not just the Italians then ;-)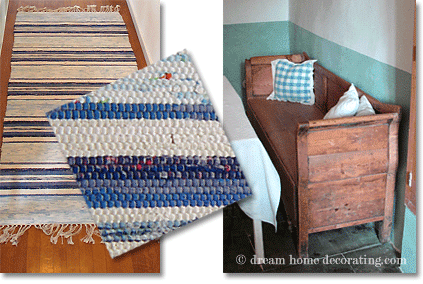 To keep people warm, striped rag rugs have been spread over Swedish floors for centuries, and woollen blankets lovingly piled onto sofas. More recently, long-pile rugs have also been used to keep the cold out. And the ultimate showpiece ...
... would be a faience-tiled stove like the one at the top of this page (left side of painting)! Absent affordable antiques, choose a freestanding for an authentic Swedish interior design look.
2. Multiplying The Light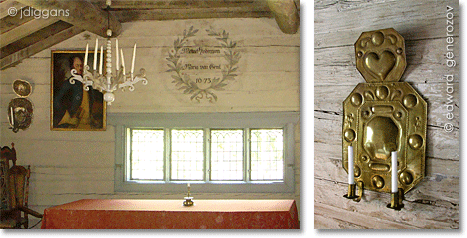 Photo left: © James Diggans; right: © Edward Generozov


The winters are so long and dark in Sweden that people want to bring light and warmth into their homes as much as possible.
For this reason, fireplaces, stoves and candles are important features in Swedish country decorating, as well as chandeliers, wall sconces and table lamps.
Windows usually have fine white muslin curtains (if any), and mirrors (sometimes with candleholders attached to them) reflect as much light as possible back into the room.
Table settings, too, reflect the need for a light touch - Swedish country tables are laid with glass, silver, and light (plain or floral) china in pale colors for an unassumingly beautiful look.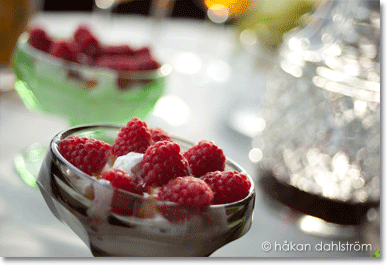 3. Celebrating Nature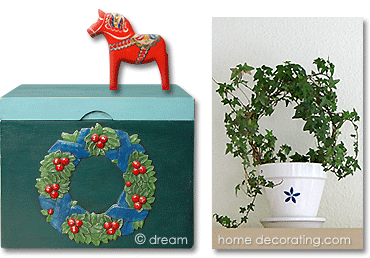 Once spring arrives, the doors are thrown open, everyone is outside in the sunshine as much as possible, and nature is brought into the house.
There are always fresh flowers in Swedish houses, and natural objects (pebbles, shells and driftwood if you live near a beach) are arranged into small compositions. (Check out Vibeke's Norwegian country home for some lovely examples!)
Karin Larsson's hand-woven and embroidered textiles set an enduring trend in Swedish country decorating, and to this day handmade accessories & furnishings from natural materials (wood, glass, textiles) are an important element in Swedish interior design.
4. Surface Decoration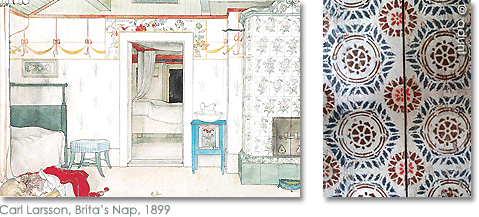 Plain, textured fabrics, as well as floral patterns, stripes and checks, are used for soft furnishings in Swedish interior design.
Walls and/or furniture may be stencilled with ribbon, wreath, or heart motifs.  More abstract shapes, like diamond, circle and oval, are used in Swedish country decorating as well. (Photo right © adunt.)

Do you have a specific look in mind, or are you looking for particular information about creating the look of Swedish houses & Scandinavian interior design?   Check out these books about various aspects of Swedish country decorating:
Yet to find the information you're looking for?
Type a word or phrase into the search box below: