Tuscan Colors, Inside & Out
Use Tuscan colors to inspire your room color schemes with the warmth and beauty of the Tuscan countryside.  Check out these, too:
Tuscan Paint  Colors: 7 paint color schemes inspired by Tuscan villages & crafts
Tuscany Color Palette: 7 typical color combinations, photographed in real Tuscan homes

In authentic Tuscan farmhouses, interior walls are usually painted white.
Now, just because Tuscans  tend to paint their kitchens, bedrooms and living rooms white ...
... doesn't mean that you  have to do the same.
So this page is about Tuscan colors straight from the exterior  color palette of Tuscan villages.

By the way, Tuscany is only a 4-hour drive away from the South of France, but a Tuscan  color palette looks quite different from French  country colors. (Compare French country bedrooms to traditional Tuscan ones and you'll see exactly what I mean!)

Warm neutrals are the basis of any Tuscan color palette:
straw
golden honey
dark brown
sandstone
raw/burnt umber
raw/burnt sienna
warm gray
milky white

Next, add muted reds and deep, glowing yellows. These are essential Tuscan colors:
rusty/brick red
terracotta
yellow ocher
deep cotto red
grayed warm pastel pink
pale warm yellow
apricot
peach

After that, add accent colors from Nature's own Tuscan color palette:
green (any hue or shade!)
hot reds, like begonia purple or bright poppy, or
vivid blues
For metals, focus on pewter, copper, and/or antiqued brass.
Tuscan Colors for Interiors and Furniture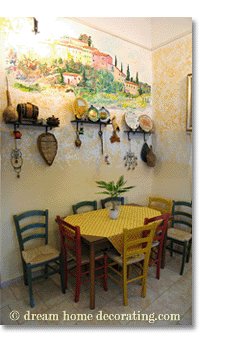 In the original, rustic Tuscany decorating style, the color palette is almost entirely neutral. It consists of
terracotta or cotto floors,
unpainted wooden furniture,
chairs with straw seats,
occasionally a colored textile, and
white walls.
However, even in Tuscany it's nowadays acceptable to put some color not only on your walls, but also on your furniture.
Here's a little eatery, the Osteria del Borgo in Micciano: The owner, Marcello, chose a mix of red, yellow and green for the rush-seated chairs and the tablecloths. (He also painted the mural of his village!)
In interiors, Tuscan paint colors can create the illusion of sunshine and warmth - even in the coolest, most functional city environment.
Tuscan Paint Color Combinations with White
If you combine a Tuscan color palette with traditional Tuscan white walls, the white will make the colors look darker and more intense.
For example, the display cabinet pictured below would 'pop' much less if it were surrounded entirely by wood, brick, and straw colors. (In a traditionally Tuscan environment the wall would have been white but the cabinet would have been dark brown.)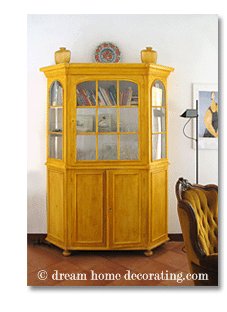 If you decide to use Tuscan paint colors on your furniture,
Always make sure you test the colors before you start painting. Make sure they don't look garish.
Mute strong colors (mix in some gray, brown, or a complementary color).
If you're combining Tuscan paint colors with white, go for a paler version of the color than you would normally do.
To make sure your interior Tuscany color scheme doesn't look artificial, combine your paint/fabric colors with lots of rugged, natural materials, for example:
straw, terracotta (glazed and unglazed) and untreated wooden furniture.
If your home doesn't have terracotta, stone or terrazzo flooring, try rush matting for some instant rustic appeal.
Tuscan Paint Colors for your House
Tuscan colors vary from town to town and from village to village, but usually only between different hues of brick red, peachy pink, light terracotta, and yellow umber.
There's the occasional sugar pink thrown in (as in the photo at the top of this page). Rarely is a house painted green, and I don't think I've ever seen a blue house in Tuscany.
Tuscan window shutters are either dark green ('hunter green' would best describe it, and you can go quite dark on the color), or (natural) brown. As an alternative, there's light bluish gray.

Tuscan villagers can be quite pernickety about what colors you can paint your house in "their" village!
A friend told me how, at the bottom of her tiny hilltop village in Tuscany, someone was building a new house.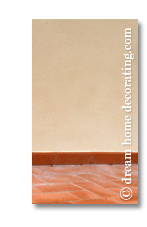 The other villagers (40 when you counted all the kids) were nervous about the possibility that the newcomer would spoil the general appearance of their village. (If you scroll back to the color swatches near the top of this page, you get the general idea of their specific Tuscan color palette.)
Well, they got together and decided that they would have a say in the choice of Tuscan paint colors for the new house!
A chart with suggested color swatches was hung up in the Alimentari, the only shop in the village. Forty villagers flocked to the shop to tick their choice of Tuscany colors for the new house.
Which color did they pick? Here it is - photographed in situ, on the walls of the newcomer's house  (Yes, he obliged. You don't mess with 40 people who all live, more or less, next door :-)
Not all Tuscan towns and villages have rendered, painted houses. Many have just the natural hues of local rock, brick, and terracotta roof tiles.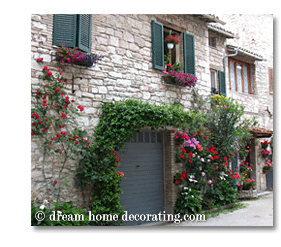 If this sounds a bit drab to you, it's because I haven't mentioned the flowers yet.
Geranium, star jasmine, roses, wine, oleander - sometimes even bougainvillaea - they all like it hot and sunny. And (except for the geranium) they'll climb all over your house if you let them. Climbing plants can go a long way in turning your house into a Mediterranean dream home.
Use the photo (right) as a starting point for home decorating in Tuscany colors:
How to "Build" a Tuscan Color Palette
Start with several neutrals, including lots of white, straw colors, and natural browns. What I've seen done a lot in Tuscany is that the basics (beds, bedspreads, sofas, chairs, tables) are kept entirely in neutrals, and colors are then added through accessories.
Colorwash your walls subtly with a tint of yellow umber or slightly grayed, yellowish, peachy pink. (Or both, one after the other). Caution: Don't colorwash only parts of a room. It will look odd.
Create accents with warm reds and earthy yellows (e.g. cushions, rugs, wall art, dinnerware, flowering plants). Add a few 'hot' colors (deep, glowing reds and dark pinks or purples), or a vibrant blue.
Tone the mix down with a few gentle shades of green (sage, olive, or darker, leafy greens are all great). In other words: add plants. It doesn't matter how big or how many, but the green color helps balance out the warm reds and yellows.
Make sure you include a lot of textures, even very coarse ones, to evoke the natural surfaces of the Tuscan landscape and houses. It'll look wonderful.
More Ideas For Tuscan Colors:
Original Tuscan Color Palettes (Click A Pic)

Also, check out this little 'library' of color know-how (in partnership with Amazon):
Yet to find the information you're looking for?
Type a word or phrase into the search box below: