Home

›
Scandinavian Interiors
› Norwegian Country
Norwegian Country Home
Expert Interview: Vibeke Svenningsen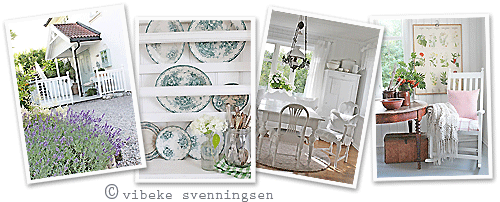 Vibeke's Norwegian country home is jaw-droppingly gorgeous.
You can check it out on her inspiring blog, where she shares all her decorating adventures!
On this page, she'll let us in on some of her personal Norwegian interior design secrets.
Vibeke is a painter, illustrator and stylist, and one of the most joyously creative people I know.
Luckily for us, she's also a dab hand with a camera - as you'll see below!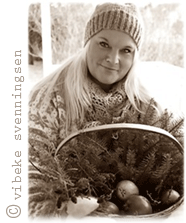 Renate:  Vibeke, thanks so much for talking to us today - I've got a bucket load of decorating questions I want to ask you!
And to start right at the beginning: I know you've been in your Norwegian country home for 11 years.
What did it look like when you moved in? What were the first things you did to make it your own?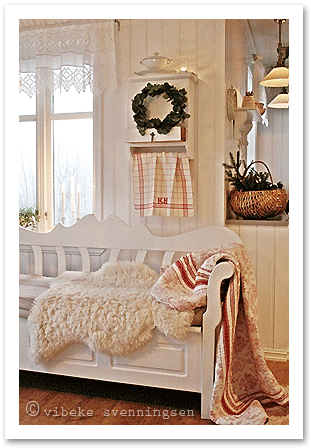 Vibeke: You know, even though it looks like the house has been here for many, many years, we actually built it ourselves 11 years ago!
People often comment on how it looks like it has always been here, which I think is amazing. It shows us that we accomplished what we wanted to do when we built our house.
Not much has changed in the past 11 years, except that we've painted some walls to give them all the same colour and expression. We did this because we like the light, simple and airy feel, and it makes the other colours in the interior pop.

Renate:  Your house looks like everybody's dream of a Norwegian country home - full of antique furniture and beautiful decor from the past, yet bright and fresh and not at all like a museum.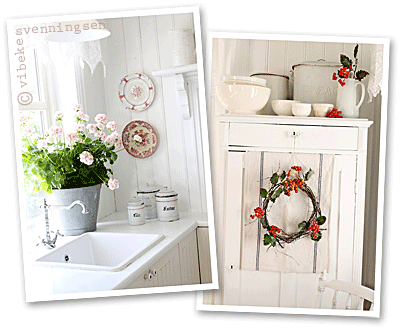 Would you say this look is what Scandinavian decorating is all about?

Vibeke:  I can't answer for the other interior designers and bloggers out there, but I think I have my own style mix where I use a lot of natural materials from the woods behind my house, as well as ideas I get from Sweden, English cottages and French country styles.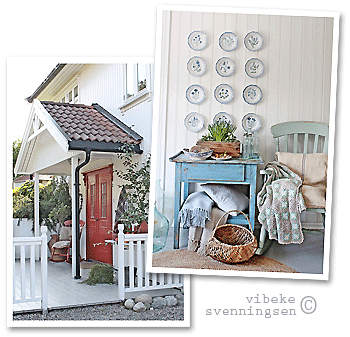 Renate:  Right now, most of your home is painted white, but you've also experimented with more colorful furniture in the past...
... and you've recently painted your front door and porch rocker in oxblood red!
Which decorating colors are you most attracted to? And would you say these colors are typical of a Norwegian country home?

Vibeke:  I get most of my inspiration from nature. The colours I use are not typical Norwegian. I often change colours with the seasons. Now the door is red, but what it will look like in the spring? I don't know yet :-)

Renate:  In some of your photos I've seen a really dramatic cast-iron stove, very tall, with a crown around the top - a bit similar in style to those Swedish faience-tiled stoves that go all the way to the ceiling.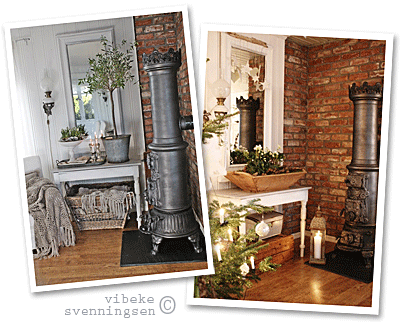 Can you tell us a bit more about it?

Vibeke:  This cast-iron stove is really the treasure of the home. When we built the house we got it out of my father in-law's childhood home. Even though it is 110 years old it heats up the entire house during the Norwegian winters. We love this stove so much that if one day we move out of this house it will come with us to our new home.

Renate:  Awww that's beautiful! And speaking of beauties - I'm very much in love with that dresser near your dining table, and I love how you made it into a rather grand affair, just by adding two simple plate racks above it.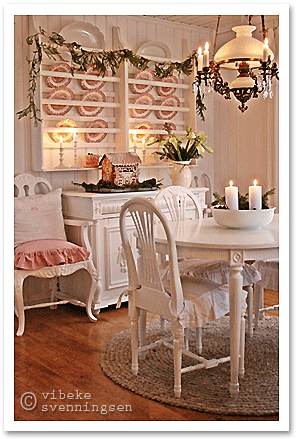 Did you know this was going to be a major "exhibition space" for your creative experiments? Because it sure has turned out that way!

Vibeke:  This is my favourite place to decorate in my house!
This corner has a lot of natural light that makes it really easy for me to decorate it according to the seasons and the mood I am in that particular day.
And after I took the big piece of furniture out and replaced it with the dresser and the two plate racks above, everything just fell into place.
In the beginning I was kind of insecure about how that dresser would turn out because of the pattern on the doors. But after I painted it white and put it in my dining room I just love it.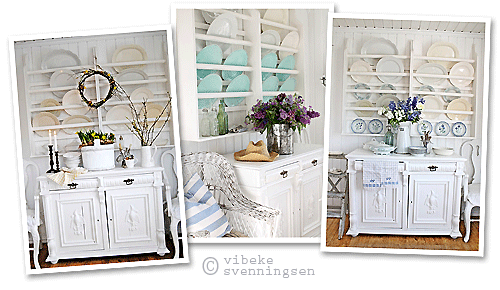 Elements Of A Norwegian Country Home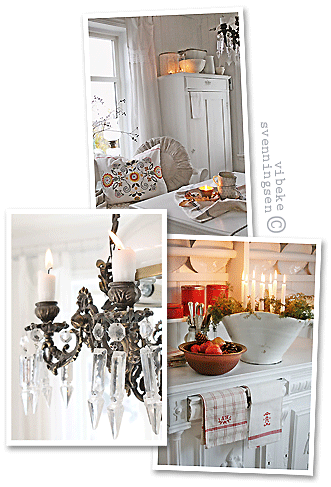 Renate:  Vibeke, I remember you once called yourself a 'basket and lamp type', and your home is living proof of that!
I've seen loads of candlesticks in other Nordic interiors, too; live candles are obviously a Scandinavian decorating essential. How come they're so important?
And what about baskets - would you say they're de rigueur in a Norwegian country home as well?

Vibeke:  I think this is the Norwegian/Nordic style because of the dark winter months. The lights make the room warmer and the atmosphere cosier. The baskets are just so practical and pretty to look at and come in so many different shapes. I like the old French style baskets the most.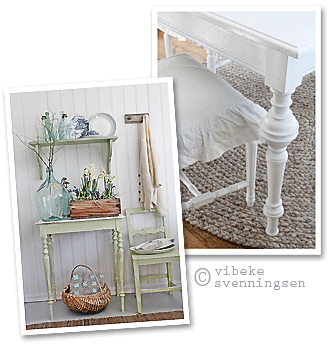 Renate:  So if I wanted to give my city pad in, say, Baltimore or San Antonio a genuine touch of "Norwegian country home" ...
... which elements should I focus on and which ones are not so important?

Vibeke:  I would say, give your home a good mix of old and new stuff. That's a good start I think.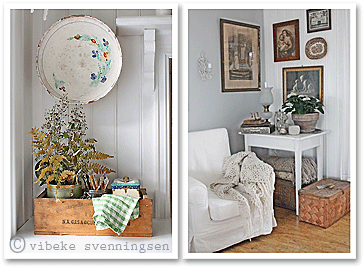 Bring in some old wooden furniture, paint it in light colours, like light grey, blue, white or green.

I also like to bring in nature in a seasonal way, and as you see I use it a lot in my decorations around the house. And I do like it when the fabrics and funiture go well together.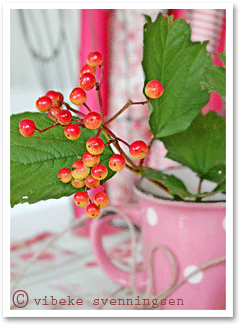 I know people have lots of antique furniture treasures and really beautiful old stuff in America. I often dream of taking a trip over there to bring something back with me!

Renate:  Vibeke, I know you love the fall, and you're itching to get going with your first Christmas projects. What is it you love so much about these last four months of the year?

Vibeke:  I have always been an "autumn kind of person". I like the feeling of moving back inside after the summer months end.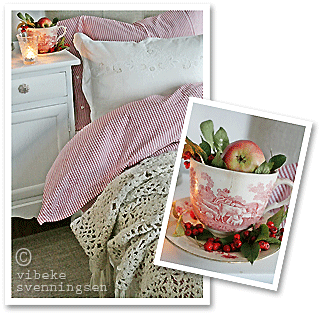 Autumn is the time when I am the most creative and I produce a lot of the items I sell during my Christmas showings.
I have always liked to snuggle up under the blanket with my candles lit around me.
But in more recent years I have also discovered my big passion for walking in the woods, where I find many new materials that I use in my decorations. The woods give me a lot of inspiration, especially during the fall when the colours are changing. My dog, Nure, is my companion.

Renate:  Vibeke, you've created an amazing space, and I love how it's constantly changing in subtle ways.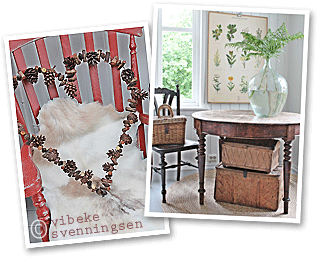 And I'm really curious - what's your favorite room in that beautiful home of yours?

Vibeke:  You might not be surprised when I tell you that the family's favourite place in our home is our kitchen.
It's the place in our house where we gather around the dinner table after our long days. And we always seem to end up here when we have people over. We really tried to make it into a room where there is enough space for cocking and entertaining. We wanted the kitchen to be the heart of the home when we built it 11 years ago.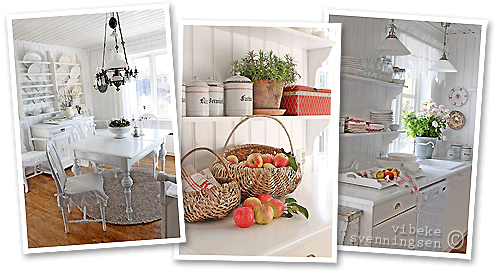 Renate:  Vibeke, thank you sooo much for sharing your tips and your gorgeous Norwegian country home with us! Much appreciated! And I look forward to reading your blog this winter - can't wait to see the results of your 'creative phase'! It's been lovely talking to you. Thank you very much for dropping by!
Yet to find the information you're looking for?
Type a word or phrase into the search box below: