Home

›
Color Questions (Interior)
› Pastels
Pastel Color Schemes
= "Old Lady Colors"?
Are pastel color schemes out of date?  (Reader Question)
The art student that is painting my walls assures me that a lightly tinted color (especially pastel) is "an old lady" color, and totally out of date.
Is this true?
Vicki
(USA)

Hello Vicki,
Art students, especially when they're starting out, can be quite intent on 'making their mark'. They're not necessarily focused on understanding the world of someone who is not of their own generation.
I'm not sure if the person painting your walls falls into this category, but I'd say that, in general terms, whether a pastel or a light tint comes across as an 'old lady color' does not have anything to do with pastel color schemes as such.

Pastel color schemes can look thoroughly modern with simple contemporary furniture and a fresh choice of colors across the room.

Whether a room looks 'outdated' depends very much on the furniture and decor of the room:
style & patterns of the soft furnishings and carpets;
light fittings - and so on.

Even then, what looks 'outdated' to one person may well look classic or timeless to someone else.
Here's a contemporary bedroom color scheme: All pastels, no fuddy-duddy.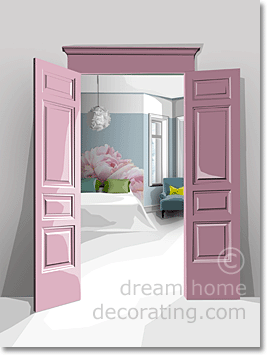 So don't buy into the judgment, Vicki, and please, please follow your heart. It's not the art student that will live in your home.
Kind regards,

(Here is part of Vicki's intriguing response:)
You probably do not need this info, but I am going to explain further why I am interested in pastels.
I am an older woman who tends to be a bit sedentary, and a bit of a worrier too. I tend to see the world as an impressionist painting - don't notice details, but am sensitive to the general tenor of an environment. I have deep emotional responses to the color that is wrapped around the room.
I find that of all colors, some pastels (like violet and spring green) are both stimulating and relaxing at the same time. I think that is because they are not primary colors, but pick up attributes of both their colors. They are easier to work than shades, because they tend to look good in lots of lighting situations.
Although my decorating taste is not modern - closer to casual eastern hemisphere mixed with contemporary - I think I can make pastels work. I have given up on Sherwin Williams color deck, and am experimenting with my own mix to find the perfect tints for my apartment.
Sincerely,
Vicki
Thank you for sharing this, Vicki! It's a rare quality to be able to experience color in the way you do. And I'd love to see your walls, all dressed in custom mixed pastel color schemes - I bet they're stunners.
All the best,

Check out this Mini Bookshop, too (in partnership with Amazon):
Yet to find the information you're looking for?
Type a word or phrase into the search box below: