Gingerbread Christmas Decorations
& Gingerbread Christmas Ornaments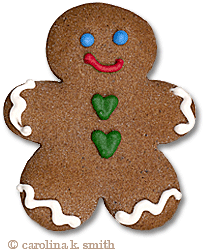 Gingerbread Christmas decorations are easy to make Christmas ornaments.
They're even easier just to buy & customize, which I prefer because it's so much faster ;-)
Therefore, this page has some lazy ideas for unique Christmas tree decorations!

Gingerbread Christmas ornaments are perfect to decorate a Christmas tree ...
... particularly in combination with gilded walnuts & apples - old-fashioned, European-style country Christmas tree ornaments.

When the custom of decorating an evergreen tree for Christmas spread around Europe in the 19th century, sweets and cookies were highly favored Christmas tree ornaments.

They didn't just give the Christmas tree a festive look, they also contributed a wonderful, unmistakable Christmas flavor. All around the house, you could smell that it's Christmas!

To create the look, just buy plain cookies in 'Christmas ornament' shapes (hearts, stars, rocking horses...) and customize them. There are two general options for doing this.
Option 1:
Using Gingerbread Christmas Ornaments
As They Are
Some gingerbread Christmas ornaments come ready-made with icing or in very pretty shapes, and you can't really improve them. In this case, either
a) just wire them into the branches of your Christmas tree with gleaming gold/silver wire. Add a few sparkly bits (tiny, shiny metal trinkets or crystals) to jazz up any Christmas ormaments that seem a bit plain. Some gingerbread Christmas decorations look great in clusters - especially smaller ones like cinnamon stars.  Alternatively,
b) co-ordinate your gingerbread Christmas ornaments with other country Christmas tree ornaments by using same-color ribbons for hanging them into the tree (add a little flourish here and there - bows or little bells, for example).
If the cookie has a hole to pull a ribbon through, that's quick & convenient.   If there's nowhere to fix a ribbon, just use a needle to make a small hole near the top of the ornament (leave at least 1/3 inch to the rim!) and use a length of skinny wire to form an eyelet for your ribbon. It's almost invisible, and it works beautifully.  Job done!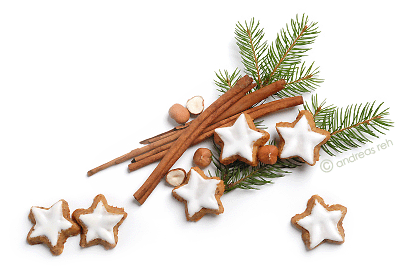 Option 2:
Customized Gingerbread Christmas Ornaments
To customize plain  cookies:
For a traditional look, use almond halves or dried/candied fruit - the sweets and little luxuries of centuries past. 'Glue' them onto the cookie with a mix of confectioners' (icing) sugar and water.
For a more contemporary look, use (colored) icing to paint the cookies, and add colorful little sweets.
Candy writers can be a great help with embellishing gingerbread Christmas ornaments, too.
For an Old-World style country Christmas tree, use only natural colors for your gingerbread Christmas decorations: brown cookies, red dried fruits, white icing sugar.
Complement the look with red ribbon for hanging the tree ornaments, and/or tie some pretty red bows into the tree as well. For a lavish 'country' Christmas tree, mix your customized gingerbread Christmas decorations with ...
small, decorative wooden toys, and
homemade straw stars.
Bonus Option:
Totally Homemade Gingerbread Christmas Decorations
(Not  Edible Christmas Crafts!)
If you want to put a little more effort into creating gingerbread Christmas ornaments that you can use next  Christmas as well, try Kelly Mann's gingerbread Christmas ornament "recipe". Great looking, easy to make Christmas decorations!
You'll find more ideas for homemade Christmas tree decorations in the box below:
Yet to find the information you're looking for?
Type a word or phrase into the search box below: