Home

›
Color Questions (Interior)
› Craft Shop Colors
Shop Colors For Selling Craft Objects
Are there 'buying colors' for a craft display?  (Reader question)
Hi Renate,
I am planning to open a workshop and display (selling area) for my hand felted wool vessels, wall hangings, shawls, jewelry, etc.
I would like my patrons to feel relaxed and at home, but also in the mood for buying.
Are there more "buying colors" and "relaxing colors"? (Perhaps the "buying colors" could be accent colors!)
Thanks!
Connie (USA)

Hi Connie,


The most sophisticated way I can see to display your wares (they sound lovely!) is on crisp, white walls & surfaces - as if they were on show in an art gallery. This is particularly important if your felted objects are bright and colorful. (It would be less important if most or all of your work were in neutral colors.)
Then, get very good lighting that brings out the colors in your products and makes them look their most attractive.

As soon as you start painting the wall/display area a non-neutral color, you'll have the problem that
a) the wall color may interfere with the colors of some of your craft objects, and
b) people could get distracted by the wall color.
And you don't want to lose potential customers (who like your work) just because they feel uncomfortable with the background color.


On the other hand, having a color theme that goes with your brand/shop (for advertising, business cards, price tags etc.) is a good idea, and it will help people remember you and your work. That's how you could use the "accent color" idea.
I hope this helps, Connie. Good luck with your venture, and let me know how you get on!
All the Best,

Here's an update from Connie:
... I'm still looking for studio space, retail space and think I have settled on an ivory color or watery aqua depending how personal the space turns out to be.
I want the look to be tree/twig relating since my business is named cj twiggs ... I think my colors will be ivory, aqua, black and brown.
Where I currently work is just too small, as I am making bigger and bigger felted items. Since they shrink so much in the making, the end product doesn't really show how much room I need.
I continue to look forward to your emails. And thanks for letting me talk to the real person behind your endeavor.
Love your ideas ... Thanks bunches!
Connie

And here's a pic of Connie's work (you can click it to enter her shop):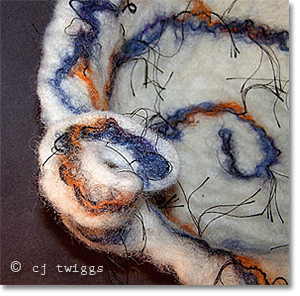 Yet to find the information you're looking for?
Type a word or phrase into the search box below: