Rustic Country Style Decor:
Easy-To-Copy Rustic Decorating Ideas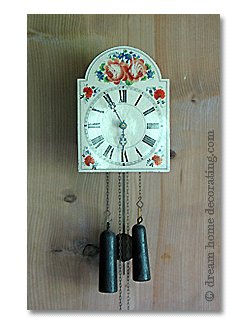 Rustic country style decor and primitive rustic country decor:
Here's an ideas list for rustic interior design!
You don't need a lot of rustic ornaments to create a convincing rustic look ...
... but you do need a few well-chosen key elements.
Less is more in rustic interior design, and with a few carefully selected pieces you can create a pared-down, genuine interior rustic style.

Rough-hewn rustic country style decor has a simple, natural beauty.
It evokes a 'handmade' lifestyle close to nature, where nothing goes faster than a horse at full gallop.
Mix & match the rustic decorating ideas below for a time-honored look!
Rustic Decorating Ideas, #1:
Wall Clocks
There's something very soothing about having a clock ticking away in the peaceful atmosphere of a country home.
If you're going to have a wall clock as part of your rustic country style decor, see if you can get one with a mechanical clockwork. Sure, you'll have to keep winding it, but then you can actually hear it tick. Maybe even chime the hour. I'm not sure why, but I find there's something 'real' about that.
If you prefer a battery-driven clock, look for a vintage one (or one with a 'vintagey' feel). They make lovely rustic ornaments - 'wall jewelry' for your rustic interior design. Here's a selection I've put together for you:
Rustic Decorating Ideas, #2:
Lighting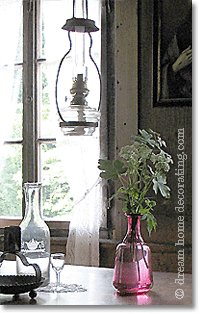 Candlelight always has a magical effect on a room, particularly when it illuminates a dinner table. No dimmer switch can match the gentle, warm light of a live flame.
Here are some lighting options you could use with your rustic country style decor:
Chandeliers (with real candles)
Wall sconces (candlelit or petroleum fueled)
Candelabras for the table, and
Real petroleum lamps (with vintage lampshades), hanging from the wall/ceiling, or standing on the windowsill.
Rustic Decorating Ideas, #3:
Wooden Surfaces
Wood is the most important material in rustic country style decor. For an authentic look and feel, it's best to keep the furniture simple and the wood grain visible.
A substantial, sanded tabletop is perfect for a meal with family and friends.
Wooden chairs with colorful cushions, a dresser or cabinet that shows off the beauty of natural wood are also great assets in rustic interior decorating.
If you're just starting out or don't want to invest large amounts of money into your rustic country style decor, you could go for smaller items: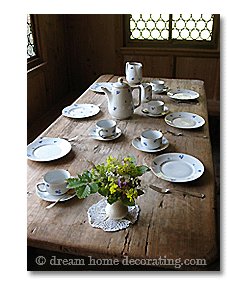 Wooden bowls - resist any temptation to fill them with pretty, unusable items (unless these items are utterly, utterly gorgeous). Rustic wooden bowls will look more credible when you fill them with

fruit,
kitchen utensils,
salads, and
other useful things.
Wooden kitchen accessories, like

trays,
draining/chopping boards,
pestle & mortar,
salad servers, or
cooking utensils.
Wooden containers, like boxes, crates or small chests.
Rustic wooden wall shelves or plate racks to display your country style crockery (or any crockery really, as long as it's not very sleek and modern looking).
Here's a (tiny) selection of wooden things I've found:
Rustic Decorating Ideas, #4:
Things From Nature
Collect and display a few, choice items that reflect the simple, unassuming beauty of natural things.
Think along the lines of ...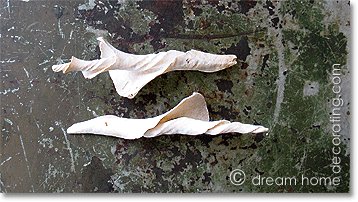 branches
pebbles
seashells
a flower
a foliage 'bouquet'
sand in a glass, with a candle stuck in ...(things like that).
Rustic Decorating Ideas, #5:
Texture
Textured surfaces are essential in rustic interior design. In a handmade environment, they show off the beauty of natural materials.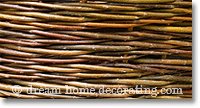 Willow or wicker baskets make excellent rustic country style decor; they are relatively inexpensive, very useful and look good in almost any room.
Earthenware jugs, bowls and plates in less-than-perfect condition add charm and a 'practical' feel to a rustic home as well.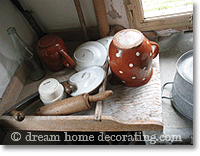 Keep your collection simple; mix slightly different glazes or shades of a color, and keep them in use as much as you can.
(A friend of mine has a beautiful, large ceramic plate hanging above the kitchen door. Whenever she makes her famous leek pie - it feeds eight - the plate comes down from the wall, gets rinsed and takes the pie to the dinner table. After the meal, up it goes again!)
Rustic Decorating Ideas, #6:
Fabrics
Fabrics are a wonderful (and simple) way of adding rustic country style decor. Any of the following will work well in country cottage decorating: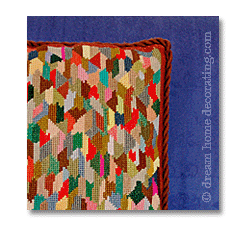 Quilts. Many of them are real works of art. Go for muted, faded, subtle color combinations that suggest long use and age. Or make one yourself if you have the time ;-)
Blankets in soft, natural-dye colors.
Heavy quality linen, as good as you can possibly afford. It crumples so beautifully, there's nothing like it in rustic country style decor.
Embroidered textiles - cushion covers, tablecloths, and maybe an old sampler on the wall.
My great-aunt embroidered the cushion in this picture; the design is her own - well, I guess she made it up and mixed the colors as she went along. Designs like this one always look good alongside simpler pieces. And simplicity really is the hallmark of rustic country style decor.
Rustic Decorating Ideas, #7:
Handmade References
If you like making things by hand, use decorative tools...
... and show them off!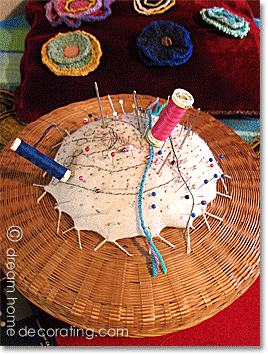 Yet to find the information you're looking for?
Type a word or phrase into the search box below: