Country Style Living Room Furniture:
How To Create Great Country Living Rooms
Country style living room furniture is all about relaxed seating, natural colors and the unaffected simplicity of European country living room furniture.

What Makes A Country Style Living Room?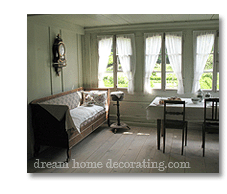 Traditional European country living rooms often combined living and eating in one room: This photo shows a 19th-century Swiss mountain home, with a sofa and a coffee table set for 10.
So country living rooms had a dinner table but no low coffee tables
(those were invented by city folk in the late 19th century).

An old-world living/dining room would also contain a buffet with a hutch
to store/exhibit the family's best china. (You'll see some good examples on the Tuscan dining room page!)

Another important piece of country style living room furniture used to be the grandfather chair - a wingback chair reserved for members of the older generation, to smoke a pipe, read the paper, comment on the state of the world, or snooze in. (The Italian version, a poltrona, appears in the article about Tuscan living rooms.)
My grandmother had one of those in her kitchen. I don't think I ever saw her smoke a pipe in it (or anywhere else, for that matter). But in the fading evening light she used to light a small gas flame on the stove (no candles here, she was a modern grandmother ;-)
Then my little sister and I would climb into her lap, and she would tell us stories of times gone by. Sometimes we would sing together. I still remember the songs. It was the best bit of the day.

Country Living Rooms: Get The Look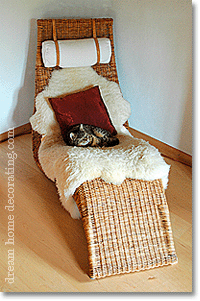 In Europe, there are so many distinct country styles that there's not one type of country style living room furniture that would go with all of them.
However, you can't ever go wrong if you focus on the following simple rules:

DO:
♦   choose country style living room furniture that's made of wood, wicker, cane, or straw. Leather is fine, too, for most styles.
♦   make sure all surfaces have a matte (or even distressed) quality. Anything really glossy will look out of place when it comes to country style living room furniture.
♦   choose natural, vintage or seriously rugged textiles for windows, upholstery and added cushions & blankets (more below).
♦   remember nothing has to match. The pieces just need to have enough in common (see below for ways to accomplish that).
♦   improvise. (For example, make a low coffee table out of anything from vintage barrels to an antique door on old wooden crates.)

DON'T:
♦   use garish colors;
♦   use obvious man-made/synthetic materials;
♦   use modern shiny metals, glass tables, highly polished surfaces;
♦   use elegant, glossy wovens (like silk).

Create a Style
That Hangs Together
If you have some pieces of country style living room furniture where the styles, wood or fabrics don't match, there are tricks to create a 'unified' look: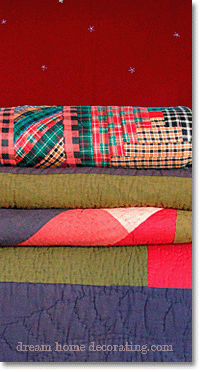 ♦   Keep a mismatched table covered with a cloth that echoes other elements in the room (e.g. wall color, upholstery fabrics). Or paint the table.
♦   Cover mismatched seating with cushions in one color, fabric and style.
♦   Use color to 'unify' wooden furniture - if the wood is not very precious, give it one or several coats of paint. Rub off or sand for a distressed look.
♦   Slipcover one or several seating elements
♦   Cover the sofa with a blanket or quilt, and other seating with cushions in matching color(s).

The nice thing about country style living room furniture is that you really can't go far wrong.
There aren't many 'rules' to break - your own comfort is the deciding factor. So follow your heart - and maybe do something your grandparents would never have dreamt of doing with their country living rooms.
Yet to find the information you're looking for?
Type a word or phrase into the search box below: