Authentic Country French Bedroom:
7 Ideas To Steal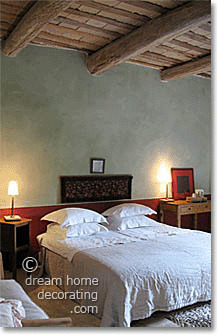 Design the country French bedroom of your dreams with these easy-to-copy French provincial bedroom ideas. (And they're easy on the budget, too!)
I photographed these French country bedrooms on a leisurely trip through the South of France ...
... while staying in gorgeous old sandstone farmhouses in small Provençal villages.
Some of the bedrooms use traditional decorating elements, while others mix shabby/elegant or exotic antiques with contemporary French country detail.

Country French Bedroom #1:
The Fabric 'Headboard'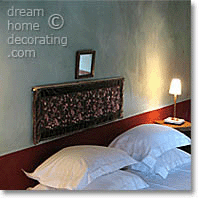 This French provincial bed is crowned by a length of antique fabric, edged with velvet and mounted on a batten to make it hang straight.
The fabric picks up the bottom wall color (just like the picture mat on the side table does - see the photo above).
The little mirror (in a battered frame) is like a piece of jewelry that adds sparkle to the rustic setting.
Try Similar Ideas:
This is a perfect use for a vintage or antique (but not too precious) piece of French fabric. Have a look at the variety of French fabric styles you could use for this look. (Remember always to give fragile antiques a sturdy backing!)  Toile de Jouy  is just one of several fabric options for a French provincial bedroom.
More ideas for small French-style ornaments above the bed are here. For additional inspiration, have a look at the page about French wall art, too. And for good measure, check out this page about French-style headboard & wall color ideas (particularly the little giltwood ornament and the round ornamental frame).

Country French Bedroom #2:
Heavy Linen & Embroidery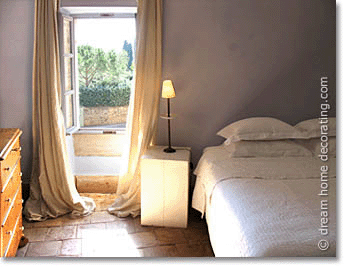 Even a simple platform bed without so much as a headboard will take on a French look if you use the right textiles. For a timeless look that will work in almost any type of room, newly built or 400-year-old country French farmhouse with exposed stone walls, try the following:
(Off-)white matelassé coverlets or rugged linen are typical bedspreads for provençal beds. They look wonderful against colorwashed walls (more about this below).
The other ingredient you need for a country French bedroom are generous curtains that puddle on the floor and show off their painterly folds and creases. French-style bedroom curtains can be made of heavy linen or a similar fabric - even burlap or hessian with a toile edging works - the main thing is that they are long enough to kiss the floor.
Experiment with wall paint for this look. Try colorwashing in French country colors, but apply the paint unevenly: wipe, scrub & scratch. Or play with subtle shifts in color by mixing a few drops of a related hue into your paint for the second coat.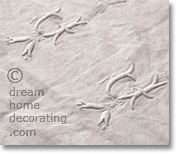 Some embroidery on (or near) the bedding would be great, too. For example:
a white embroidered monogram;
a red, cross-stitched monogram;
a tiny snippet of antique embroidery, edged & stitched onto the coversheet;
a piece of white-on-white embroidery, framed and hung on the wall above the bed.


As a general rule for this French provincial bedroom look, use different whites - layer milky whites, light creams and some ivory.  Avoid bleached, bluish whites; they will spoil your color scheme. Also, try different textures - quilted, knitted, crinkled, embroidered. The white color scheme will show attractive textures off to great effect.

Country French Bedrooms #3 & #4:
Painted Headboard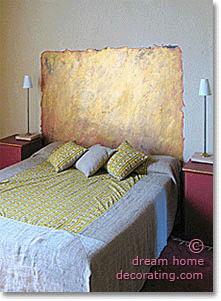 Paint a golden "headboard" like this one if you want an instant 'wow' factor for your country French bedroom.
This example was painted over a ground of black and red paint, and different metal paint colors were used.
Using gold (paint) in interior design is a very French  thing to do. And it looks great, even with rustic French country bedding!

Be careful, though, if you have light fixtures, window handles and/or similar items in silver colors (e.g. nickel plated, brushed steel or aluminum). In that case a golden headboard won't look right. (Experiment with silver wall colors instead.)
Try These Ideas, Too:
How about different headboard shapes? Narrow and tall, or oval, or a long horizontal rectangle?
Combine a long, low golden headboard with giltwood bedside tables.

The next picture shows a more painterly approach to the fake French country headboard, with stylized white lilies (akin to the fleur-de-lys symbol):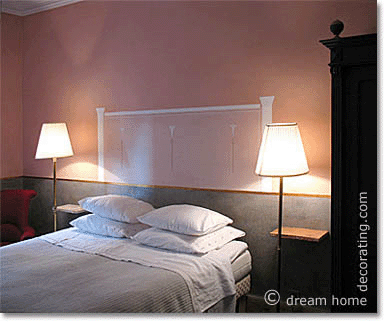 More Ideas To Steal From This Room:
Terracotta floor tiles mounted on the wall as rustic bedside 'tables';
A line of gold around the room in lieu of a chair rail;
'Statement' floor lamps on either side of the bed, rather than small bedside light fixtures.

Country French Bedroom #5:
'Feature' Fabric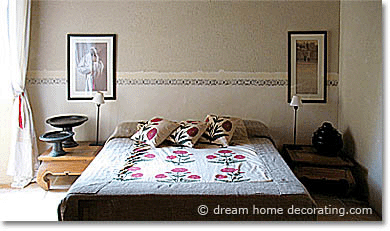 If you have a piece of beautiful fabric, consider 'framing' it in a rustic, solid-color textile to turn it into a French country bedspread. (Gray linen, burlap, or cotton duck are good candidates, but if you want a more luxurious look, go for silk velvet :-)
The calico in the photo above is block-printed with an Indian (Mughal) flower design. This may not look much like a 'French provincial' bedroom compared to what we're used to, but block prints from India actually arrived in Southern France early in the 17th century; they inspired the colorful Provençal prints as well as, later in the mid-18th century, toile de Jouy.
This idea looks great with any  lovely fabric, even a bedspread with patchwork 'intarsia' would work well. (Or Toile, of course.)

Country French Bedroom #6:
Oversized Elements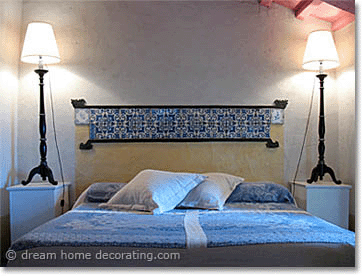 This is the least recognizably French country bedroom of the collection - but it's definitely in France, and very much in the country ;-)  I'm including it here for two reasons: the fun head'board' and the tall bedside lamps. (If you want a French provincial bedroom with attitude, you could do much worse than this!)
The lamps are too tall for traditional bedside light fixtures, and too short to pass for floor lamps.  They look as if they'd been made for a giant's bed but somehow ended up in a dwarf's bedroom, and they really add a dashing sense of 'larger-than-life' character to the room.
Also, here's another fun version of the painted headboard idea; this one integrates a tiled section that floats high above the mattress and pillows.
More Ideas To Explore:
Why not go with the idea of a tiled headboard - just tile a suitably sized wooden board with, say, Mediterranean-style encaustic cement tiles, and mount it on the wall behind the bed. No, this isn't authentically 'country French', but such tiles are used on Southern French floors, so the look definitely fits the bill.
If you paint a color field to represent the headboard space, you can then integrate almost any element into it. Consider, for example ...
♦   a series of framed pictures or artefacts,
♦   a cluster of plates or silver trays;
♦   a really pretty piece of French wall art ...
♦   ... you get the picture.

Country French Bedroom #7:
Gold, And Lots Of It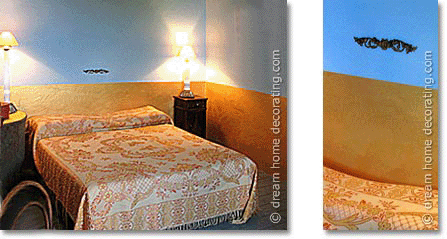 I saved this bedroom until last, because ...
a) it's so unbelievably over the top, and b) it works.
The room is actually quite spacious (sorry, the photo doesn't show this at all).  The gold color is painted around the entire  room, up to chair rail height. It looks beautiful against the serene sky blue that covers the upper part of the walls.
Also, notice the 'brooch' above the nonexistent headboard? Another example of 'headboard jewelry' to play with in your French provincial bedroom design. Here's a list of things you could use for that.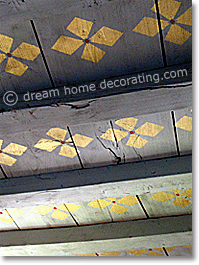 Gold is used in all types of country French bedroom decorating, from rustic to elegant.
If you're not ready to have large amounts of gold on your walls, here are some fairly low-key ideas for using gold in a country French bedroom.

1. Gold Accents:
♦   Picture frames;
♦   Small gilded objects;
♦   A golden line around door, window, or at chair rail height (see bedroom #4).

2. Pushing The Boat Out...
♦   Stencil the ceiling  (this photo shows the original ceiling of the 'golden' room above). Isn't it absolutely gorgeous? Imagine looking up when you wake in the morning.
♦   Paint fun details, like golden chair legs, a gold tabletop, or gold feet for an armoire
♦   Hang a couple of  b-i-g  giltwood frames. (They needn't be as big as this one though ;-)
♦   Use gold for larger areas, e.g. a 10in wide stripe around the room, directly beneath the ceiling (in lieu of crown mouldings - or paint a narrower, accent stripe underneath the crown mouldings).

Where To Buy Country French Bedroom Furniture
All of the above country French bedrooms can be created without any  French provincial bedroom furniture whatsoever.  On the other hand, you may want to add an armoire, or a chest of drawers, or a dressing table with a mirror, just to make your French country bedroom look more, um, French.
Here's a list of potential sources:
a) For reproduction pieces, try these:
b) For antique country French bedroom furniture, or a mix of old and new elements, try
Garage and yard sales,
Flea markets,
Estate sales,
Antiques dealers, or
Antiques auctions.

Alternatively, get lucky and find exactly what you're looking for on ebay!
Yet to find the information you're looking for?
Type a word or phrase into the search box below: