French Country Colors
French country colors can be full-on or subtle. Check out these lovely French interior color combinations!
♦ Flag-inspired French color schemes in red, blue, & white
♦ Country French seaside color schemes (if you're looking for subdued, mellow, delicate pastel French country colors)
♦ French country decorating ideas for neutrals-plus-one.
Or ...
♦ Just add gold! Country French decorating from château to cottage.
(Of course, the French have come up with more country color combinations than these - at the bottom of this page, you'll find a list of suggested further reading => more pictures of country French color schemes!)
'Patriotic' French Country Colors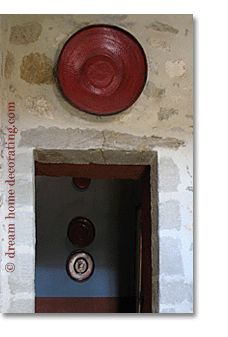 Even though they're red, blue & white ...
French country colors are nothing like the French flag.  It's much more subtle than that.

'Blue' can be:
aqua
cornflower
blue-gray
near-lavender
midnight blue

'Red' can be:
cherry
pomegranate
strawberry
tomato
raspberry ice-cream
peachy pink

'White', of course, can cover the whole gamut of
milky white
antique white
ivory
light gray
stone
the gray of unbleached linen
and taupe.

In the picture above, a doorway inside a Provençal house has a piece of 'door jewelry' above the lintel - a simple earthenware bowl in a deep, burnished red.
Through the door, you see a wall painted sky blue, with the lower part a slightly muddied, dark cherry red that picks up the color of the bowl.
Now, you won't need a home with rough-hewn interior stone walls to recreate this color scheme for your own French country style home.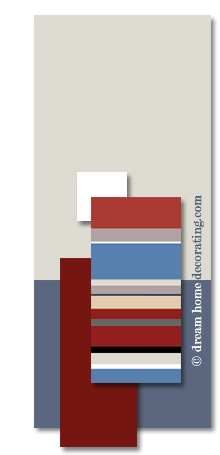 Here's how you could 'translate' the color combination into French country colors for a modern house or apartment:
Keep the major, upper part of the walls in shades of gray and/or white, with woodwork and details in white or light cream for a fresh look.
Paint the lower part of the walls (up to chair rail height) either in a grayish red or a discolored, chalky blue that is darker than the upper (gray) part.
Use a variety of blues, reds, grays and creams/whites for soft furnishings and accents.
It usually works best when one color dominates against the gray/white neutral background (so you could decide on red or blue as the dominant color). But it's not strictly necessary - if you'd rather achieve a 'happy hotchpotch' French country decorating effect, go for it!
To make sure this color scheme doesn't end up looking too sober, liven it up by using different hues/shades of these French country colors, as in the illustration to the right. That will give the room more depth.
The following versions of the red-blue-white French country decorating theme show how materials, style, and wall color can impact the overall look.
The photo to the left (that is, when you look into the mirror) shows an antique metal day bed, in a room with light blue walls and terracotta flooring.
(My apologies for not showing you the whole day bed - at the time I took the picture I was much more interested in the mirror frame!)
The mattress is wrapped in a deep, almost salmon pink quilt.
The cushions (now this is the part where you'll just have to believe me!) come in a variety of shapes and sizes. They're covered in...
   * red velvet
   * soft pink velvet
   * white lace (some with ruffles), and
   * blue-and-white striped cotton.
The sumptuous, indulgent look & feel of the materials, shapes and colors is tempered by the cool, pale blue walls and the rough, rustic flooring.
Compare that to the wall color and flooring in this next picture of French country colors: similar color scheme - totally different effect!
The walls in deep, chalky pink and 'blueberry ice cream' red could look suffocating, but they don't.
I think this is for several reasons:
The hues of red and pink used here are bluish rather than yellowish (which would be much more cloying).
The light - very bright light, the kind you get in Mediterranean countries or in Southern California, 'washes' colors out.
The grayish blue of the door is a large expanse of cool, subdued color that interrupts the succession of red color fields (including the sofa in the foreground).
The gray cement flooring and the white marble table and porcelain vase - that's 'neutral relief' from all the full-on reds and pinks.
French Country Colors In Soft, Seaside Hues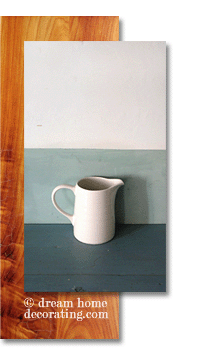 The following blues and greens aren't strictly reserved for the seaside.
They would be perfectly appropriate as French country colors anywhere in the country -
a cottage on the North Sea coast,
a house surrounded by the Bordeaux vineyards, or
a holiday flat in the Mediterranean region.
I've added some wood to the mix - the yellowish-orange wood tones are complementary to the cool blue-greens and can inject some warmth into a cool, muted color combination (should you need it).
So for a completely 'cool' look,
leave out the wood, or
paint it white.
These greens and grayed blues look very good with
a brick floor,
terracotta tiles, or
cement (tile) flooring.
In their absence, coarse rush matting would do a very nice job as well.
For a fresh, clean look:
use lots of antique-white colored items in addition to the blues and greens. Linen (and maybe some lace) can contribute a real sense of luxury.
If you want to create more of a vintage feel:
team the seaside colors with unbleached linen and cotton duck in darker hues of green, blue and gray.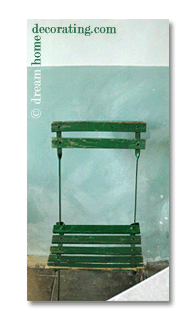 Add white and ivory accents, like simple porcelain, sheer curtains, and fabrics with white stripes or checks.
Wrought-iron garden furniture is a staple in country French decorating - and of course these pieces are often painted in French country colors.
These chairs are at home on the terrace as much as in the living-room, in the kitchen or around an informal dinner table.
If you look at the color combination in the picture to the right, you see that the color of the chair is at odds with the wall color - the dark, leafy green is yellow biased, and the wall is more on the turquoise side.
Color combinations like this one are great for French country decorating (and for country decor in general); a slight color 'mismatch' can look much more alive and interesting than a perfectly matched French country colors.
French Country Colors With Neutrals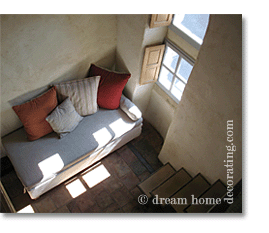 This is a favorite with contemporary country French decorating.
Walls are rendered but not painted, and then teamed with
linen in natural hues,
'rustic' cotton twill in solid colors, and
ticking.
These hardwearing fabrics look great in combination with simple shapes (like the divan here), rustic flooring and undulating walls.
You could include more patterned fabrics - stripes and checks in French country colors work very well, but the odd piece of toile de jouy  won't go amiss either.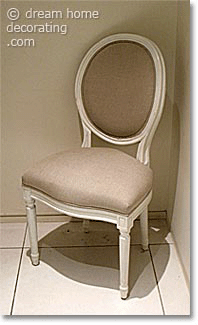 Some people opt for entirely neutral French country color schemes.
The chair here is an example of Louis XVI furniture (with neo-classical, straight legs), interpreted in a pure white-and-'greige' color scheme.
These aren't strictly French country colors, but they do look good, particularly within a restrained room color scheme. (There's more about this on the French Country Decorating page.)

Other color themes that really work in French country decorating:
neutrals & green (use the whole gamut from turquoise through grass green to chartreuse)
neutrals & blue (go from deep indigo to sky blue; include greenish hues, and a bit of white as well)
neutrals & pink; this looks great if you use several different hues of pink, deep berry pinks as well as soft peachy ones, and a variety of neutrals - ivory, cream, écru, oatmeal, etc.  (If you just used baby pinks and whites, it wouldn't look right for French country decorating).
neutrals & red; there's an example of this in my free e-book, Stylish Neutrals. It uses a range of reds (from burgundy to burnt orange), plus darkish browns, plus white (lots!) and velvety, mid-tone gray.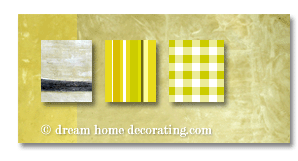 Last not least, neutrals & yellow. To make a load of yellow hues work, include generous helpings of gray and white.

Decide on a selection of darker yellow hues (ochre, mustard - great French country colors!) and/or lighter tints (butter, straw, primrose, sunflower) and maybe add some greenish and/or earthy hues (umber, sienna) for accents.
French Country Colors Plus Gold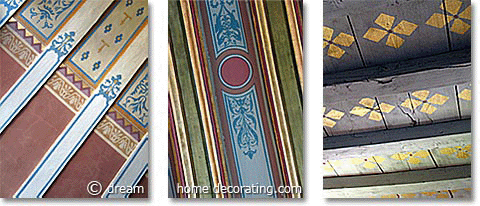 So let's say you've decided on a pink, pale blue and cream combination of French country colors.
Would you like some gold with that? In French country interior decorating, there's nothing wrong with gilding, ever.
If they're doing it in castles, why not do it in cottages? The left and middle photos above show ornate ceilings in Chenonceau, a superbly beautiful, small castle that straddles the river Cher in the Loire valley. (Well worth a visit if you get a chance!)
The photo right is from a small country house in a tiny village in the South of France. Imagine going to sleep with a view to faintly glowing, golden 'stars' on your ceiling!
So go ahead and mix in some gold with your French country colors. If you're not used to this approach, start slowly and then, gradually, ramp up the glam factor by adding gold to:
picture frames
glass & china
picture mats
door frames
crown moulding
wall stencils
bedheads
parts of the ceiling
parts of walls (see examples on the Country French Bedroom page!)
Yet to find the information you're looking for?
Type a word or phrase into the search box below: