Tuscan Color Palette:
Tuscan Colors In Real Tuscan Homes
Tuscan color palette inspiration from authentic Tuscan color schemes:  This page takes 7 Tuscan rooms (both palazzo  and farmhouse), and breaks them down into typical interior sample colors of Tuscany.
Tuscan Color Palette #1: Rust-Green-White

Tuscan colors in a farmhouse living room near San Gimignano:
White upholstery fabric with bright rust and green accents (wall art, rug, cushions).

This summery, cheerful Tuscan color scheme for a traditional farmhouse picks up cues from the terra cotta flooring, whitewashed walls, and brightly colored wall art.
Rustic homes in Tuscany usually have all interior walls painted white. As far as I've seen, this is true for farms as well as antique Tuscan town houses.
Color accents come from fabrics, flooring (usually terracotta or terrazzo tiles), and maiolica pottery (plates, jugs/canisters or tiles).
(For outdoor photos of Tuscan Colors, click here. Also, check out 7 Tuscan Paint  Colors inspired by Tuscan villages, ceramics, and the beautiful Tuscan countryside.)
Tuscan Color Palette #2: Light Neutrals

Tuscan color palette for a 'modern rustic' bedroom: Terra cotta flooring,
white walls, light upholstery and 'damask' patterned bedding.

This bedroom in a Tuscan farmhouse is decorated almost entirely in light neutrals, except for the subtle misty-blue bedding. The color scheme is fairly common in Italy; the Tuscany colors for traditional homes are white, terra cotta, and unstained wood.
However, there's usually a pop of color somewhere - something on the wall, a rug, a pillow or some other accessory. And here there's none  (well, except for that jacket on the chair :-)
Just as in Tuscan color scheme #1, the seating is upholstered in a neutral white, a favorite color for Italian interiors (not just traditional Tuscan ones).
Tuscan Color Palette #3: Tuscan Kitchen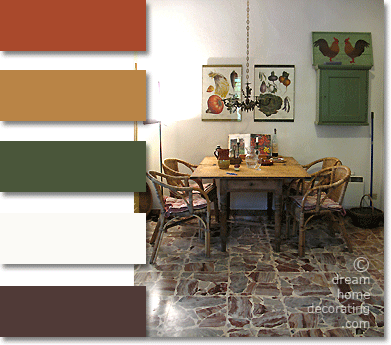 Tuscany kitchen colors in a smallholding near Pomarance, Tuscany.

With typical mid-century Italian terrazzo floor tiles and natural wood colors, this Tuscan kitchen provides a neutral color base for the green and warm red accents that are provicded by the wall art.
Botanical art is something I've seen a lot of in Tuscan interiors, and colorful plant paintings make lovely accents for neutral Tuscan paint colors. They're never garish, but they sure don't pull any punches either!
Tuscany Colors #4: Palazzo Doorway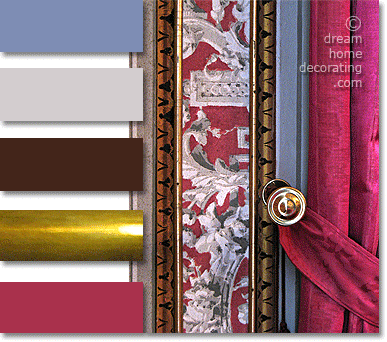 Red/blue/gold Tuscan color scheme on a palazzo doorway & curtain,
Volterra, Tuscany, Italy.

This sapphire red silk damask curtain is a far cry from the humble farmhouse interior furnishings above. Nevertheless, the color is a favorite for winter bedspreads in traditional Tuscan homes, too!
Apart from the elaborate stencilled wall pattern (in grey, white and red), the gold accents are a distinct element of palazzo and villa decorating with Tuscan colors - you won't see gold in an old farmhouse around Tuscany!  (That's where French country interiors are really different from Italian ones).
Tuscan Color Palette #5: Palazzo Living Room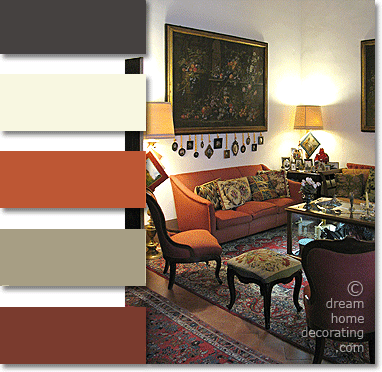 Tuscan color scheme in a palazzo living room,
Volterra, Tuscany, Italy.

On a terra cotta tiled floor, the simple rust-colored sofa and the whitewashed walls in this palazzo living room are decorated in typical Tuscan colors. If it weren't for the large silk rugs, carved chairs and large gold-framed oils (and the sheer size of the room), these could be the colors of a humble Tuscan country home.
Tuscan Color Palette #6: Tuscan Farmhouse Bedroom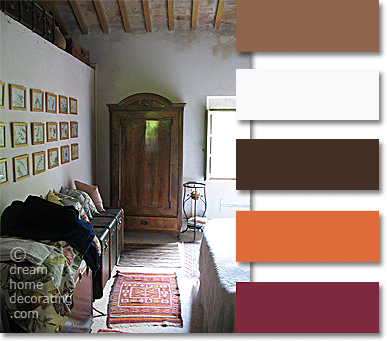 Tuscan colors in an antique farmhouse bedroom near San Gimignano, Tuscany, Italy.

Against a backdrop of typical Tuscany colors like white, terra cotta and brown, this traditional Tuscan bedroom takes its accent colors from the wall art and the textiles, particularly the red rug on the floor.
The rug dominates the color palette not just because it is red and orange, but also because it's one of the few items in saturate color in this room. The eyes are automatically drawn to it.
This is a perfect example of how Tuscany colors work together (you'll find more about this in the section 'How to build a Tuscan color scheme'  on the Tuscan Colors page).
Tuscan Color Palette #7: Tuscan Palazzo Library Ceiling

Tuscan paint colors on the ceiling of a palazzo in Volterra, Tuscany, Italy.

Tuscan murals are usually very elegant and colorful.
This one is a mix of stencilling (the blue-patterned 'sky' that gets lighter towards the center) and actual Renaissance-style painting.
The ceiling picks up colors from around the room, like golden yellow silk valances, reddish-brown shelving and terra cotta floor tiles.
Any one of these beautiful jewel colors would make a good accent color for a Tuscan color palette; they all work well with neutrals and with red or pinkish terra cotta shades.

Tuscan farmhouses don't usually have plaster ceilings, so I can't show you a rustic  version of this fine ceiling mural.
On the other hand, it's perfectly okay to decorate 'hybrid' Tuscan style homes where some  rooms have open ceiling beams and others have painted ceilings (even if it's just one paint color, or a stencil).


For more ideas, check out this little 'library' I've put together for you (in partnership with Amazon):
Yet to find the information you're looking for?
Type a word or phrase into the search box below: