Tuscan Wall Art & Italian Wall Decor:
Decorating Walls Tuscan Style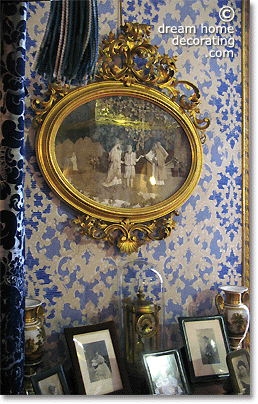 Tuscan wall art & authentic Tuscan wall decor: Choose from the following, original elements and Tuscan accessories create a Tuscany look for your walls.
Search by theme:
1. Buy  ready-to-hang (or to frame) Tuscan wall art and photography:

a) Tuscan art prints: Quality Italian art prints of
    * Renaissance Tuscan art
    * Tuscan towns & landscapes
    * Tuscan-style still life
    * Monochromes
    * 'Retro' Tuscan prints
b) Photographic Tuscan prints: Landscape, still life, & themed Tuscan print art
c) Framed Tuscan art and photography (includes Tuscan canvas art as well).

2. How to present Tuscany wall art and photography (in true Tuscan style!)
3. Traditional religious art for a Tuscan wall
4. How to use Tuscan mirrors for a feature wall
5. Tuscan wall panel & wall sculpture ideas
6. Botanical Tuscan wall decor
7. Tuscan ceramic wall decor
Tuscan Art And Photography:
Creating The Tuscany Look
The Tuscan wall art photos below are from a palazzo in the hill town of Volterra. I love how the small pictures are hung - on identical satin ribbons - from the frame of an old oil painting: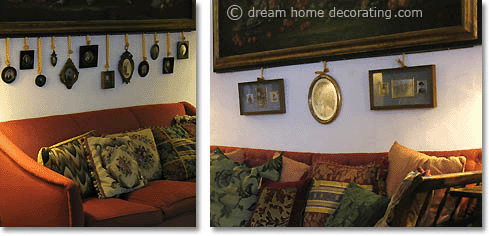 It's a very pretty (and original) way to integrate even the tiniest family photos into your Italian wall decor (for a classy look, choose black-and-white or sepia-colored photography).
You could easily create the same effect - either with an original, large-scale oil, or with the help of some framed Tuscan art prints or Tuscan canvas prints. (Canvas prints would give you Italian wall decor with a more contemporary look).



Use Italian frames like the above for traditional Tuscan wall decorations - or for an ancestral portrait gallery like the one below, in an old Tuscan farmhouse: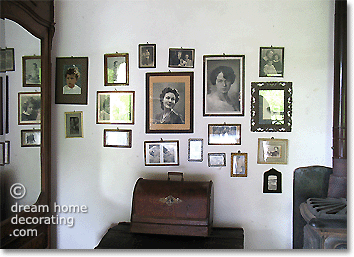 Alternatively, try the 'gold-is-good' mantra of the rural Tuscan living room below, and hang your Tuscan wall art in casual clusters: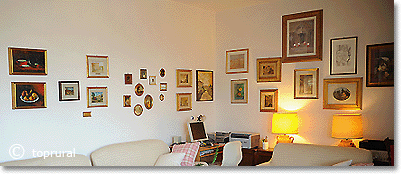 If you're looking for similar Italian wall decor, check out my selections of Tuscan art prints and framed Tuscan art! And to present your Tuscan wall art in quality Italian frames, here's a set of good ones to use:


Religious Tuscan Wall Art
Below are three Tuscan bedroom walls: Left and top right, Italian wall decor in ancient Tuscan farmhouses. Bottom right, the bedroom wall of a Tuscan palazzo.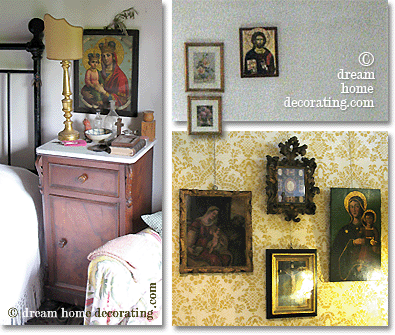 These are all fairly traditional Tuscan rooms, and interestingly, the religious art mostly represents the 13th-15th centuries, a time when Tuscany fine art from Siena was still heavily influenced by Byzantine traditions.
In case you would like to re-create this authentic Tuscany look in your home, here's a selection of unframed and framed art for Tuscan decor. Most of the prints/canvases come in several sizes, so it'll be easy to find one that fits your purpose:



All these painters, by the way, were Tuscan born & bred, so this is 100% authentic Tuscan wall art ;-)
Cenni di Pepo (Giovanni) Cimabue (c.1240-c.1302) - Florence
Duccio di Buoninsegna (c.1255/60-c.1319) - Siena
Pietro Lorenzetti (c.1280-1348) - Siena
Simone Martini (c.1284-1344) - Siena
Sano di Pietro (1406-1481) - Siena
And that's not all - if you would like to explore this decorating theme further, you'll find more religious art from Tuscany on the framed Tuscan art page.
For good measure, you could supplement your religious Tuscan art print collection with interesting Italianate frames and shadowboxes, like these:


Tuscan Wall Art With Decorative Italian Mirrors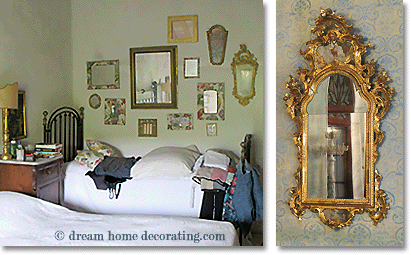 Finely carved Venetian or Tuscan mirrors are a wonderful asset for Italian wall decor, but prices can be quite steep!
The simple farmhouse bedroom above has a feature wall, decorated entirely with mirrors. Only two of them are antique gilt mirrors (the most elegant one looks much like its 'palazzo' counterpart, right). The other frames pay homage to the simplicity of the surroundings and provide some balance for that extravagant Baroque splendor.
A few of the frames are padded, and upholstered in the same decorating fabric that was used for the throw pillows on the bed; a nice way to spread a color scheme/pattern around the room & create a cohesive look!
If you feel a decorative Tuscan mirror would provide an attractive focus for your Italian wall decor, check out the collection below:

Tuscan Wall Panel & Sculpture Ideas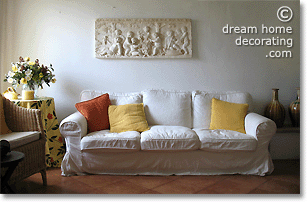 This Tuscan country living room has the typical, unadorned walls of rural Tuscan homes, except for that sizable relief wall panel. A large panel or wall sculpture can be an interesting alternative to pictures and other forms of Italian wall decor. Here are some options:
Botanical Tuscan Wall Decor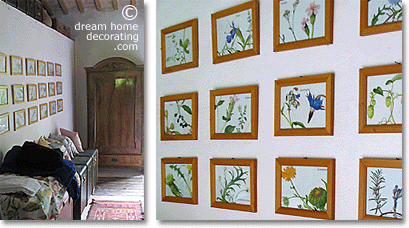 Botanical illustration is a well-loved decor element in many parts of the world ... no surprise, then, to find botanical prints galore in Tuscan living rooms, kitchens, bedrooms, and hallways!
Obviously, just because it's Tuscan wall art, you don't need to restrict yourself to Mediterranean flora. Just choose an illustrator whose style you like, and then hang loads of prints in identical frames, in an orderly fashion - that's how Tuscans would do it!
The Tuscan homes I've seen all had botanical prints in rather bold, saturate colors, as in the photo above. You can source prints like these from books (buying a fine hardcover full of magnificent prints and then cutting it up may seem sacrilegious, but it's actually a very cost-effective way to put on a splendid display!):



Alternatively, here's a collection of individual botanical prints in larger formats. You'll find many more where these came from; just type an artist's name (or a collection, e.g. hortus eystettensis) into the Amazon search box, and browse through the prints on offer.
Many of these 'Tuscan' art prints are produced in a variety of sizes. If you've got very small prints, make them look more important by using large, gorgeous picture mats!


Tuscan Ceramic Wall Decor
Fabulous ceramic plates and jugs from Montelupo (Tuscany) and Deruta (Umbria) find their way into almost every Tuscan household, and the most decorative ones are, of course, displayed with pride.


Ledges, mantelpieces and open hutches are preferred locations to line up a ceramic Tuscan wall art collection. Alternatively, hang a few gorgeous plates on a solid-color wall (in other words, don't make richly decorated Tuscan plates compete with wallpaper patterns ;-)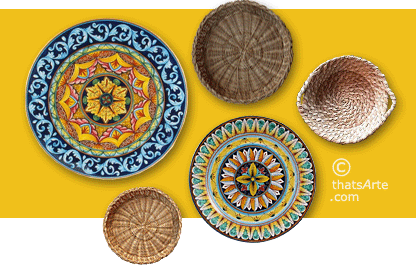 Another trick to bring out the elegance and superb craftsmanship of Tuscan ceramic wall decor, is to combine handpainted Tuscan plates with simpler, rougher pieces - for example single-color earthenware plates or straw/wicker baskets.
The two plates in the illustration above are from thatsArte.com
, an Italian mail-order company whose selection of Tuscan ceramic wall decor shows outstanding quality and taste. They even have a free personalization service
. (Read more about thatsArte.com on the Tuscan dinnerware page, or click below to explore their range.

Well, that's all the Tuscan wall art I could squeeze into one page ... for further inspiration, have a look at the 'Read More' Box below!
Yet to find the information you're looking for?
Type a word or phrase into the search box below: