Tuscan Plates:
Umbrian & Tuscan Style Dinnerware
Tuscan plates and Umbrian majolica dinnerware - perfect for creating an elegant 'Tuscany look' for your home.
All Tuscan decorative plates and Deruta Italian ceramics on this page are design originals, created and hand painted in Tuscany & Umbria, sourced by Manuela & Tiziana of thatsArte.com
, who have used their vast knowledge of hand decorated majolica to find the best pieces. A free personalization
service is included; you can even commission
your own future family heirloom!


Find decorative majolica wall plates from Tuscany & Umbria (and Sicily).
Check out the selection of Umbrian & Tuscan style dinnerware plates below - mix 'n' match for impressive Tuscan dining room table settings.
Find out more about Tuscany majolica and Umbrian majolica.
Get ideas for decorating with majolica pottery & Tuscan plates!
Make sure you check out all  of these Tuscan plates, by clicking the numbers (or the 'forward' arrow) at the top/bottom of this list!
Tuscan Plates - Umbrian Plates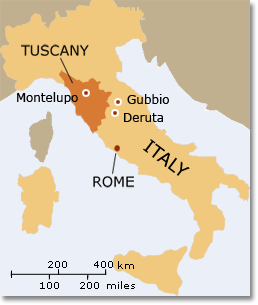 Out of the designs listed above, the first 3 come from Montelupo (Tuscany); the next 32 from Deruta (Umbria), and the last one from Gubbio (also in Umbria).
In 700 years of Italian majolica production, these towns - within 120 miles of each other - have developed distinct design styles.
This doesn't mean, though, that Tuscan plates are never used outside Tuscany, or that you won't find Deruta dinnerware in Florence. (You'll find loads!)
Now, if you're a purist and want strictly Tuscan
plates on your table, then focus on these ...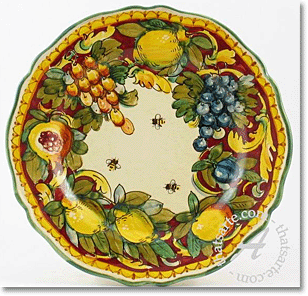 ... genuine Tuscan plates made in Montelupo.
The mouthwatering Tuscan style dinnerware design to the left has "Tuscan summer afternoon" written all over it.
It comes with serveware
that includes a double olive bowl, oil & vinegar set, a pitcher, salt & pepper shakers, a great looking butter dish, and several gorgeous platters, trays & bowls.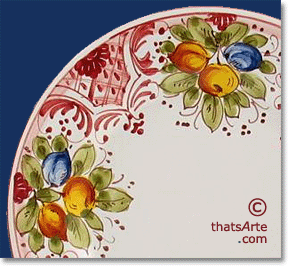 There's also a beautiful kitchenware
set with several Tuscan canisters and jars, as well as some very pretty fruit bowls, including a footed bowl (see below for ideas for decorating with majolica pottery & Tuscan plates).

The next dinnerware set of Tuscan plates (pictured right) includes kitchenware and serveware sets as well.
It comes in red
, blue
, and green
.
There's a "country" style option for all three colorways, with irregular-shaped plates and bowls - an interesting idea if you're creating a rustic Tuscany look.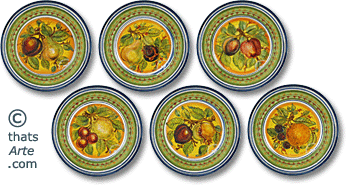 The last collection of "strictly Tuscan" plates, with a total of six designs, is great for mix-n-matching.
Combine all six on an apricot, green, deep blue, or terracotta wall => instant Tuscan wall art!
Non - Tuscan Plates, I:
The 'Classics'
The Italian dinner plates in this section are used and sold all over Tuscany, but they were made in Deruta (Umbria).  So if you're looking for Tuscan style dinnerware, these majolica patterns certainly do fit the bill (because they're used in Tuscan homes), but be aware that they were produced 30 miles outside the Tuscan border ;-)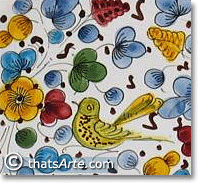 Arabesco
(="in the Arab style") is a majolica pattern inspired by a 17th-century Persian design: loose sprays of abstract dots and stylized leaves, flowers and stems in vivid, luminous colors.
Lustreware in strikingly similar designs was imported from Southern Spain throughout the Renaissance; the oldest Islamic/Spanish 'prototypes' were made as early as 1430 and colorfully reinterpreted by Tuscan and Umbrian potters. Today, Deruta is famous for its fine Arabesco pottery.

Ricco
(="rich") Deruta
is another design that dates all the way back to the Italian Renaissance.
The pattern of formal foliage, flowers, and fruits spilling out from each other was very popular with Tuscan and Umbrian ceramic artists in the first half of the 16th century.
(The oldest plate I've seen with a very similar majolica design on the rim was made in Deruta around 1540.)

The Raffaellesco
design refers back to Raffaello Sanzio Da Urbino (1483-1520), the famous Italian painter and architect (he's often just called "Raphael").
One of his best-known paintings is the Sistine Madonna - that's the one with two bored-looking little angels at her feet ;-)
Raphael 'framed' some of his Renaissance frescoes with decorative bands that were populated by mythical animals like this little dragon.
Non - Tuscan Plates, II:
"Geometrico" Designs
The oldest Geometrico
design examples I've seen from Deruta date all the way back to 1480 - so this is another very old majolica pattern style!

"Geometrico" doesn't mean it's all abstract shapes and straight lines; the pattern elements are stylized leaves, flowers & ornaments that are arranged in regular, 'geometric' repeats.
The colors are beautifully co-ordinated, so it's easy to mix & match the designs. For more information on the collections that are available, click the pics above or below!

Decorating With Majolica Pottery
Majolica dinnerware is great for decorating Italian themed kitchens, or a Tuscan dining room - it even works for Tuscan bathroom design. You can create a Tuscany look with just a few decorative majolica plates and/or Tuscan kitchen accessories.

1. Star & Supporting Cast


(Large oval platter from Tuscany
/ yellow plates from Umbria
). Because Umbrian & Tuscan plates are so colorful, they're easy to combine with other, simpler pieces for a striking display.
Even if you have just one fab piece of Umbrian or Tuscan majolica dinnerware, you can maximize its impact by combining it with a cluster of slightly less amazing plates.
Pick your colors for the 'supporting cast' off the main decorative plate, and make sure the color scheme looks good against
a) the wall color, and
b) the other colors in the room. (Italians often get around this one by keeping the walls & furniture in light neutrals.)
2. Mix-n-Matched Majolica Dinnerware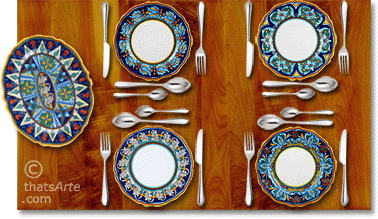 This Geometrico
majolica dinnerware set has a choice of 32 designs - more than enough to provide every family member, even a medium-sized dinner party, with truly individual dinnerware.
You could even have each dinnerware set personalized
for the respective owner!  By the way, the cutlery here is one of my favorite Italian cutlery designs, Alessi Nuovo Milano
(I use it at home).
3. Tuscan dining room wall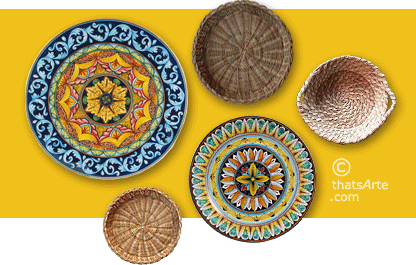 If you have a
formal
Tuscan dining room, these Italian decorative plates would make an impressive wall display on their own (i.e. without the wicker trays). Check out
more decorative wall plates here
!
For a more rustic Tuscany look, combine the fine Wall Plate (left)
and the Charger (right)
with contrasting materials that will show off their superb craftsmanship and sophistication, without sacrificing the ease and informality of a country-style Tuscan dining room.
So much choice - so little cupboard space!  I hope you'll find the right Umbrian or Tuscan plates for your home.  Happy shopping!
Yet to find the information you're looking for?
Type a word or phrase into the search box below: