Tuscan Candle Holders
& Dinner Candle Holders From Italy
Tuscan candle holders, collectible candlesticks & personalized candle holders from handpicked Italian potteries!
This selection of exquisite Italian candlesticks was sourced by Manuela & Tiziana, the superbly knowledgeable team behind thatsArte.com. See the full range of original, handcrafted, elegant candlesticks here
(includes Baroque-inspired and Renaissance majolica patterns, as well as some whimsical, fancy candle holders!), or find out more about ...
Tuscan Candle Holders From Montelupo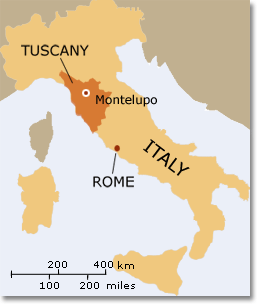 Just a half-hour drive out of Florence, the small town of Montelupo Fiorentino has been steeped in the art of majolica pottery (and of making Tuscan candle holders) since the mid-13th century.

When the technique of tin-glazed earthenware was first introduced to the area, many wealthy Florentine households already owned large, personalized sets of majolica dinnerware ...
... which they had commissioned and imported all the way from Spain.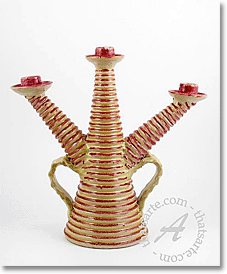 But Montelupo, sitting on a treasure trove of excellent clay and right by a shipping route to the Mediterranean, started to develop its own designs and styles.
The town quickly became one of the most important centers of majolica production in Italy.

Its recent revival has led to a growth in two types of potteries:

Those that make average-quality wares for export, and those that specialize in the kind of superb majolica that once made Montelupo famous across all of Europe and the Mediterranean.
The Tuscan candle holders shown here are from an artist whose work is bold and fresh, yet inspired by the time-honored Tuscan traditions of artistic integrity and excellence. (Click the pics
for more information!)
Non - Tuscan Candle Holders, I:
Deruta, Umbria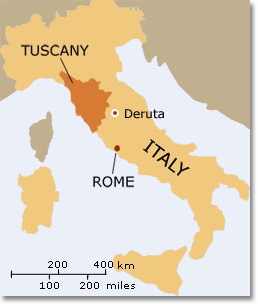 About thirty miles from the Tuscan border, the potters of Deruta create majolica pattern designs that can look quite similar to those of Montelupo.
And Deruta ceramics are, if anything, even more famous and sought-after than those of Montelupo.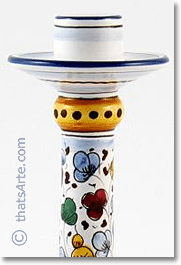 So if you're looking for Tuscan-style collectible candlesticks, or fancy candle holders, Deruta is a great address for you.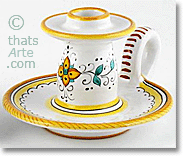 For candlestick gifts, check out the 'keepsake' candle holders
, for example this little beauty, pictured right.
As you can see in the gallery at the top of the page, many of the elegant dinner candle holders come as part of a serveware set, like the exuberantly colorful "Arabesco"
(above left).
Most sets contain just one candlestick design, but some have two or three dinner candle holders in different sizes, for example the beautiful "Ricco Deruta blu"
, the elegant, playful "Raffaellesco"
, and the stylishly patterned "Vario F1"
.
The richly detailed "L'Antica"
candle holders aren't part of a serveware set, but they come in three versions, too.
(For ideas to create fine candle holder centerpieces, please see below.)
Non - Tuscan Candle Holders, II:
Gubbio, Umbria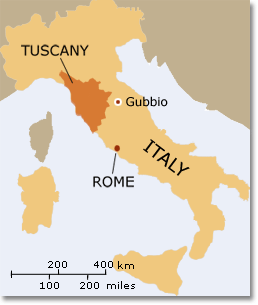 Legend has it that in Gubbio, St Francis of Assisi (my favorite saint) brokered a peace treaty between the good townspeople and a big, desperate and very hungry wolf.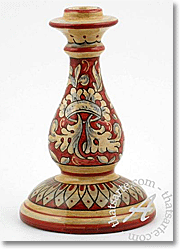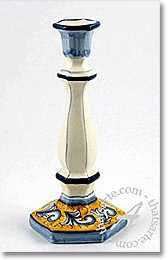 It is reported that both parties kept their side of the deal.
The wolf stopped eating the citizens of Gubbio, and they, in turn, kept him fed and watered until his death (of old age) two years later.
(I know this story has nothing whatsoever to do with Tuscan candle holders ... but it's so lovely, I thought I'd mention it anyway ;-)
Gubbio ceramics are created in the tradition of luxurious, richly detailed antique designs.
So if you're looking for Baroque
candlesticks from Italy, a design like the elegant candlestick in red (above) may be for you. It comes in three colorways - just click the picture for more information.
If you're more of a Renaissance
person, then the elegant, spare lines of the Renaissance majolica candlestick to the left could be right for you.
Non - Tuscan Candle Holders, III:
Caltagirone, Sicily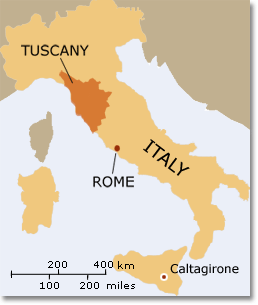 By no stretch of the imagination could anyone call Italian candlesticks from Caltagirone "Tuscan" candle holders.
Having said that - there appears to be some evidence that master potters from Montelupo traveled all the way to Sicily and left their imprint on the local ceramic traditions.
However, the gorgeously fancy candle holders presented here are independent works of art in their own, baroque-inspired right.
Use them as dinner candle holders, and you'll have striking conversation pieces. Use them as window candle holders, and they'll attract loads of admiring looks, wherever you put them on display.
Click the pics to explore each of these extraordinary Italian candlesticks in more detail!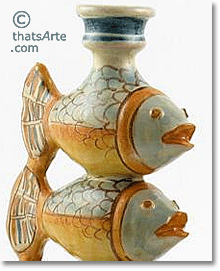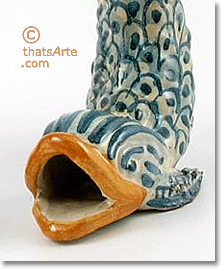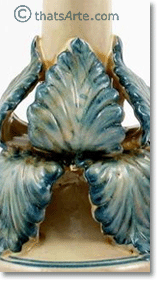 Your Own, Personalized Candle Holders
ThatsArte.com offers two levels of personalization:
You can have your own initials, a personal note or a short message handpainted on the bottom of your piece - go to this page for the instructions
on how to purchase personalized candle holders.
By commissioning unique, hand decorated majolica, you create extraordinary family heirlooms that will be treasured for generations to come. So if you're thinking of buying personalized candle holders from Italy, have a look at what's possible
!
Umbrian & Tuscan Candle Holders:
Ideas For Candle Holder Centerpieces
Candle Holder Centerpieces, #1: Olive Oil, Vinegar, & Candlesticks

The beautiful
Raffaellesco
serveware set contains many options to create stunning candle holder centerpieces. Combine your dinner candle holders with a Tuscan
pitcher
, or a double
olive bowl
, a
cake/cheese stand
(heaped with delicacies, of course), an ornate
platter
, or an elegant
fruit bowl
(if you click the link, scroll down for the fruit bowls - they're gorgeous!)
Candle Holder Centerpieces, #2: Elegant Candlesticks & Footed Bowl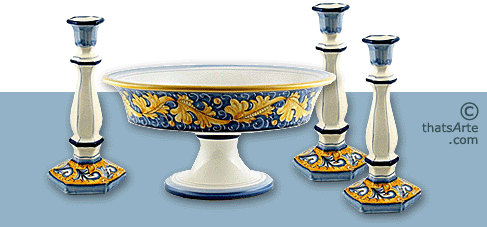 Candlestick decoration and footed fruit bowl from the
Rinascimento
collection: Fill the bowl with fruit, cakes, or with a special dessert ... integrate the candlestick decoration into a festive dinner!
Candle Holder Centerpieces, #3:
Informal Gathering of Collectible Candlesticks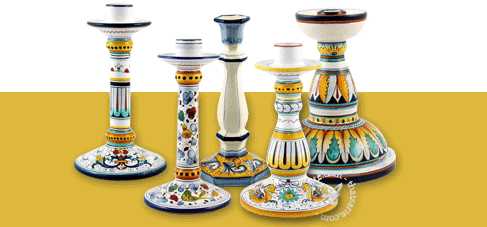 Combine a number of collectible candlesticks, for example from the following collections (left to right):
Ricco Deruta Blu
,
Arabesco Classico
,
Rinascimento Blu e Giallo
,
Raffaellesco
,
Vario F1
. They look great as an
informal group
- the majolica patterns are so colorful and varied that you can use these dinner candle holders with white, blue, deep red, green, or golden yellow candles.
Candle Holder Centerpieces, #4: Bold Tuscan Candle Holders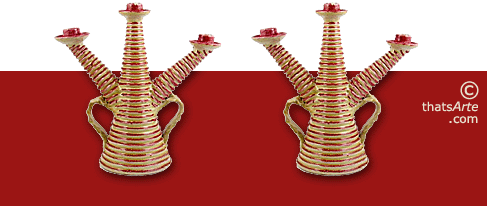 These fabulous
Tuscan
candle holders from Montelupo don't need any other props to turn them into a striking candle table centerpiece. For a festive table, add maybe a sprig of trailing ivy, or a few red roses ... but that's all you'll need!
Candle Holder Centerpieces, #5: Tuscan Candle Holders & Sparkling Bowl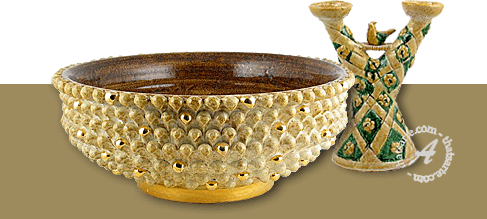 I've kept this stunner until last - the
"Pine Cones" Bowl
contrasts a rugged finish with the luxurious sparkle of gold; a combination that reflects rustic Tuscan country living and the refinement of a very old and distinguished culture. Perfect in combination with the Tuscan candle holder
"Bird"
, which complements the distinct texture of the bowl.
Yet to find the information you're looking for?
Type a word or phrase into the search box below: