Home

›
Bedroom Colors
› Black & White
Black And White Bedroom Decorating:
Ideas, Tips & Tricks
Black and white bedroom ideas for contemporary, cosmopolitan and country bedrooms that really work. It's all about graphic design!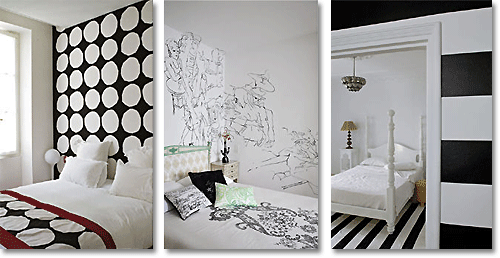 Black and white bedroom decorating ideas for contemporary bedrooms
© François Goudier (left), Francis Amiand (center), Henri Del Olmo (right)  for côté maison
Black And White Bedroom Decorating:
1. Simple vs. Complex
It doesn't get darker than black. And against a white background, you maximize the impact of black patterns and shapes - for better or worse!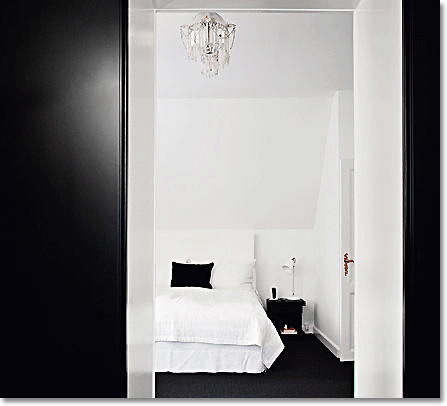 Simple, elegant black and white bedroom in Copenhagen (Denmark)
© Morten Holtum for sköna hem

↑   What makes this bedroom so irresistibly elegant? It's the clarity of the color scheme, the perfect balance of black and white color fields.
There is no pattern, just basic black shapes (cushion, nightstand, carpet) standing out against the white.

Compare that to another black and white bedroom, this time in a refined, Gustavian-inspired 'country' style:

Swedish country style bedroom in black, white and ivory
© Martin von Brömssen for sköna hem

↑   This black and white bedroom (with added blond floorboards) is much more difficult to pull off. It's not just the wildly different styles/shapes - Gustavian chair, Baroque mirror frame, Empire/Directoire revival dresser, contemporary canopy bed & lamp - the fabric patterns influence this composition of black lines and shapes as well.
Rule of Thumb #1:

Anything in black, whether picture frame, rug or armoire, stands out as a shape or a pattern against a light/white background. It forms part of the black-and-white 'picture' that is the entire room.
(You'll find much more about this on the page about neutral color palettes, and also in my FREE e-book about Stylish Neutrals.)

So how do you keep a black and white bedroom from becoming a visual mess  of black blobs and squiggles?  Read on for tips, tricks & examples!
Black And White Bedroom Decorating:
2. How Much White, How Much Black?

Here are three black and white bedroom examples, from very white to rather dark. They all look great, but there's a distinct atmospheric shift as the black/white ratio changes toward darker rooms: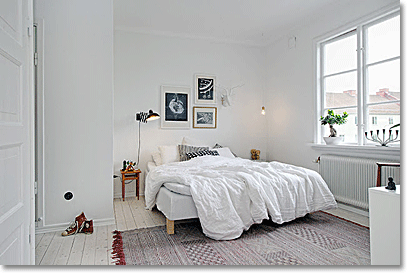 Light and airy (almost) black-and-white bedroom in Göteborg, Sweden © blackbird

↑   No one rocks white homes like the Skandinavians. This is a beautiful example of (mostly) empty walls, pictures in lieu  of a headboard (another example of this further down on this page), and quirky lighting.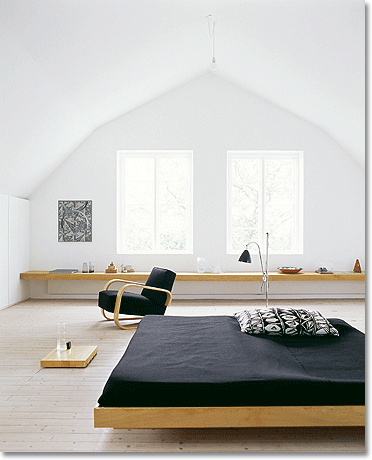 Very zen - a pure white bedroom with black textiles and blond wood © janne peters

↑   My favorite room on this page, a well edited 'zen'  bedroom with limed floorboards and very little pattern overall. The solid dark areas work well in the space because they are close to the floor, which is how we tend to 'see' our natural world. Restful for the soul!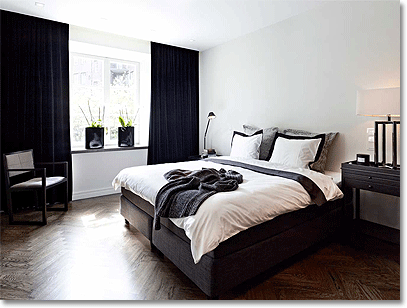 'Masculine' Skandinavian bedroom with dark walnut flooring © sköna hem

↑   Finally, a rather dark & stark bedroom example. When you draw those black curtains they will cover the entire window wall. Black bedroom walls are not for the faint of heart - some say the color black sucks your energy out of you. Before committing to large amounts of black color in the bedroom, make sure you know you can handle it!
Black And White Bedroom Decorating:
3. Small Effort, Big Style
A little black color goes a long way!
Because black stands out so strongly against white, it doesn't take much black color to give a room a specific style or feel. Here is an example of how different wall designs can change the entire look & feel of a black and white bedroom: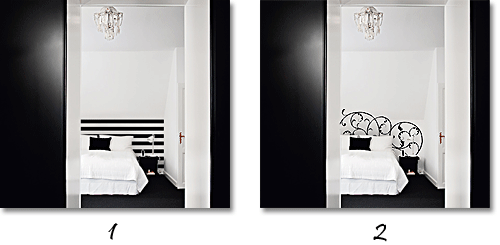 1   For a cool contemporary look, paint a horizontally striped 'headboard' on the wall. You could even extend the stripes along the entire length of the wall, to give it more visual weight. The effect is quite different from that of vertically  black striped walls in a bedroom (which can look awful, like the bars of a cage).

2   For a whimsical 'baroque headboard', buy an ornate wrought-iron headboard - or paint an oversized ornament on the wall behind the bed. Because of the black/white contrast, the visual effect will be pretty much the same!  Any scrolled, gorgeous shape will do the trick. (This particular design was inspired by an antique iron gate).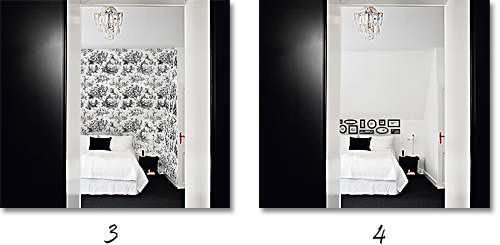 3   Create instant 'Frenchness' by covering one wall (or just part of it) in black toile wallpaper. An entire black toile bedroom would overpower the senses, but with that elegant crystal chandelier already in place, a single wall of toile de jouy  can evoke enough 'Paris' to convince anyone :-)

4   Add a personal touch by hanging a tightly packed picture gallery above the bed. Use small black frames, maybe add a glint of gold for luxury. Fill them with black-and-white pictures - photos, drawings, etchings, woodblock prints. Very artsy yet easy to do ... and not expensive at all!
Black And White Bedroom Decorating:
4. Sweet & Chic Country Bedrooms
Traditional country bedrooms are rarely black-and-white; there's always some brown wood in it. Usually a lot of brown wood. And color, too.
White, however, is very much a country bedroom staple, at least here in Europe. From Tuscany to Switzerland to Skandinavia: walls, bedding and window treatments are traditionally white.




Black and white bedroom ideas for a country (or city) home.  Photos left/right © Holley & Gill
↑   The beautiful headboards - screenprinted by hand - are the main black ingredients in these sparse, relaxed bedrooms. They're complemented by a few charcoal colored items to ensure a repetition of the color black around the room. The highly textured grey bedspread and the warm wood hues (both in flooring and vintage leather accessories) soften the stark black/white edge of the color scheme.

Contemporary rustic French country style:
Black and white bedroom with oversized leather headboard.   © côté maison
↑   This 'desaturated' country bedroom under the eaves looks sophisticated and seriously rustic at the same time. The owners took a very urban, oversized headboard to meet antique terra cotta floor tiles, and added a lot of raw wood and simple linen. A gorgeous example of austerity chic - and easy to copy!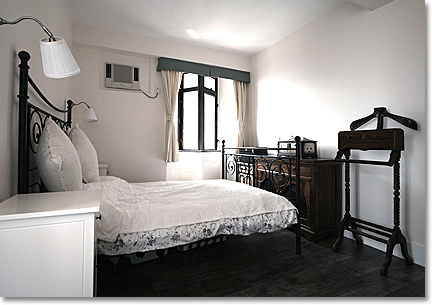 Black and white country bedroom in the city.   © andy cheung
↑   Here's a black and white bedroom smack bang in the middle of ... Hong Kong, of all places.  It shows beautifully how you can 'countrify' even a small urban space in black and white - wrought-iron bed, plain bedlinen, unfussy linen curtains, and some very few, very choice accessories.  This could be somewhere in Italy. Almost fooled me, until I saw the air conditioning unit :-)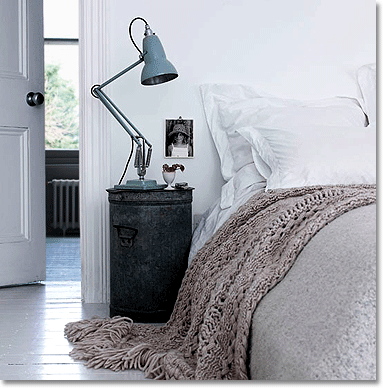 'Soft' black, white & grey retro bedroom with desaturated colors.   © trishazdz
↑   Lastly, here's a very sweet retro black and white bedroom. The color palette has been supplemented with a warm brownish gray (gorgeous knitted bed coverlet!), pale grayed blue (anglepoise lamp) and a few tiny red blossoms in an antique eggcup. In a black-and-white environment, even a little color makes a big impression! (More about color combinations with neutrals here!)
Black And White Bedroom Decorating:
5. How To Keep It Simple

So, back to the question about the black blobs and squiggles. How do you keep a black and white bedroom from becoming a visual mess?
The easiest way to see how dark shapes and lines impact a space is to squint your eyes (don't go cross-eyed, though, just scrunch your eyes into narrow slits :-) This blurs out all the minor detail and just leaves the bigger blobs of darkness in the room for your attention.
Now check out the big picture  of dark-and-light in your room. How do the dark shapes and lines work together, or do they?
  ♦   Do they read as a clear design or as a tangled mess?
  ♦   Are there too many different patterns/shapes?
  ♦   Is one area of the room too dark, another too light?
  ♦   Does the space look off-balance or 'lopsided' (e.g. window treatments too dark, flooring too light)?
If there are any major problems, address these first (e.g. replace a rug or curtain, repaint the floorboards or a wall).
If the blurred, 'squint' picture looks fine but something still niggles you about the room, it's time to get ruthless. Purge your black and white bedroom of all unnecessary detail that has black color in it. Small items (knickknacks, heavily patterned surfaces) tend to clutter up the space, so edit the room until it feels just right.
Rule of Thumb #2:

If in doubt, leave it out.
For More Black And White Bedroom Color Ideas,
Click A Pic:
Mini Bookshops (In Partnership With Amazon)
a) Neutral Colors In Interior Design:
b) Bedroom Inspiration:
Yet to find the information you're looking for?
Type a word or phrase into the search box below: