Toile Wallpaper
& Easy DIY Ideas For Toile De Jouy  Prints
Buy toile wallpaper for French country wall decor:
  ◊  blue toile print wallpaper
  ◊  red/pink/purple toile print wallpaper
  ◊  yellow/orange/gold/green toile print wallpaper
  ◊  charcoal/black/neutral  toile wallpaper. Also, check out ...
... 7 easy DIY country French decorating ideas with toile design wallpaper.
Blue Toile Print Wallpapers
Red/Pink/Purple Toile Wallpaper Shop
Yellow/Orange/Gold/Green Toile Print Wallpapers
Neutrals/Black Toile Print Wallpaper Shop
Country French Decorating Ideas With Toile Paper/Wallpaper


Toile Wallpaper
'Headboard'
You could, of course, just paper an entire room with toile design wallpaper. (Here are some photos of what that might look like, and here's a bathroom covered entirely in toile de Jouy).
I'm convinced, though, that you can just as easily achieve a "French" look with less effort & money. For example: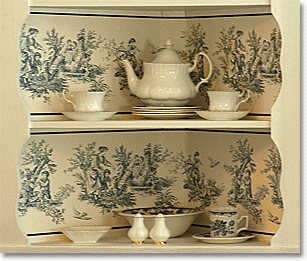 Toile print wallpaper at the back of an open cupboard
(photo courtesy of Wonderlane)

Some more ideas for decorating with toile  printed wallpaper:
Yet to find the information you're looking for?
Type a word or phrase into the search box below: