Home

›
Lights & Lanterns
› Quick Lanterns
How To Make Paper Lanterns F-A-S-T:
Create Paper Lantern Crafts
From Stuff You Have At Home
How to make paper lanterns the chic, cheap & easy way:  10 quick paper lantern craft ideas for mantels, windowsills and side tables.  (Use only with electric tea lights or votives!)
---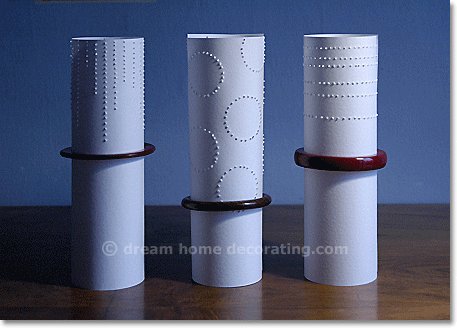 How To Make Paper Lanterns:
Basic Materials & Tools
You will need:
stationery or printer paper (hammer finish looks nice), parchment or heavy tracing paper (size: A4 or US letter);
a few lightweight bangles (alternatives below!)
battery powered tea lights or votives (LEDs).
To make the pinprick patterns:
a dried-up or empty ballpoint pen/biro (alternatively, a push pin)
the hard back of a writing pad (or similar sturdy card, to protect your table/desk)
a piece of corrugated cardboard, cut to the size of the writing-pad backing
shapes to pinprick along/around, e.g. a a ruler, a bottle cap, etc.
---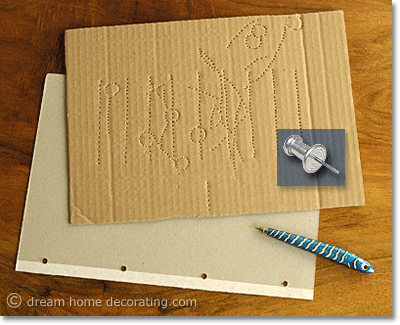 How To Make Paper Lanterns:
The Simplest Version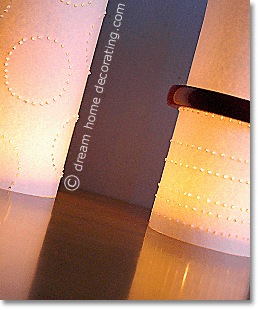 1. First Fitting.
(Do this before you make the pattern, otherwise you'll squash the freshly pinpricked lines!)
Roll the paper up from the short side and fit it through a bangle.
Straighten it up to a cylindrical shape. Some overlap at the back is necessary because it provides the tension that holds the bangle in place.
If you feel there's too much overlap, shave paper off the side in small increments and keep testing until it's just right.
2. Prepare the Workspace.
Stack the cardboard atop the writing-pad backing, and lay your lantern paper, face down, on top of the corrugated cardboard.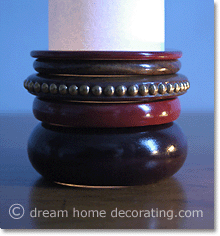 3. Make Patterns.
Use the ballpoint pen (or the push pin) to punch a simple pattern, e.g. lines or circles, into the paper.
4. Reassemble ...
... and slip your new lantern over a battery operated tea light or votive.[Caution - never use live candles!]
Done!

If you own loads of bangles and can spare some of them to make paper lanterns for a festive occasion ...
... stack them up and use them as holders/'feet' for your paper lantern crafts. This makes for sturdier, more stable paper lanterns.
To create pleasing proportions, shorten the sheet as you see fit. Also, depending on how ornate the bangles are, you may not need any pattern in the paper at all.
How To Make Paper Lanterns:
Variations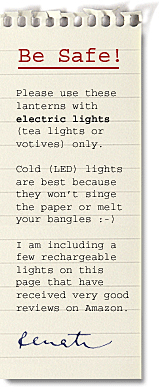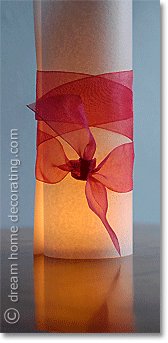 No Bangles?
No Problem!
There are many blissfully simple ways to make paper lanterns from a sheet of paper.

a) Translucent Bow
The effect of the overlapping translucent fabric makes for dreamy, romantic paper lanterns.
You could create a similar effect with the help of translucent color papers: Just cut, fold & glue (or staple) a 'cuff' for your lantern. Which brings me to ...

b) "Cuff" Ideas
How about making paper lanterns that are held up & together by 'paper belts'?

Make them from ...
pretty giftwrap (add sparklers!)
plain or double-face paper that is ...
    * pleated
    * woven
    * folded (see below)
    * hole-punched (see below)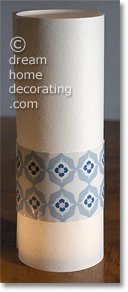 wire (okay, that's not paper - but see below)

Obviously, you could also use fabrics, e.g. cuttings from ...
cutoffs from a sewing project
embroidered fabrics (a little embroidery goes a long way!)

I'm going to keep it simple on this page, but you can see there's some scope in the cuff concept :-)
How To Make Paper Lanterns:
Playing With Materials

With soft materials like paper, ribbon or fabric, making cuffs for your paper lantern crafts can get a bit tricky. Use a glass or a bottle to create the cuff first, before sliding it off & fitting it around the lantern roll.
This also ensures that you have the same width for all your paper lanterns (if you so choose).
If a paper cuff (or a bangle!) keeps sliding down, use a little non-permanent glue to keep it in place.
The paper lantern below is made of parchment paper, which gives a beautiful mottled light and looks much more expensive than it is. You'll find a selection of parchment papers, stationery and vellum on the Amazon.com carousel below!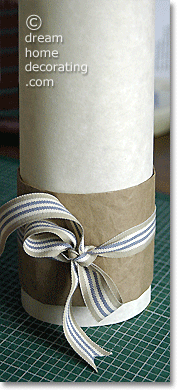 If you want to create something a little more elegant than this scrunched-up paperbag number, then try ivory-colored parchment and narrow, black grosgrain ribbon. (Nothing says 'sophisticated' more eloquently than ivory & black!)

Here's a very simple, dinner-table version of how to make paper lanterns:
use either parchment or another creamy, slightly textured paper;
cut the paper sheet to size (smaller & lower paper lanterns are more dinner-table friendly);
roll the sheet into a cylinder and glue the back edges together with roll-on adhesive or invisible glue dots;
tie a black bow around the cylinder, leaving the bow ends trailing on the table.
How To Make Paper Lanterns:
A Few Tips
If you like the idea of double-face paper but haven't got any, make your own: put two nice looking papers back-to-back and fold any raw edges under, so that the two papers will look like they're the front and back of one.

If you're planning to make paper lanterns that will stand away from other light sources (e.g. in the shadows on a windowsill), remember that a non-translucent cuff will just look black. To add interest to your paper lantern craft, adorn your cuffs with cutouts or attractive edges, or use the aforesaid ribbon - - or try a length of wire, as shown below (that's recycled wire binding from an old notebook):
Well ...
My goal for this page was to share easy, use-what-you-have paper lantern craft ideas. However, should you need any additional tools for making paper lanterns, here's a selection of quality stuff from Amazon:
Make More Paper Lanterns: Click A Pic!
Yet to find the information you're looking for?
Type a word or phrase into the search box below: