Home

›
French Interiors
› French Wall Art
French Wall Art
Buy French wall art ... or use decorative items you already have and add some 'Frenchness'.  Here's how you do it.

On this page:
1. What to hang on your "French" walls
2. French country decorating ideas with non-pictures
3. Presentation skills: matting & framing
4. Where to BUY French-style wall art
1. French Wall Art: What To Choose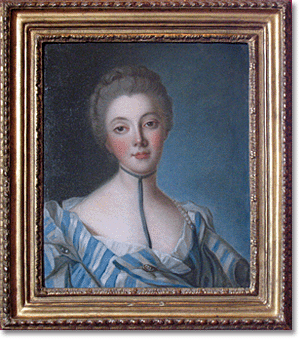 In France, wall art does not need to be matched with an "appropriate" interior decorating style.
Whether cottage or château, rustic provincial or elegant Parisian chic ...
... I have found that French wall art, no matter what the decorating style, tends to mix the unexpected.
In France, you can find original wall art - oil paintings, etchings and watercolors in gilt frames - sitting next to fun, rough-and-ready pieces, fine antiques and china.
Individualism is the name of the game. So is good taste: there's not much that's truly jarring in French wall art.

To the right, artwork grouped in a combination of styles. It works because the colors are mostly neutral, and the pieces are played off against each other through their differences in size, technique and finish.
You could do something similar, with very simple ingredients:
a paper collage
a photo or two in sepia tones, framed, with large mats
a painted wooden board with a found ornament (glued on & painted over)
a three-dimensional piece of art, or a lovely piece of driftwood
There ... your very own French wall art composition!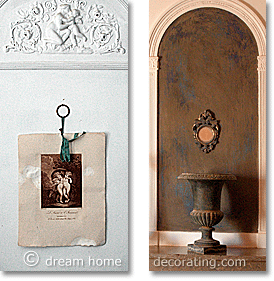 To the left, 18th-century French elegance after getting the 'shabby chic' treatment.
Imagine what the wall in the right-hand photo would have looked like if it had been painted in just one color, with a velvet-finish wall paint: pretty but a little tame, and not very interesting.
The urn and the wall mirror may be made of plastic for all we know, but because they've been painted in this mix of umber shades, bronze, and midnight blue, they look convincingly antique.
Which they probably are.  But could you fake this dramatic look with a brush and some paint?  Of course you could.
2. French Wall Art:
Beyond Paintings, Prints, Photos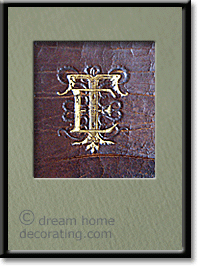 There's no need to restrict yourself to paintings.
How about ...
old, leather-bound, gold-embossed books?
Antique monograms?
A display case full of French thimbles?
Framed, tiny lace doilies from Bretagne?
Old French stamps, mounted individually, with large luxurious mats?
A strip of hand-painted French wallpaper?
A scrap of incredibly beautiful toile de jouy?

Or, you could just collect treasures from the beach, the side of the road, or the garden, and display those in box frames. (The photo left is from a French provincial farmhouse).

You'll find many more ideas on the page about French Country Interior Decorating.

Last, here's a version of French wall art that I've seen a lot in Provence:  Plates. Not just faïence, but also fine bone china, heavy porcelain, and rustic earthenware plates.
Faïence plates often grace the space above a doorway, a mirror, or a picture. (There's another example of this on the French Country Colors page.) The look strikes me as originally French, and if you're into French interior design, I suggest you try it in your home.



No need to use original French plates - just go for a great-looking piece that complements the room and adds a little je ne sais quoi to the flair of your home.  You can find good quality items at estate auctions, flea markets, yard sales, and, of course, ebay. Here's a current selection for you to browse:


3. Presenting French Wall Art
When you combine pieces of French wall art, use color to establish a relationship between the objects and their surroundings.
In the picture to the right, the buff color of the picture mats connects the two pictures and creates a resonance with the bronze-colored sofa cushion underneath.

If you're looking for French country decorating ideas, don't scoff at pieces that show distinct traces of wear: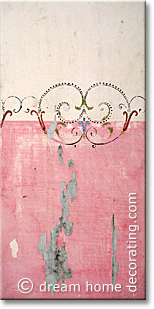 frayed photos,
chipped paintings,
intriguing fragments,
distressed-looking frames.
All these make for great French wall art. They add a sense of the past, of history to your home.

If you're planning to hang a collection of pictures that were done in the same technique, it's best to mount them in similar or matching frames and mats.
This unifies the group and makes it look like a whole, rather than the sum of its parts - even if the individual pieces come in all kinds of sizes.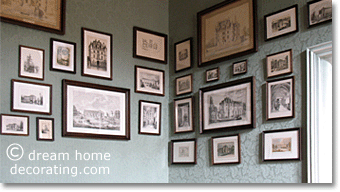 4. Where To Buy French Wall Art
Depending on what style of artwork you're after, here's a list of sources to try.
For inexpensive images:
buy a coffee table book or a photography book, cut out the pages with the best images, and frame them. If you want a group of pictures, this is much cheaper than buying individual photographs or prints.
For inexpensive, second-hand pictures & objects:
garage and yard sales,
flea markets,
estate sales.
For quality artwork:
antiques dealers,
antiques auctions.
For the occasional lucky find:
Yet to find the information you're looking for?
Type a word or phrase into the search box below: