Home

›
Tuscan Interiors
› Tuscan Living Rooms
Tuscan Living Room Designs:
Photos, Style Tips & Color Schemes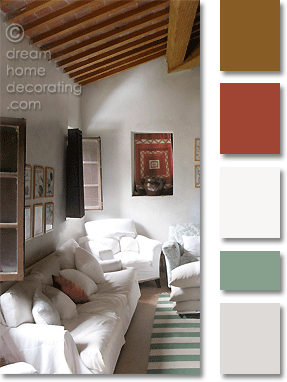 Tuscan farmhouse living room, Siena Province
Tuscan living room photos from the region around Volterra & San Gimignano:
The earthy, warm and elegant Tuscan style living room ideas on this page are from small farms, townhouses and a palazzo at the heart of Tuscany.
Discover Tuscan decorating secrets and the gorgeous color schemes that are part of authentic Italian country style ...
... from original flooring materials to proper ceiling decoration!
Rustic Tuscan Living Room Designs, #1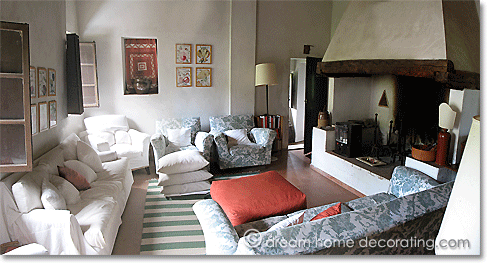 This comfortable living room in an ancient Tuscan farmhouse (you can see another view of it on the Tuscan color palette page) keeps the seating comfortably simple (much of it is slipcovered). The color scheme is easygoing as well - white and terra cotta, sprinkled with pale green and aqua accents.

I have found that (off-)white is the color of choice for many contemporary Italian living room sofas.

And since the walls in traditional Tuscan homes are generally whitewashed, this gives the decorator plenty of scope for adding color accents.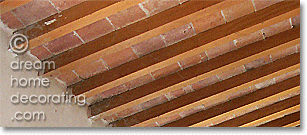 Open rafters in a Tuscan farmhouse ceiling

The pitched ceiling in this Tuscan living room has been stripped of paint to reveal the beautiful grayed pinks of the terracotta tiles that were laid across the beams.
And finally, an essential element of this room: the enormous open fireplace. If at all possible, have one installed in your Tuscan style living room. In original Tuscan homes, it's always part of the design.

Rustic Tuscan Living Room Designs, #2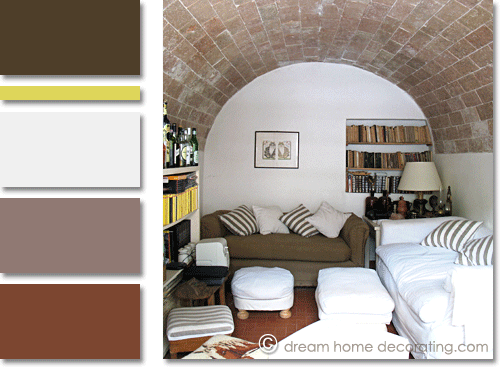 This tiny, ground-level living/reading room on an ancient Tuscan farm is dominated by a gorgeous barrel vault made entirely of brick. You will find this ceiling construction in many antique buildings in Tuscany.
To the subtle, almost entirely neutral color scheme, the owners added a striking yellow accent with the help of a row of vintage paperbacks.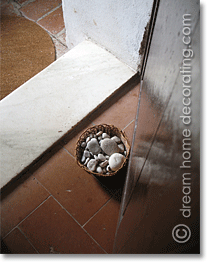 Terra cotta floor tiles

The floor has been laid with very simple terra cotta pavers; you will rarely find wooden flooring in an authentic Tuscan living room.  (And isn't the door stop lovely? Just a little basket with pebbles from around the farm.)
Alternative flooring options for a Tuscan style living room are terrazzo (below) or ceramic glazed tiles (example here!).

By the way, this room may well have been a pigsty or a hen house in its previous incarnation! In the olden days, farm animals used to live downstairs in Tuscan farmhouses, while the humans slept upstairs, in the warmth (and yes, the smell) that was generated by their livestock.

Rustic Tuscan Living Room Designs, #3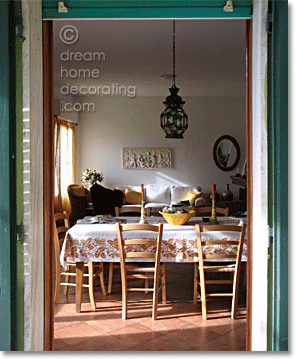 Tuscan living/dining room, Province of Pisa, Italy
Generally, in a Tuscan smallholding (podere), the living room is a section of the dining room, and sometimes even part of an extended kitchen/dining area.
You'll find the same setup in most traditional European country living rooms.

In the room pictured right, the living/dining room is adjacent to a generously sized kitchen (shown on the Tuscan kitchens page.)
Below is the living room section on its own, with a simple squishy sofa, a contemporary wicker chair (left) and an antique, velvet-upholstered poltrona  (which I was unable to squeeze into the main photo). Again, the walls and the sofa are in customary white, and the floor tiles are modern, large, glazed terra cotta squares: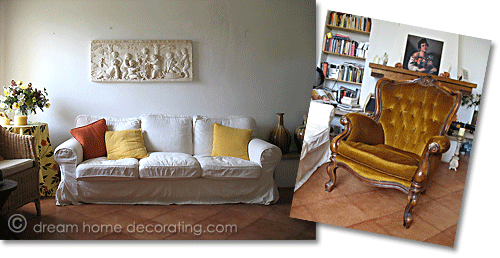 Tuscan living room in a podere, Province of Pisa, Tuscany, Italy
By the way, it's perfectly fine to mix seating designs in a Tuscan style living room. I've seen many examples of contemporary sofas and antique easy chairs in Tuscan homes!

Rustic Tuscan Living Room Designs, #4
Another example of combined kitchen/eating/living areas comes from a beautifully restored old farm house in the same village as living room #3. When I took the photo (through the open window), I was more interested in the ceiling than in the seating, but here's the pic nevertheless (can you spot the large open hearth in the right-hand corner?):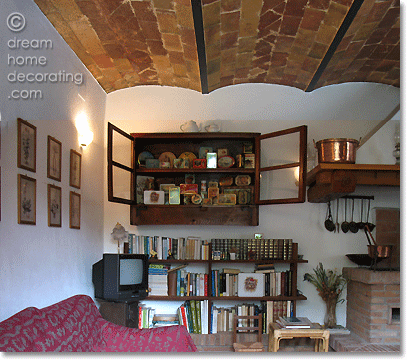 Tuscan living room with barrel-vaulted brick ceiling, Province of Pisa, Tuscany, Italy

The gorgeous brick ceiling consists of a series of parallel, low-profile barrel vaults set between steel joists: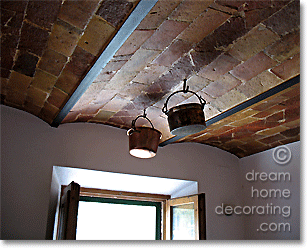 Ceiling hooks for food storage, Tuscany, Italy

You'll find similar ceilings in Provence, and there's a plastered and whitewashed version of this ceiling type on the French wall art page).

The hooks in the ceiling were for hanging food containers to keep them out of the way of mice and other furry bandits.
The corresponding kitchen and dining area are documented on the page about Tuscan kitchens!

Tuscan Living Room, Townhouse Edition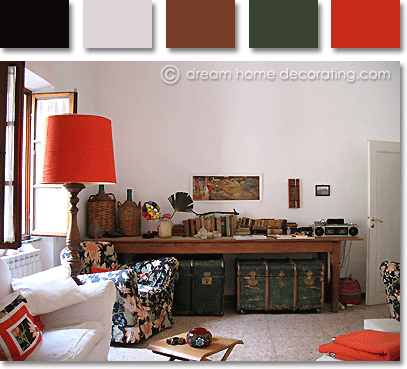 Tuscan townhouse living room in white, black, green & scarlet, San Gimignano

A little less rustic, but very welcoming and super comfortable, this living room is located on the third floor of an ancient townhouse in San Gimignano.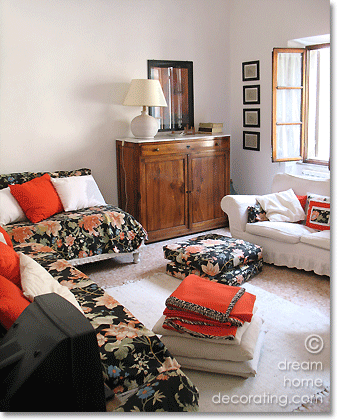 Townhouse living room, San Gimignano, Tuscany

In yet another variation of the Italian flag colors, the decoration of this room showcases beautiful antique trunks in deep racing green and some eye-popping lobster red accents against a cream, black & pale salmon pink background.
Interesting isn't it, how in some countries the decorating colors seem to mirror the national flag? I've seen the same thing in France, too!

The flooring in this apartment consists of terrazzo tiles - a cheaper alternative to the elegant, artistic terrazzo flooring that is seamlessly cast and polished in place. It requires highly skilled craftspeople to install it properly.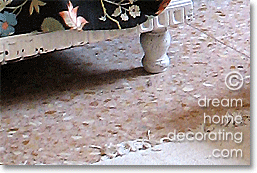 Terrazzo floor tiles

Terrazzo is a composite material of marble (or other stone chips, e.g. quartz or granite) mixed with concrete or epoxy resin.

You'll find some more photos of terrazzo floor tiles on the page about Italian country decorating!

Tuscan Living Room, Palazzo Edition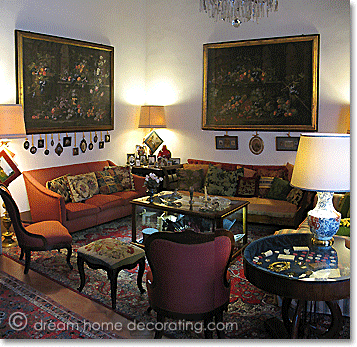 Tuscan palazzo living room in Volterra, Province of Pisa

Finally, an elegant and completely citified Tuscan living room, decorated in a mix of 18th, 19th and early 20th-century furniture styles. (The interesting arrangement of miniature pictures gets some attention on the page about Tuscan wall art!)
In the warmest set of Tuscan colors on this page, the palette of this living room is expanded to include the 'other' Italian decorating color: gold :-)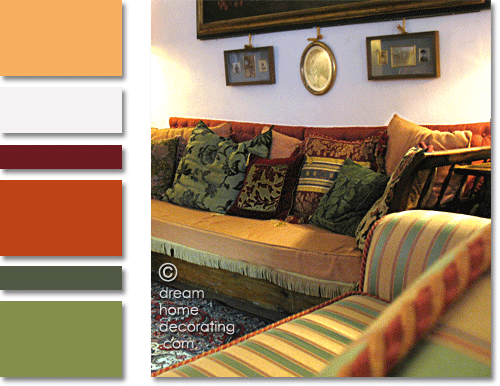 For More Tuscan Decorating, Click A Pic:
I've also put a little 'library' together for you (in partnership with Amazon): Check out these books about Tuscan homes, Tuscan interiors and Tuscan decor; they all come with original photos.
Yet to find the information you're looking for?
Type a word or phrase into the search box below: