Home

›
Tuscan Interiors
› Tuscan Dining Room
Tuscan Dining Room Essentials

A Tuscan dining room is all about family, friends, and food.
I photographed the Tuscan dining furniture on this page in rural Tuscan homes...
... where interiors are traditional, simple, and down to earth.
All the essential ingredients of a Tuscan style dining room are right here!

Tuscan Style Dining Room Furniture:
A) Dining Tables

Tuscan dining furniture in a townhouse
kitchen, San Gimignano (Siena Province), Italy
Tuscan dining tables are made entirely of wood (both the tabletop and the frame).
The table legs may be turned, straight or tapered, but they're usually not very ornate.
Most Tuscan dining tables have a natural finish with oil, wax, or clear varnish for protection. (The table pictured here has a painted frame, in keeping with the credenza at the back.)

You may have come across the notion that wrought iron is involved in making Tuscan dining tables - or even glass.

Alfresco table & chairs in Tuscany
(near Pomarance, Italy)

To be sure, using metal garden furniture inside the house is quite common in French country decorating, but I haven't seen any evidence of it in Tuscan homes.

With outdoor Tuscan dining however, it's a different story.
For example, a French style marble-top bistro table (right) is perfectly at home on this Tuscan terrace overlooking a beautiful orchard.
But you wouldn't find it anywhere near a kitchen (where most of Tuscan dining actually takes place) or in a traditional Tuscan dining room.

Tuscan Dining Room Furniture:
B) Dining Chairs

The most traditional Tuscan dining room chairs are rush seated ladderback chairs.
You may find the occasional model that's neither a ladderback nor rush seated, but they are few and far between.

Upholstered seating is not the norm in a Tuscan dining room!  For extra padding, you just add loose seat cushions (floral fabrics are popular) and/or tie a cushion to the back of your chair. Here are some shots of a dining table in an old stone farmhouse (see the entire kitchen here, it's gorgeous!)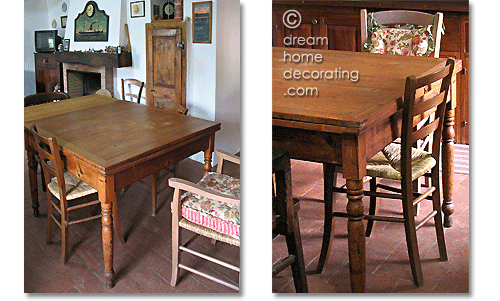 Combined kitchen/dining/living room in a restored smallholding
(near Colle di Val d'Elsa, Tuscany, Italy)

What if you don't have antique chairs?  In Tuscany, that's no problem. New chairs in the same style are available everywhere. Here's the combined dining/living room of a Tuscan podere (smallholding):

Combined dining/living room in a Tuscan podere  (Micciano, Tuscany, Italy)

By the way, this is the only Tuscan style dining room I've come across that didn't have white window/door curtains. Most Tuscan window treatments are embroidered or lace-edged white cotton affairs. (More about that here!)

Tuscan Dining Room Furniture:
C) Glass-Fronted Hutch
In a Tuscan style dining room, you must have one of these. It's where you keep your dinnerware and glasses, special display items, plus the aperitivo, digestivo and other strong stuff.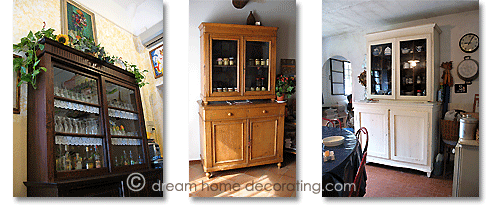 Tuscan buffet-and-hutch combinations, Province of Siena, Italy

Most of the hutches I've seen in Tuscany had a lace decoration along the shelf edges. This can be homemade crochet lace or store-bought lace, it doesn't really matter.


Tuscan hutches with white lace decorations, Siena & Pisa Provinces, Italy

The most interesting one of these hutches (the white one, above center) stood in a beautiful old lady's kitchen. She was well into her nineties, and she graciously allowed me to photograph it. Her hutch didn't just have lace trimmings: every board was covered entirely in a white, lace-edged embroidered runner, with the lace edge hanging over the sides. Beautiful!
By the way, I've found you can get very reasonable buffets with hutches at Amazon
! All you need to add is the lace :-)

Tuscan Dining Room: D) Flooring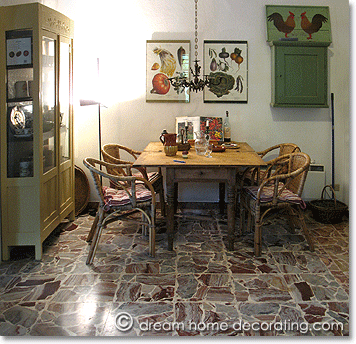 Most of the Tuscan style dining rooms on this page have terracotta flooring, but the one at the top and this one here don't.
Terrazzo is an old Italian technique of creating elegant floors with highly sophisticated patterns and color schemes in a seamless way (more about the technique here). Terrazzo tiles are a cheap way to reproduce the look to some extent. They're also a great way to turn marble or granite cutoffs into something both useful and beautiful.
More examples of Tuscan flooring styles are on the Tuscan paint colors page (includes a gorgeous specimen of black marble terrazzo). They can all be used in a Tuscan kitchen or a Tuscan style dining room.

Tuscan Dining Room:
E) Dinnerware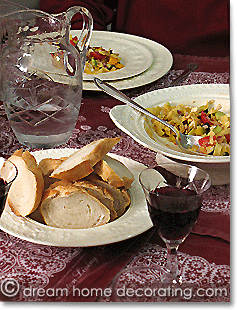 Tuscan dining can be as rustic or as elegant as you like. You can even mix styles, and your table will still look great.

Many people assume you need authentic majolica dinnerware for a true Tuscan dining experience, but that's plainly not true.
I've had plenty of awesome dining experiences in Tuscany, and none of them involved any hand painted Tuscan ceramics.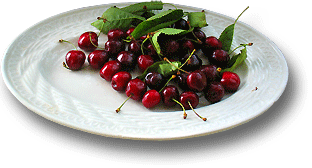 So with that myth out of the way, what crockery are we going to put on our Tuscan style table?
Here are some examples I've found in Tuscan homes.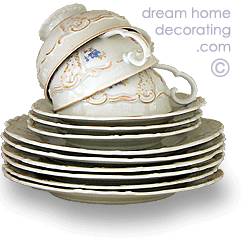 1. Creamware
Creamware is very traditional, and it looks especially great if it has textured patterns. They can just be white-on-white, without any painted detail.
In the absence of creamware, simple heavy porcelain will do just fine, too.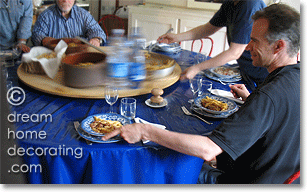 2. Transferware
I was stunned by the number of Tuscan kitchens and Tuscan dining rooms that had blue-and-white transferware as their everyday crockery.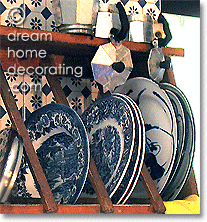 The patterns varied from bucolic Italianate scenes to simple florals.
I don't know why it came as such a surprise, because ...
... blue-and-white dinnerware looks absolutely perfect with all those warm Tuscan colors, from rusty orange to deep terra cotta and olive. So it may be the perfect crockery for your Tuscan style dining room, too!

Tuscan Dining Room:
F) Crystal & Cutlery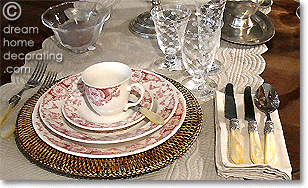 For everyday dining, run-of-the-mill glassware and cutlery are perfectly fine.
But for a special occasion, it's got to be cut glass and ornate silverware.

Think mother-of-pearl handles, or fine silver along these lines: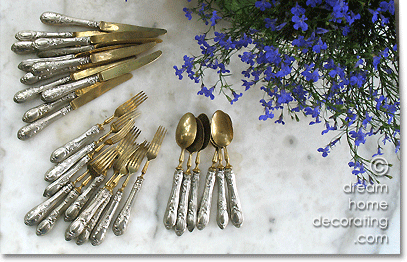 Tuscan Dining Room:
G) Essential Accessories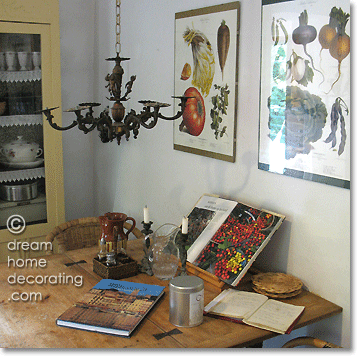 There are a few things a Tuscan dining room can't do without. First off, candlesticks. You simply can't have too many.
Choose between metal (pewter is fine), majolica and turned wood.
Alternatively to candleholders, a candelabra would be great. Or, if at all possible, a chandelier with live candles. It's incredibly Old-World romantic.

Also, consider a few Tuscan kitchen accessories for your dining room, like an oil-and-vinegar set or a footed bowl (very elegant) or a few biscotti jars on the credenza.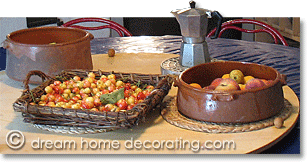 Finally, make sure you've got some of the good things in your Tuscan dining room that make Tuscan living so glorious: Something earthy (like these terra cotta pots or the rough-and-ready basket), some succulent fruit (whatever's in season), and of course, 'handmade' espresso. Because in Tuscany, life doesn't happen without it!
For More On Tuscan Dining & Tuscan Decorating, Click A Pic:
I've also put a little 'library' together for you (in partnership with Amazon): Check out these books about Tuscan homes, Tuscan interiors and Tuscan decor; they all come with original photos.
Yet to find the information you're looking for?
Type a word or phrase into the search box below: