Tuscan Kitchen Accessories:
Sunny, Warm Italian Kitchen Decor
Tuscan kitchen accessories put the soul into Italian themed kitchens:
With just a few decorating essentials (handmade in Italy) you can transform your kitchen into a warm Tuscan-style farmhouse space.

Find authentic Umbrian & Tuscan accessories to buy, and pick up loads of Tuscan kitchen decorating ideas while you browse!



Tuscan Kitchen Accessories, #1:
Biscotti Jar

Here's a selection of Tuscan cookie jars (left, 1-3) plus one from Umbria (right), to store your ricciarelli, cantuccini and brutti ma buoni (="ugly but good") Italian biscotti - click the pic
for more cookie jar options!

Obviously, a biscotti jar is eminently useful even if you aren't much of a cookie person ... who says you have to fill a biscotti jar with biscotti? There's always dried pasta, nuts, pretty little guest soaps ... sea shells ... dog biscuits ;-)

Tuscan kitchen accessories like these are also great to collect & display - a lovely asset for warm, Italian themed kitchens. (If you're on a budget, just combine one or two original, handcrafted pieces with a few simpler, color-coordinated cookie jars.)
Tuscan Kitchen Accessories, #2:
(Footed) Bowl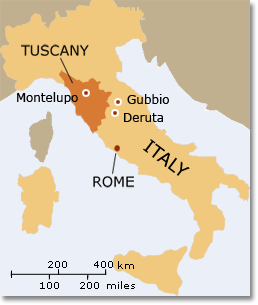 Decorative, footed bowls
are truly elegant Tuscan accessories for kitchen, dining room, living room and hallway.
They make great centerpieces, look lovely on a sideboard or credenza, and are utterly gorgeous even when they're not filled with anything.
The picture above shows, from left to right, bowls from
As you can see on the map, Deruta and Gubbio are just 30 miles outside the Tuscan border.
So you don't have to look far to put some variety into your Italian kitchen decor - just cast your net a bit wider and include some magnificent Umbrian majolica as 'guest' accessories ;-)
Tuscan Kitchen Accessories, #3:
Umbrian & Tuscan Canisters


Tuscan style canisters
are perfect accessories for Italian themed kitchens - and they earn their keep, too. If you're an avid cook, keep a set of canisters on the countertop (designs come in up to 5 sizes) and fill them with ingredients you use daily.
If you're more of a collector, combine Tuscan style canisters in related designs, or in a colorful mix (as above), and line them up on a shelf or atop the kitchen cupboards.
Alternatively, you could combine each of these 'Tuscan style' canisters with dinnerware
, kitchenware
or serveware
pieces from the same collection. The designs are (from left to right):
Tuscan Kitchen Accessories, #4:
Plates & Platters

Umbrian or Tuscan plates
and platters
are the most hard-working Tuscan kitchen accessories you can get.
Even just one or two large, ornate Umbrian/Tuscan plates will go a long way towards successful Tuscan style kitchen design. For pared-down, 'farmhouse' Italian themed kitchens, combine them with simple, heavy white porcelain instead of handpainted Tuscan style dinnerware.
If you have an open hutch or a china cabinet, that's the perfect place to display your platters and keep them handy for your next pizza/pasta/saltimbocca feast!
(Having said that, I know someone who keeps her 'show plates' on the wall, and just takes them down whenever they're needed on the dinner table!)
Tuscan Kitchen Accessories, #5:
Kitchenware & Serveware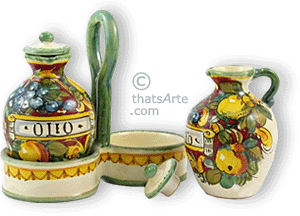 The best fun can be had from the smallest things.
For example, how about a hand painted Tuscan oil-and-vinegar set
on the kitchen table?
Or some unspeakably cute salt and pepper shakers
?
Or a creamer and sugar
set for the next coffee klatsch?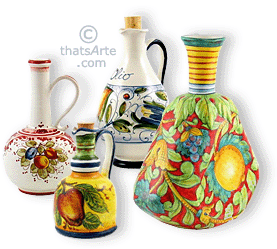 A striking Tuscan/Umbrian bottle
is perfect for fragrant Tuscan olive oil, or use it to keep a spray of fresh herbs going for a few days.
Or, how about an original Tuscan-style pitcher
for water, fruit juice, milk, flowers?
Finally, if you keep your cooking utensils out on the countertop, a utensil holder
from Umbria or Tuscany could come in handy - to radiate Italian flair and keep the cooking spoons organized.
Tuscan Accessory #6:
Espresso Maker
Strictly speaking, you can't call them "Tuscan" kitchen accessories ...
On the other hand, no self-respecting Italian themed kitchens would want to be seen without an espresso maker near the stove!
Obviously, you could buy one of those swish, shiny machines (I've included some above) and prepare your early-morning and after-dinner coffee with a 'barista' flourish.
But Italy is Slow Food Central, and I must admit I haven't seen electronic coffee-making gadgets in any of the traditional Tuscan kitchens I've visited. Even large families were served from simple, stovetop espresso makers - for big caffeine-craving crowds, you just use two espresso makers instead of one.
To design buffs, I'd recommend Alessi's "La Cupola". But the Bialetti "Moka" espresso maker is an Italian icon in its own right, and you really can't go wrong with one of those.
Tuscan Kitchen Accessories, #7:
Tea Towels & Aprons
Textiles are a nice addition to any Italian kitchen decor - not just in Tuscany. Here's a selection (made in Italy) for Italian themed kitchens:
Neutral Color Schemes - The Book:
Learn about using neutral color palettes to give your Tuscan kitchen accessories the perfect backdrop!   Understand what makes neutral color schemes look their best, and what happens when you inject 'real' color into neutral color palettes.   It's FREE!!
Yet to find the information you're looking for?
Type a word or phrase into the search box below: