Tuscan Gifts: The Best Accessories,
Food Gifts, Books & Tuscan Wall Art
For Lovers Of Italy
Find Tuscan gifts, from Tuscan housewarming gift ideas to Italian specialty gift baskets, from authentic Tuscan plates to framed Tuscan prints. Plus, great books and creative gift presentation ideas - check out the possibilities!
Make a splash with truly personalized Tuscany gifts that show you know your chianti from your cantuccini...attach a hand-written recipe, or fill a personalized
jar with artisan pasta.

1. Ceramic Gifts from Tuscany, Umbria & Sicily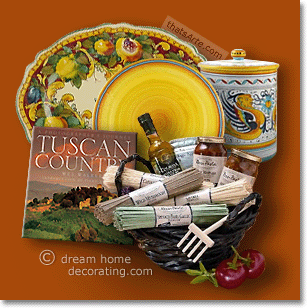 2. Food & Drink
3. Tuscan Gifts For Decorating

4. Tuscan Inspiration
A selection of Tuscan books & DVDs
Presentation ideas for Tuscany gifts: Create a personalized Italian specialty gift basket - it's simple!
Ceramic Tuscan Gifts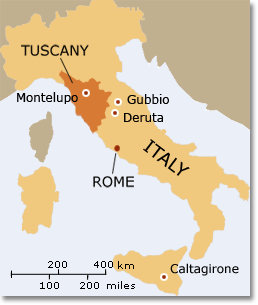 There are three world-renowned centers of majolica production in central Italy, and - strictly speaking - only one of them is actually located in Tuscany.
The other two, Deruta and Gubbio, are about 30 miles outside the Tuscan border, in Umbria.
However, majolica from Deruta and Gubbio is, of course, used all over Tuscany as well.
So it's up to you - for 'strictly Tuscan' recipients, you may want to stick to original Tuscany gifts from Montelupo Fiorentino
.
If you want to include a wider range of authentic Italian majolica designs, have a look at the gorgeous pottery from Deruta
& Gubbio
as well. And if you have a hunch that no one's going to inquire about the exact production address of your Italian gift ;-) why not cast your net even wider and include some fabulous, baroque-inspired majolica from Caltagirone
in your options as well!
Tuscan Food Gifts
& Italian Specialty Gift Basket Ideas
A picnic to remember, armfuls of seriously good pasta, an Italian breakfast in bed, or enough porcini to last for several lip-smacking dinners - enjoyable Tuscan style gifts for wonderful memories.
If you're looking for an Italian specialty gift basket, try these for size:
Found any fitting Tuscan gifts yet?  Or holding out for a truly personalized Italian specialty gift basket?  Check out these gift basket suggestions!
Tuscany Gifts For Wine Lovers
Italian & Tuscan wine is deservedly famous: bursting with flavor, it's the perfect accompaniment to Tuscan style food gifts.
If at all possible, I recommend you taste a wine before you buy it as a present. If that's not possible, your safest bet for Tuscan gifts are DOCG wines (Denominazione di Origine Controllata e Garantita) - these Italian & Tuscan wines come with an official seal of approval that is only given after at least a decade of trials. You can reasonably expect a DOCG wine to be of good quality.
Here are some Tuscan wine labels to look out for:
Chianti DOCG
Chianti Classico DOCG
Morellino di Scansano DOCG
Brunello di Montalcino DOCG
Vernaccia di San Gimignano DOCG
Vino Nobile di Montepulciano DOCG
Carmignano DOCG
Aleatico passito dell'Elba DOCG
And here is a selection of non-alcoholic (well, mostly) Italian & Tuscan gifts for wine lovers (some very cheap, some very much the opposite :-)
Inexpensive Tuscany Gifts: Tuscan Prints
I've grouped them for easier searching:
Tuscan landscape photography
Cityscapes of Tuscany
Tuscan-themed art prints
And that's just a tiny section out of 1000s of Tuscan images you can buy at Amazon. (In other words, if you're going to take this seriously, you might as well set aside a day or so to trawl through all the Tuscan prints on offer ;-)
Let's start with some of the most iconic images of Tuscan landscapes. Enjoy!


Next, have a look at some of these excellent shots of Tuscan towns and cities: Old walls and Old-World atmosphere galore (It really does look like this in Tuscany!)


Last not least, Tuscan art prints. There's an incredible variety of styles and themes available, and they make lovely Tuscan gifts. The following are my personal picks, so just use them as a starting point for your own search. You're sure to find lots of Tuscan themed artwork to suit your taste.
ALL the pictures below have companion pieces by the same artist - two or more of the same style/theme. To view them, just type the artist's name into the Amazon search box, and you'll have more than enough material for a very stylish Tuscan-themed wall display.
You'll find even more Tuscan wall art on these pages:
Tuscan Gifts for Art Lovers:
Tuscan Framed Art
Unframed prints come with the advantage that you're free to choose your own frame and matting, but if you're looking for Tuscany gifts with a nice finished look, check out these framed pieces (plus one stretched canvas):
Books: Tuscany Gifts For Inspiration
Need an "Italian" present present for an avid cook, a lover of Tuscan interiors, a friend with a DREAM? Browse this selection of books about Tuscan/Italian cooking & living!  (Read on below for a 'book gift basket' idea!)
How To Present Tuscan Gifts:
Make Your Own Italian Specialty Gift Basket!
Below is a list of Italian specialty gift basket ideas to create the richness and beauty of a truly Tuscan experience. Start with an appropriately sized wicker basket and then add:
A hand lettered gift tag or note, plus ... (choose 1 option)
A Tuscan cookbook + fragrant tomatoes + fresh garlic bulbs
A generous amount of ripe pomegranates (alternative: nice big lemons) + a small Tuscan style ceramic keepsake box (it's roughly the same size as the fruit)
A bag of Tuscan cantucci  (see "food gifts") + a pack of Italian coffee + plenty of fresh grapes (spilling over the rim)
A pack of porcini mushrooms (see "food gifts") + a handwritten Tuscan pasta recipe (involving porcini mushrooms:-) + a container filled with homemade fresh pasta (made by you!) ... Wondering how do that? Have a look at my friend Matt's brilliant 'how to make pasta' video. You'll see, it's a doddle ... and will leave your friends beyond impressed!
A small bowl (read: soap dish) + a delicious-smelling chunk of orange- or rosemary scented soap + the fluffiest towel on the planet, rolled up or otherwise nicely arranged with your gift inside the Tuscan gift basket.
A bottle of Chianti + a pair of rustic wine glasses + a Tuscan style candle holder + a batch of simple or colorful candles, tied together with a pretty ribbon.  (Seriously, what more does a human being really need?)
For more creative Tuscan style gift ideas, check out my friend Jackie's fabulous Italian gift basket suggestions, bursting with flavor and rich with exuberant Italian spirit!
Yet to find the information you're looking for?
Type a word or phrase into the search box below: