Decorating With Toile de Jouy,  Part 3:
Windows, Bathrooms, Accents & Accessories
Decorating with toile de Jouy  fabric adds a touch of luxury to French country homes, French style window treatments and ... well, anything French, really ;-) So here's a closer look at toile  for windows.
Traditional toile de Jouy is a densely woven medium-weight cotton fabric.
As a curtain or blind, it will keep some light out, but not a lot. If you want your window coverings darker or lighter, use toile  in one of the following ways:
For lighter window treatments, limit toile to the areas above or outside the actual window (e.g. as a pelmet). Here are some examples!  For darker window treatments, consider blackout curtain lining or laminated blinds (more about this below).

To really show off a toile  pattern, try some of the following ideas for window decorating with toile: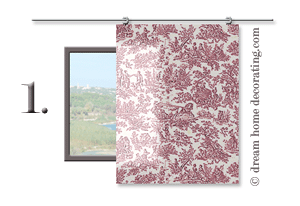 1. Blinds/Shades
Roman blinds or roller blinds are perfect for toile fabrics. With a light source behind the drawn blind, the printed imagery is illuminated and turns the blind into a picture on the wall.
You could also check with shade suppliers in your part of the world to see if they can laminate your favorite toile fabric to a vinyl blind of your choice.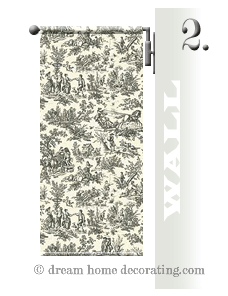 2. Toile "Shutters"
I've come across two interesting ways of hanging fabric flat across a window - perfect for decorating with toile.
The first version (#1, above) consists of a curtain track/rod above the window, extending to one side, so that the toile panel can slide away from the window during the day and hang on the wall as a 'picture'. To keep the fabric flat and taut, make a tunnel at the top and bottom of the panel and pull a thin rod through each.
The second version (#2, right) uses an L-shaped metal rod that is hinged to the wall and swings away from the window when not in use (this can be a good option when you're dealing with an awkward window).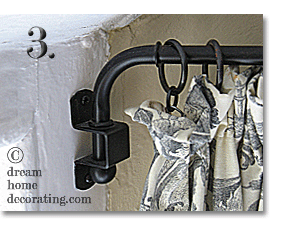 The L-shaped rod can carry a flat (#2) or a gathered (#3) fabric panel - either one looks nice when you're decorating with toile, but the flat panel shows more of the actual print design.

3. Valances and Cornices:
Toile is perfect 'crowning' material for a window. You can use it for
fabric-covered wooden cornices
upholstered cornices
fabric valances, like

♦   plain valances (a rectangle of fabric above the window, with a straight/arched/scalloped edge)

♦   swag valances (fabric draped around a pole above the window)

♦   roll-up valances (essentially a short roller blind with decorative ribbon to hold it up)

♦   box pleat valances

♦   gathered valances (a rectangle of fabric gathered upwards in one or two places with fabric strips)

♦   short, shirred 'balloon' style valances ...

... and so on. The variety I have seen most in French provincial decorating is a no-frills, straight valance - just the fabric in all its glory.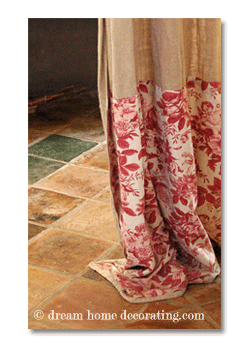 4. French country drapes
Here in Europe, window decorating with toile often involves two layers: a white, see-through window curtain and heavier, lined drapes that are drawn in the evening.
French country drapes don't need to consist entirely of toile, though.
A broad strip of toile along the bottom (1' or more) for full-length curtains, or
a narrower strip along the vertical edge (about 5") will look beautiful without dominating a room.
For a short, stylish set of French country drapes, try attaching a toile valance to the top of a heavy, unbleached linen drape. More examples here!

Toile Bathrooms & Bathroom Accessories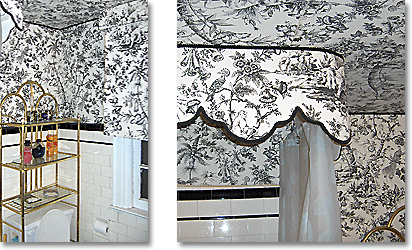 Toile  wallpaper on ceiling, pelmet and window blind in a Long Island bathroom.
(Pre-remodel photos left and right courtesy of Joe Shlabotnik)

Ladies and gentlemen, I give you...
... Decorating With Toile Gone Haywire!
Don't feel you have to do this to your own bathroom.
For most contemporary bathrooms, some toile accents are more than enough. For example ...

1. Toile Shower Curtains
For instant bathroom Frenchification, a toile shower curtain is the perfect accessory. Just one caveat: If you're buying a toile curtain that has some white in it (most do), make sure it matches the white of your tiles/sink/tub as much as possible. If the shower curtain looks too grey or yellow, it will appear 'dirty' against a crisp white background.
With toile shower curtains, there's also a very simple way to create your own, 'one-of' design!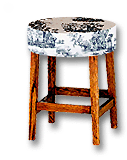 2. Toile Towels & Bath Mats
Towels and bathmats are another easy element for bathroom decorating with toile. Buy them here, or create your own along these instructions (very easy!).
Caution: Be extra careful and stick to just one colorway when you're decorating with toile. In a bathroom, with the usual colorful bathroom utensils sitting around, it's easy to create a "color mess".

Decorating With Toile:
Country French Accents & Accessories
This section of Decorating With Toile is about the small things that can make a big difference.
How small? Think cutoffs & snippets. Even the smallest bits of fabric are a goldmine of country French craft & decorating ideas. Here are some ideas for leftover toile:
Line a wooden or metal tray with a piece of toile (cover with glass and seal the glass tightly, to avoid heartbreak induced by spilled coffee).
Cover some buttons with leftover snippets of toile, and use them for slipcovers, tiebacks, napkin rings.
Make "brooches" for more elaborate napkin rings (or to wear!) Start with a toile-covered button, add lace, stitches & beads.
Piece a cushion together with some toile and other pretty fabrics.
If you have only a small piece of toile, make a pincushion for someone who loves needlework.
Line a jewelry box for your daughter.
Frame a pretty piece of toile. Consider exhibiting a collection of small toile pieces in dainty giltwood frames (or white, shabby-chic ones).
Cover a tiny notebook in toile & give it to a friend.
Make a toile tea cosy / coffee cuff.
And whilst you're at it, how about toile egg warmers? They make nice pressies for people who are into French provincial decor.
Finally, here are three cushion designs - you won't need more than a yard of toile de Jouy  to make all three of them!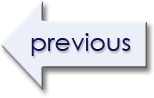 Check out eBay's selection of inexpensive vintage toile below, too.  
Yet to find the information you're looking for?
Type a word or phrase into the search box below: