Toile Bathroom Accessories:
Bathroom Decorating With Toile de Jouy

Toile bathroom accessories for sale on this page:
  ◊  Toile textiles (towels, bath mats) & toiletry bags
  ◊  containers & tidies (above)
  ◊  Decorative 'toile' candles (they make gorgeous gifts!)
  ◊  Toile wall decoration & 'toile' transferware
... and more!
Plus, Tricks With Toile: A few simple DIY bathroom decor ideas that involve toile de Jouy, for further bathroom prettyfication.

Also on this site:
Toile Bathroom Accessories: Textiles & Bags
Anything that can be made out of fabric can be made out of toile de Jouy:
cosmetics bags, toiletry bags & hampers,
decorative borders for towels, bath mats & rugs,
bath robes & seat cushions,
window curtains.
(DIY tips here!)
Toile Bathroom Accessories:
Box Candles With 'Toile de Jouy'  Print
These impossibly pretty candle boxes with 'toile de Jouy'  print make great gifts. But why not treat yourself first ... nothing realigns the universe like a fragrant, luxurious, candlelit bath, followed by a good night's sleep :-)
Toile Bathroom Accessories For Your Walls
Here are some toile  wall art ideas (click the items for more color/size options):
Photos in toile-padded or toile-découpaged frames;
Framed bits of toile de Jouy  print, e.g. fabric snippets, fancy greeting cards & posters (more ideas here)
Toile switch plates;
Toile wall decals.
Toile Bathroom Accessories: 18th-Century Style Transferware
In 1760, Christophe-Philippe Oberkampf printed his first toiles de Jouy  in his factory in Jouy-en-Josas (near Versailles, France).
Only twenty years later, in the 1780s, Josiah Spode perfected the under-glaze blue transfer printing technique in his pottery in Stoke-on-Trent (Staffordshire, England).
Spode's "Blue Italian" range was launched in 1816 and has remained in production ever since.  The design is a brilliant companion for toiles de Jouy  ... so why not park your toothbrush in a Staffordshire transferware mug? Also, check out the plates, trays and small dipping bowls (=great for soap!) on the carousel above.
For cheaper deals, visit my eBay feed for black 'toile' transferware (just change the settings to see other colors). You'll find some fab pieces from Staffordshire (or its French cousin, Sarreguemines), for silly money. (I mean, seriously silly money.)
More Toile Bathroom Accessories: A Little List
Tricks With Toile:
DIY Ideas For A Custom Toile Bathroom
Make your own toile bath towels: Buy a few yards of toile de Jouy fabric and attach wide strips of it to fluffy towels, like this: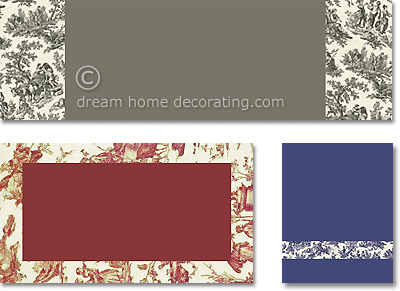 How to do this: Open up the seams at the top & bottom, and add a double-sided band of toile to each end. Or, stitch a narrower 'eye candy' ribbon across the towel (example bottom right).
Bath mats can be done in much the same way, or you could give them a complete edging of toile (example bottom left). This looks best when the printed toile motifs are the same color as the towel.
If you have an open cabinet or wall shelf, you could line its interior back wall with toile wallpaper.
A wooden stool/chair can be slipcovered with toile fabric, or topped with a toile seat pad or cushion (you'll find some in the 'catalogs' above).
Try sewing a wall organizer from toile fabric, or ...
... create a peg rail from a strip of MDF that you cover in toile fabric before attaching the pegs. Or, you could ...
... line open containers with toile, or
dress the window with simple French country toile drapes or a valance.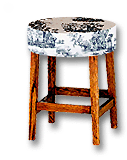 Two or three toile bathroom accessories from this list will be plenty!
Then, add a straw-seated chair, a wicker basket or two, and you'll have created plenty of French country atmosphere for your bathroom.
Yet to find the information you're looking for?
Type a word or phrase into the search box below: