Decorating With Toile de Jouy,  Part 2:
Living Room, Kitchen, Dining Room, Home Office
Decorating with toile de Jouy  fabric adds a touch of luxury to French interiors, no matter whether it's a work space or a relaxing haven.
Living-Room Comfort & Elegance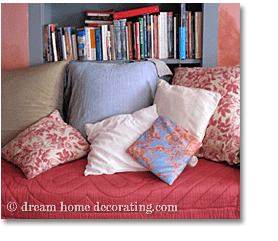 Decorating with toile works for both elegant and rustic country French living rooms. You don't need a lot of toile:
Use it for accents, e.g. throws, cushions, and accessories.
Slipcovering with toile de Jouy can look great, too (and makes particular sense if your living-room sees a lot of wear).
Here are some toile  ideas for French country living rooms:

1. 'Shabby chic':

Cover the floor with rush matting;
Slipcover all seating in light neutrals or white,
Add light-colored toile (baby blue, pink, or pale green) and a lot of white lace to the mix.
2. For a more subdued & natural look ...
Combine wicker seating or straw-seated chairs with comfortable leather furniture in natural browns;
Then add blue-patterned toile and other blue-and-white fabrics.
In addition to toile, use things like simple white porcelain on a mantel or a shelf. Looks great against solid-color walls in pastels or deep, dramatic hues.
3. Elegant French country:
Hang full-length, lined toile drapes at the windows.
Some antique French (or painted 'country' furniture would not go amiss here, and it looks even better if you ...
Show it off on parquet flooring (or tomettes from Provence).

Decorating With Toile: Country French Kitchens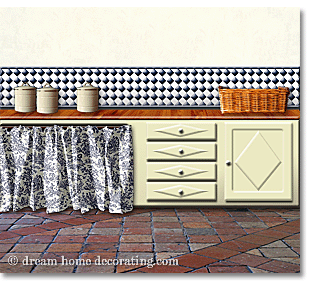 Rustic French kitchens in old French farmhouses might use Toile de Jouy for curtains - either at the window, or to hide storage space under the worktop.
However, it's less common than you'd think. Toile is a 'fancy' fabric, after all, and a rustic French space needs simple fabrics that complement the overall look. However, here are ...
... some ideas for decorating with toile in your kitchen:
Caution: only ever use up to 3 items from this list.
toile tea towels, or toile borders on plain/striped tea towels,
toile placemats,
toile napkins,
toile chair pads,
toile-lined baskets,
toile patches over marmalade glasses,
toile bags for recycled materials,
oven gloves with a toile pattern,
a toile apron for the cook.
Combine these toile items with other simple patterns or solids to add just a little French touch to your kitchen. This will look particularly good if you stick to a strictly limited color scheme, like the blue-and-white in the picture above.
Just one more thing, on a practical note: If you're going to use an antique/vintage French fabric for your kitchen curtains (or anything else that will get a lot of wear and tear), give it a new, sturdy backing. Your antique textile will thank you by living - and looking good - for a lot longer.
Decorating With Toile: Chic French Country Dining Rooms

A few toile accessories look good in most French country dining rooms. However ...
... what's good for French kitchens is also valid for French dining rooms:

Always use toile de Jouy in moderation!
A few ideas for a touch of toile de Jouy  in dining rooms:
toile tablecloth
toile napkins
toile placemats
dining chairs slipcovered in toile
toile chair pads
toile curtains at the windows, or
toile wallpaper (or toile wallpaper borders).

You'll also create an authentic French look with one of these combinations:
Dining chairs with slipcovered backs in antique white or unbleached linen, plus toile chair pads and crisp, antique white curtains with a straight, simple toile valance (here are some examples of the look)

Decorating With Toile In Your Home Office
Turn any old desktop into a "country French" writing desk: Cut a length of toile de Jouy fabric (or toile wallpaper) to the exact measurements of your desktop, and have a rectangle of (beveled) glass cut to the same measurements. Then sandwich the toile between the desktop and the glass. Instant chic!
Stack wooden vintage crates as bookshelves along a wall, and line or paper them inside with toile.
Cover or line containers for mail, pens, brushes etc. with toile. (They could be empty tin cans, wooden boxes, even small or large sturdy cartons.)
Cover a rectangle of styrofoam with toile to create a pin board.
Color-photocopy a strip of your favorite toile de Jouy design as a 'letterhead' onto your private stationery.
Last not least, you could always add a toile chair pad to your office chair.
Decorating with toile can be done on a shoestring with bargain toile fabrics. And what better place to find a bargain than eBay?  Let's say you want to line a wooden crate, cover a pin board or make my toile cushion cover designs in Part 3 from a smallish piece of vintage toile - chances are you'll get a pretty good deal right here below!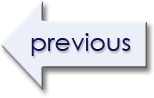 Yet to find the information you're looking for?
Type a word or phrase into the search box below: