Free Craft Pattern & Ideas Resource:
Handmade Craft Ideas
& Downloadable Craft Patterns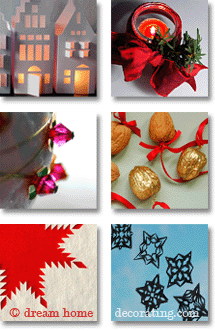 Choose a free craft pattern from my ever-growing country craft pattern & ideas collection!

On this site:
♦   Paper lights & lanterns
♦   Christmas tree crafts & gifts
♦   Pretty gifts for the home

On this page:
Read up on ideas for home decor craft - most of these projects come with downloadable craft patterns.


♦   Free paper craft patterns (including printable Christmas decorations)
♦   Card making craft ideas;
♦   Home decor craft ideas, and
♦   Quick Christmas crafts.

Free Paper Craft Patterns
a) Paper House Lanterns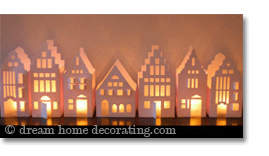 Many of the paper and craft projects on this site are winter paper crafts that come with downloadable craft patterns.
The free craft pattern for the paper lanterns, left, was inspired by the beautiful 16th-century Renaissance houses that you can find in old German towns.
These paper lantern crafts (3 downloadable craft patterns) make great ...
birthday craft gift ideas,
free Christmas paper crafts, or
'just-thought-of-you' craft gift ideas.

Each paper house pattern consists of two identical parts that plug into each other. You can fold them flat and send them in regular Size 9, DL or C65 envelopes.
Download each free craft pattern individually - click here to see the instructions and download the templates.
b) More  Paper Lantern Crafts
Just in case you want to make even more lanterns - there are several free patterns for paper lantern crafts available on this site. Check them out here! Lanterns are lovely home decor craft ideas that can warm a room and cast a gentle shine over a festive dinner table (they also make great little hostess gifts for a housewarming party).
c) Winter Paper Crafts: Stars & Snowflakes

The link below will take you to five free paper craft patterns for 'snowflakes'.
The beauty of this simple idea is that once you've practised with the downloadable craft patterns, you'll know how to make winter paper crafts from bits of folded paper and you can go on experimenting and creating new ones forever.
Use them ...
to decorate a Christmas window
as coasters under glasses (or even plates, if you make them large enough)
to decorate Christmas cards
as 'seals' on the backs of envelopes
for gift tags, or
to decorate special places in the house.
Click here  to go to the download page
!
d) Printable Christmas Decorations: Quick Christmas Crafts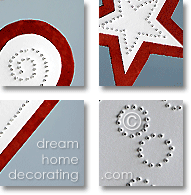 My final free paper craft patterns on this page are quick & very  pretty handmade craft ideas that look good as ...
gift tags
tiny homemade Christmas craft gifts, or
paper Christmas tree ornaments.
They're easy-to-make, quick Christmas crafts, they cost almost nothing, you can make them by recycling other materials, and they come as six downloadable craft patterns. Have fun!
Return to Top
Card Making Craft Ideas:
Free Craft Pattern For Personalized Christmas Greetings
These cards are very easy to make, and you can either download and use the free craft pattern 'as is', or take it as a template to start your own creations.
This is also a nice free craft pattern for making ...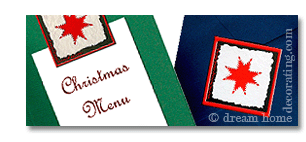 thank-you notes,
dinner party invites,
menu cards for decorating a festive dinner table,
cards for any occasion you can think of, or
gift tags.
Click here for the instructions and to download the templates.
Return to Top
Handmade Craft Ideas & Easy, Pretty Home Decor Gifts
This page does not have downloadable  craft patterns, but ...

... it offers three handmade craft ideas with ample instructions and plenty of visual examples.
Choose among:
two foolproof ways of creating silhouettes,
an idea for turning a simple little notebook into a special diary, photo album or scrapbook, and
a free craft pattern for creating cute & highly efficient door stops.
Oh, and there's also a list of ways to customize bought items to turn them into one-of-a-kind 'craft' gifts.
Click here to check out the Free Homemade Gift Ideas!
Return to Top
Free Handmade Craft Ideas For Christmas
Here are some more crafts to do for Christmas. You won't need a free craft pattern for any of these - just follow the (free) instructions on the web page.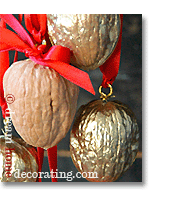 The first one, gilded walnuts, is a very old-fashioned Christmas tree decoration from Europe ("old-fashioned" = medieval homemade Christmas decorations!)
It's an easy Christmas craft project, and you don't need any special tools for it (except a brush & some wire, but I wouldn't consider that special).
Click here for the instructions!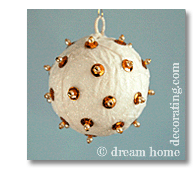 The second craft project, snowy Christmas tree balls, is more tricky and requires a certain degree of experience and 'crafty fingers'. It's also more messy and not really suitable if you're making Christmas crafts with little kids. You'll see what I mean when you have a look at the instructions.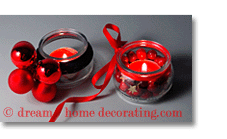 The third free, simple craft idea is very  easy, and perfect if you're looking for kids' Holiday craft ideas. The little Christmas lights and decorations are made with recycled glasses, ribbons, tea lights, and a few sparkly bits.
They are  small, but if you make lots of them they will look fantastically festive. Click here for the instructions!
Yet to find the information you're looking for?
Type a word or phrase into the search box below: