French Country Interior Design:
Authentic Country French Decorating Ideas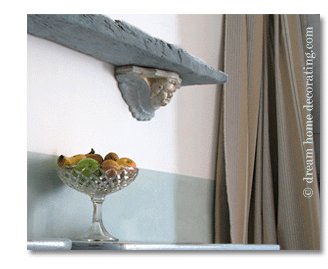 French country interior design is a unique and very addictive form of rustic chic.
Try these easy-to-copy French country home decor ideas for a convincing French country home decorating look!
French country interior decorating has some traits that really are distinctly French. See if you can spot them on a Virtual Tour of authentic French provincial homes!   Featured on this page are ways to ...

♦  bring the outdoors in and the indoors out,
♦  add ornament (particularly above doors), and
♦  use antique fabrics in very creative ways.
♦  In addition, you'll find an overview of French country home decor from Provence.
The fluidity of boundaries between home and outdoors, and the inventive use of ornament and textiles are probably the most conspicuous aspects of authentically French country interior design.
But there's much more to this style, and you'll find a motherlode of additional country French decorating ideas at the bottom of this page.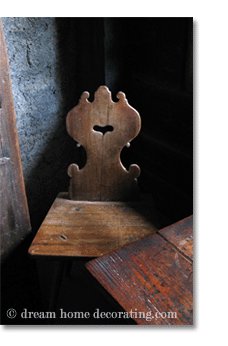 To be sure, France is rather large - so the look of French country interior decorating will differ greatly between, for example,
♦  a dairy farm in Alsace,
♦  a fisherman's cottage on the coast of Normandy, and
♦  a hilltop farm above the Côte d'Azur.
A chair like the one to the left would be perfectly at home in French country home decor along the German or Swiss border, but not at all among the cool blue-and-white of, say, La Rochelle on the Atlantic coast, only 500 miles away.
Interestingly, most people outside France find that French country interior design is really summed up in the farmhouses and cottages of Provence.

French Country Interior Design,
Provence Style
The south-eastern corner of France, with its seductive scents of lavender, roses, herbs and honey, is what most of us have in mind when we think (or dream) of French country home decorating.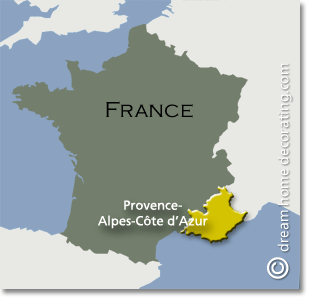 For information about French provincial design, including French country wall decor, French provencal furniture, flooring ideas, and country French pottery, check out the page on Provence Interiors.

The stone villages of Provence are great for holidays (and for doing a bit of research into French country home decorating on the side...
...which is exactly what I did last fall, so if you haven't got time for a trip to Provence right now, don't worry, the legwork's been done for you ;-)
As a result, you'll find loads of information about French Provençal furniture and Provence-inspired country French decorating ideas in the following articles:
Return to Top
French Country Interior Design,
Indoors & Outdoors
Most of France is blessed with a wonderful climate, and French country living is practically synonymous with fabulous food and fine wine (deservedly so, in my humble opinion!)
So it's only natural that French country interior design should include an outdoor dining area as well.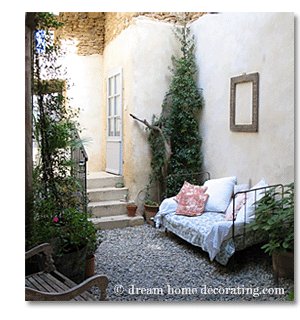 It's usually a terrace, shaded by vines and roses or a wattle screen, and it's the perfect place to enjoy breakfast, lunch and dinner with a view to the countryside or garden.
At the same time, wrought iron (or wooden) is used inside French country style homes as well, particularly in a sunroom or around the kitchen table.
Cushions covered in linen, cotton florals, or toile de Jouy fabric provide seating comfort while keeping the decor easy and informal.
In the South of France, I found another interesting take on French country interior design: outdoor living rooms.
Would you believe that the little patio in the picture above is an open-air interior courtyard, gravel and all, on the first floor of an old Provencal country house?
A seriously cool, chic place to have a cup of coffee and read a (French) novel!
Return to Top
French Country Interior Design -
Making Doorways Special
If you're into French country interior design, your doors will know it ...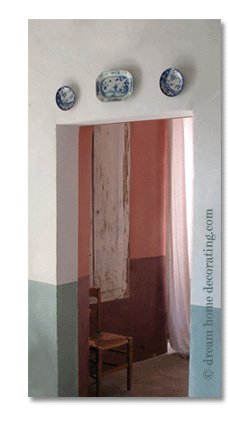 ... or rather, the spaces above them.
No doorway is too humble to be adorned by a little creative doorway jewelry!

Take your pick among:
porcelain or earthenware plates
a handpainted tile
an old photo in an even older frame
a wooden ornament (one that's fallen off somewhere else)
something gilded
a fragment of beautiful plasterwork
a little oil painting on a 'distressed' slat of wood
a few of your daughter's drawings
a framed bit of antique patterned fabric
a decorative piece of wrought ironwork
three post cards from the 1930s
(help! I can't stop ...)

You see, above the door's a place where you can get really, really creative.
And since even small items do the trick perfectly well (and you don't need to own, or be, a Picasso) ...
... you'll be able to create a very convincing French country look for your doors in no time at all.

For an authentic touch of French country interior design above the doors of your home, check out this eBay selection of French faience plates. To see all, just click the 'view all items' link in the bottom left corner.
Return to Top
French Country Interior Design
With Textiles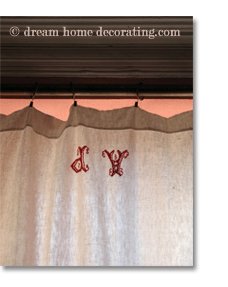 Fine fabrics make fine windows, chic beds, lavish tables, and sumptuous sofas.
And you can easily accomplish this without breaking the bank.
You could start with a snippet of something velvety or silky, a monogram or a small piece of antique lace ...
... and integrate it strategically into a length of plain linen (appliqué it, or stitch it onto a different-colored background and then attach).
Then hang, wrap, drape or otherwise exhibit it somewhere obvious: as a tablecloth, a cushion cover, a curtain.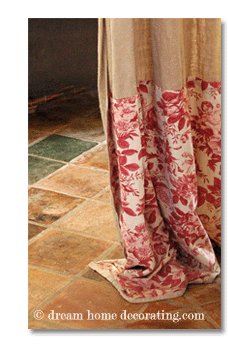 In French country interior design, these small touches of precious, handmade detail are crucial.
A sofa cushion with an appliqué'd, monogrammed patch from the flea market will add a dose of panache to your country French style living room. Check out my friend Wendy's treasure trove of French Country Fabric for a few ideas!
(You could also look at adding a bit of to the mix - but use sparingly!)
An interesting piece of old printed or embroidered cotton could embellish just one corner of a simple length of table linen.
Don't strive to create things that match - rather, combine colors and fabrics in a slightly offbeat, quirky way.
French country interior decorating is all about enjoying the beauty of things ... and having a laugh while you do :-)
Ideas With Toile de Jouy:
French Country Interior Design Library:
Yet to find the information you're looking for?
Type a word or phrase into the search box below: