French Country Decor On A Shoestring:
5 Inexpensive Ideas
French country decor needn't be expensive - unless you've got your heart set on collecting fine antique furniture and accessories.

But that's not really necessary for authentic French interiors!
To get the feel of original French country decor, how about taking a virtual French provincial house tour?
And then, try some of the frugal country French decorating ideas on this page.
Check out French country home decorating ...
1. How To Get French Country Colors Right:
Nothing can set a mood the way color does, and a tub of paint is one of the cheapest and most effective French country decorating ideas around. Painting just one wall can be enough to change the atmosphere of an entire room.



Provence/South of France (1):
yellow
mustard
light blue
lavender
green
gray
white
French Atlantic / North Sea Coast (2):
blue
white
cream
straw
a dash of red
French Mountain Home (3):
medium & dark woods
simple white walls
gray stone
red-and-white (embroidered) textiles


Of course, these aren't the only options for French country decor in color. Would you like elegant, refined French country home decor? I know it sounds like a contradiction in terms, but elegant country French decorating is the rule, not the exception! Go for ...
deep pinks
cornflower blue
ivory
gold accents


Or, conjure up the sun-baked earth and clear waters of the Mediterranean with
turquoise
yellow ochre
burnt orange/salmon pink
white
And there's more ...
Check out country French decorating ideas on the French Country Colors page to find the perfect French country interior decorating colors for your home.
2. French Country Decor for the Kitchen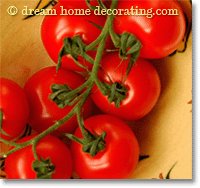 French country kitchens reflect a profound love and respect for "honest" cooking with fresh, locally produced, high-quality ingredients.
You'll find the most delicious food in some out-of-the-way villages in France, and it'll probably come out of a kitchen with a seriously low-tech look.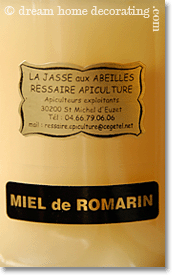 To get that look for your French country style kitchen, show some fresh food:
herbs in pots or jugs
fruit in a basket or bowl
vegetables - the ones that don't like a fridge anyway, like tomatoes, onions, or garlic.
Store and display them in
earthenware bowls
wicker or straw baskets
(old) wooden containers, or
simple porcelain jugs/bowls/pots.
Both the fruit & veg and the containers will contribute to the "I-love-my-food-and-I-can-cook-like-the-French" look, while retaining the rustic feel of French country decor.
(I mean, you can always sneak a can of gourmet sauce out of the cupboard when no one's looking!)
There's more ...
Check out the following links with pictures, tips & ideas for French country kitchen decorating or a serious kitchen remodel using French country decor.
3. French Country Decor in Words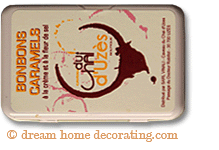 Some food containers don't just have French writing on them, they come with cool design as well (this little tin of toffees is a bit on the whacky side).
If you can find nice-looking tin boxes, glasses, or cans with labels in French, keep the prettiest ones on view.
Once the content is used up, re-purpose the container: fill a water glass with herbs or flowers and stand it inside an old can, for example.
If you have easy access to (old) French (cookery) books or country magazines, you could keep a few around the house.
Should you live in a part of the world where French country home decor in the form of original products & packaging isn't easy to come by, why not take matters into your own hands. Label a few items in French:
fruit preserves
drawers
hooks for kitchen tools or tea towels
doors
a notebook or two ...
or how about an earthenware pot that says 'herbes de provence' on the kitchen counter?
You could take this even further and add some writing to the walls.
Stencil, print or write a line from your favorite song or poem
around a mirror, or
beneath the crown molding on the wall, or
on a drawer or a door.
4. French Country Decor for Walls
If you're looking for color schemes and wall treatments to add some 'Frenchness' to your home, the chapter on French country home decorating in color will take you through typical color schemes that are used in many parts of France.
The picture to the left shows an interior wall in a Provençal home.
The lower part has several layers of paint, and every layer was rubbed down before the next one was applied. The line of gold paint goes all around the room, adding a bit of splendor to the simple rustic walls.
It's an easy, inexpensive way to create country style with a distinctly French accent!
5. French Country Decor for the Table
What's true for French cooking is also true for eating in France: it's done in style, slowly, and with relish.
You don't need a dining room for that. There isn't even space for a dining room in the humbler types of French country home design.
But every French country kitchen has a large kitchen table, which is usually covered with a good-sized, white linen tablecloth at mealtimes.
The crockery is generally either simple porcelain or glazed earthenware.
If you like café au lait, you could have it in a bol as they do in France (there are a few on the table in this picture).
If you prefer crockery, napkins and table linen with more rustic patterns, the picture below left shows the kind of old-fashioned French country home decorating design that is prevalent in the mountainous regions of France.
Cups like these make for excellent French country decor, either on a kitchen shelf or displayed in a dining area. You would combine them with colors and textiles from the "French Mountain Home" color scheme (No.3 above).
To increase the 'Alpine' country French decorating feel in your home, adapt this design to embroider, stencil or appliqué a few seat cushions, tea towels, place mats, and/or napkins.
Red-on-white, hearts-and-garlands French country decor works best when you combine it with wooden elements, e.g. furniture in aged, grayed or dark honey tones, wooden bowls & chopping boards, as well as textiles in muted red and/or simple white, checked or striped linens.
Yet to find the information you're looking for?
Type a word or phrase into the search box below: