Finding A Country Style Sofa:
The Best Country Sofas For Each Style

Comfort, natural materials, and a 'rustic' look are key when you're looking for a country style sofa.
No lumps, no sag, no hard seats - thanks to modern technology we can have perfectly comfortable country couches.
These days we have another problem: Too much choice.
, or ...
... find out which country style sofa is right for which kind of home!
1. Country Sofas For Period Homes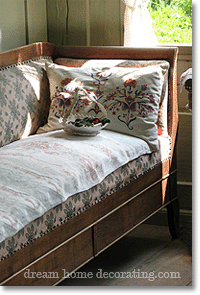 With a historic home, your choices are (thankfully) limited. You either ...

... buy a country style sofa which 'echoes' that vernacular (unless, of course, you can get an original antique), or
... go for a more neutral, low-key piece and turn it into a country couch by using the period's 'country' fabrics and colors for throw pillows, blankets, and other accessories.
Contemporary classics are among the best couches for this purpose.
They're they're unobtrusive in shape and easy to adapt to a period style - just recover the cushions or change them altogether. (For a quick fix, you may be able to find replacement couch cushions that are already covered in the right period colors and patterns).
2. Modern Country Style Sofas
If your current home is a modern "white box", your options are wide open.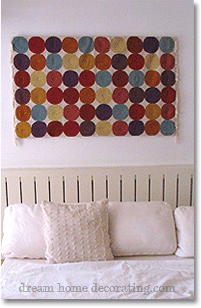 1. You could choose a contemporary country style couch, like the one to the left.
The sofa is covered in cotton duck; you can give it a more obvious country look by adding rustic blankets and traditionally embroidered or patterned cushions.
2. Alternatively, you could pick a 'romantic' country style sofa, with elegantly rounded lines and covered in a floral pattern.
(My South African neighbor Elzette tells me that self-respecting country couches in her part of the world must have big flowers all over them.)
3. You could also turn a piece of garden furniture into a country couch - lavish generously stuffed, gorgeous cushions on a simple patio couch or on a wooden garden bench for a 'holiday home' feel.
4. Last not least, consider going for a seriously rustic sofa, rough-hewn and covered in leather or in a coarsely woven fabric. If your surroundings are otherwise on the sober and neutral side, your country sofa will start looking like a stunning museum piece.
3. Rustic Country Sofas
If you live in a rustic lodge or a genuine log home (wow!), you have another interesting set of choices. You could ...
buy (or build) a simple country sofa or bench that would be perfectly at home in a historic Alpine or Scandinavian log cabin, or
find a rustic 'American country' style sofa (or build your own couch) in any of the styles the early settlers used, or
invent your own country sofa - a piece, made out of local materials, that is in quirky keeping with your rustic home.
4. Materials For Country Couches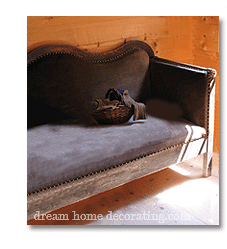 Any material is appropriate for a country style couch, as long as it looks natural and sufficiently informal (or really rugged, if that's what your home and tastes call for).
Horsehair is a wonderful (but expensive) upholstery fabric for country sofas - it is incredibly hardwearing and practically lasts forever.
Historically, leather was not much used on European country style couches.
The only exception is England, where leather-clad easy chairs were regulars in country houses, libraries and clubs. But you wouldn't have found leather on a country style sofa in an English cottage.
On the other hand, tan or dark brown leather is a great material for country style sofas - it is low-maintenance, adaptable, neutral and natural, and it usually looks great with patterned cushions or blankets.
Yet to find the information you're looking for?
Type a word or phrase into the search box below: