Home

›
Interior Design Styles
› Interior Style vs. Fashion
Interior Decorating Styles:
European Home Interior Design Styles
& Home Decorating 'Fashions'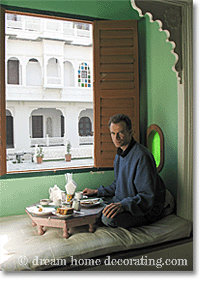 Use historic interior decorating styles to study, play around with, and create personal, rich, stylish interiors.
Click here for an overview of design styles on this site ...
... or read on for a bit of European interior decorating style history and philosophy!

Every culture develops distinct ways of living and homemaking in harmony with their natural environment, customs, and belief systems.
In European tradition-based cultures, even the most humble homes have a character and beauty that's special ...
... a style that sets them apart from other styles of interior decorating, often less than 50 miles away.
When you look at the styles of interior decorating in different cultures, you automatically take a step back and see your own  home with fresh eyes.
Interior Decorating Styles #1:
Country Originals
The most enduring and original interior decorating styles are the ones you can still find away from the cities.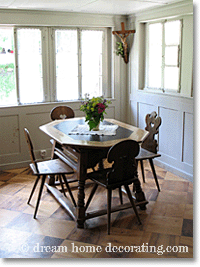 A traditional country home feels timeless because it is made to last.
Its blueprint has been developed over hundreds of years, in response to the landscape, the climate, the requirements of farm work and of running an extended-family household.
Original country home design styles are, strictly speaking, not interior design  styles.
There is nothing 'designed' about them - no one sat down and said, "Right, let's come up with a stylish interior design concept for this west-facing living room!"
Similarly, re-decorating in fashionable room decorating styles wouldn't have entered the mind of someone who lived in a country home, say, 50 years ago. You usually 'got it right' the first time, and then you stopped worrying about it.
I love the wonderful variety of country decorating styles (you'll find a collection on this site, including the different styles of decorating in Sweden, Switzerland, Italy/Tuscany, France/Provence (more are on the way).
Interior Decorating Styles #2:
City Fashions
Interior design styles are much more at home in towns and cities, and they've been going in and out of fashion at an accelerating speed.
Some have been inspired by the interior decorating styles (or fashions) of foreign countries - whatever was considered 'exotic' (read: expensive and hard to get) or 'chic' at a particular time.
For example, the Swedish 'Gustavian' style started out as a copycat version of the royal court in France (well, okay, maybe calling the castle of Versailles an example of 'home  decorating' is taking it a bit far!)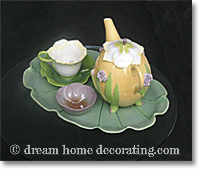 Other home design styles for interiors were developed in artists' circles, like the Arts & Crafts movement, Art Deco, Art Nouveau, Jugendstil and the Wiener Werkstätte.
Starting around the 1850s, these 'schools' created the concept of lifestyle design: dress, fine art, furniture, poetry, textiles and home decor were all considered part of a way of life.

Following this tradition, home decorating styles  have now turned into home decorating fashions, and fashion houses launch 'home' collections at least once a year.  Paul Poiret  (1879-1944) was probably the first modern-day fashion designer to expand his business into home interior design styles.
Now we're told what our walls  should be wearing this spring, we're urged to 'update' the bedroom, and somehow we feel the need to get the latest 'must-have' interior decorating accessories/gadgets.

If you  have ever felt the pressure to spend time, energy and disposable income dressing your home up in the latest interior decorating fashion - even though you're actually happy with its current state - it may be time to sit back and take a deep breath.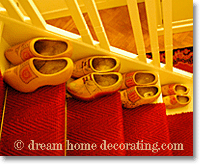 You don't need to spend time and money.
If you like your home as it is ...
... you have started to create your own style rather than follow fashion.
Your home is the perfect place to surround yourself with what you love and what inspires you, and pursue happiness - your way!
Also, great design isn't about fashion. Sometimes it's even the opposite of fashion. Really stylish homes feel 'right' rather than 'hip', and they age very gracefully (or not at all).
Fashion goes out of fashion. Style, never.
(So many famous designers are supposed to have said this - I won't try and decide which one said it first!)
Instead, let's just have a quick look at how we could define 'style'.
"Style"
Of course, this topic would easily fill a whole library. I'll spare you the details and propose the following summary:

Something that 'has style' is usually
well-considered for its purpose
graceful (with 'good bones' and pleasing lines)
simple rather than fussy or showy
useful, beautiful, or both
well-made, of quality materials
in other words, it's something that looks great and works.
'Stylish' does not have to mean
expensive
exclusive
exotic
rare
old
made by a famous designer or brand.
You can create a very stylish home on a shoestring, or you could be extremely rich and have very little sense of style. (I've seen some awful  million-dollar homes!)
Home Decorating and Interior Design Styles
Here's a list of interior decorating styles for you to browse (some still about to be written):
For more inspiration to find your own decorating style, check out the list of interior design themes on my friend Charlotte's aptly named site, Interior Design It Yourself.
Also, seeing as this page is all about 'grown-up' styles, I think I should point you to a lovely website that focuses entirely on the tiny newcomers to this planet. Helen, a creative mom of three, has some great ideas for nursery themes on her site, Creative Baby Nursery Rooms. Well worth a look!
Yet to find the information you're looking for?
Type a word or phrase into the search box below: