French Toile Fabric:
What It Is & Where To Get It
French toile fabric is known the world over for being the most "French-looking" French country fabric. A length of toile de Jouy fabric can lend even the most nondescript space a distinctly French 'air'.
Click a pic to BUY French toile fabric, or read on for a short history of Toile de Jouy ... and be prepared for a few surprises!
The Beginnings Of French Toile Fabric ...
... were not  in France but in India:


Block-printed cotton, possibly from Coromandel Coast, 17th century - 18th century
Photo © Victoria & Albert Museum, London, UK.

In the 17th century, the French East India Company started shipping block-printed cottons from India to France.
Up to that point, the only high-end patterned fabrics were brocaded or damasked silks, which were extremely pricey and high-maintenance. (Printed fabrics did exist, but they were quite crude.)
The new, gorgeously colorful, lightweight and washable textiles (called "Indiennes"  because of their origin) were a huge success with French high society.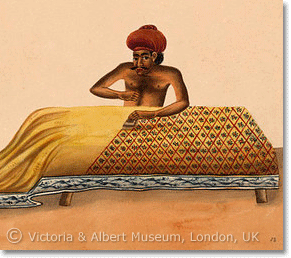 Man block-printing on cloth, Varanasi, India
Watercolor on paper, ca. 1850-1820.
© Victoria & Albert Museum, London, UK.
Such a success, in fact, that King Louis XIV (the 'Sun King') decided in 1686 to protect the French silk, wool, linen and hemp industries by banning the import, use, and  reproduction of Indian calicos in France.
As a result, Western know-how of textile printing was first developed outside France: in Holland, Switzerland and England.
Alsace was another hotspot of fabric printing (even though it belonged to France at the time, but French law was never consistently enforced here). Below left is an early example of textile printing (probably) in Alsace.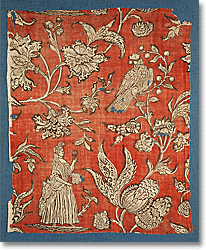 Block-printed, madder-dyed cotton
Alsace(?), France, 1690-1710.
© Victoria & Albert Museum London
It took more than 90 years until, in 1759, the ban on cotton and cotton printing was finally lifted in France.
And that was the hour of 21-year-old Christophe-Philippe Oberkampf (1738-1815). Born into a German family of cloth dyers, he had trained as an engraver and was working in Paris as a colorist.
Together with a Swiss business partner, Antoine Guerne (called Tavannes - he was one of King Louis XVI's Swiss Guards), Oberkampf established a printworks in Jouy-en-Josas, 15 miles outside Paris.
The Oberkampf Factory In Jouy-en-Josas ...
... was not  the only manufacturer of printed Indiennes  in France, far from it. But it became the biggest and most successful one.  The location was an excellent strategic choice: Right by the clean waters of the Bièvre river and only 3 miles down the road from their VIP customers, the royal court of Versailles.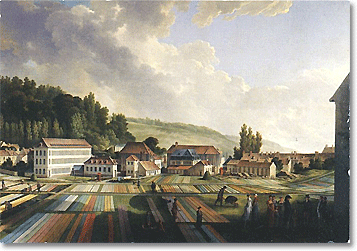 Jean-Baptiste Huet, The Oberkampf Factory at Jouy-en-Josas
Oil on canvas, 1807
Photo © Musée de la Toile de Jouy, Jouy-en-Josas, France

For the first ten years, the factory used only wooden printing blocks to create the type of design that was most popular at the time: floral prints just like the ones that had previously come from India.


Floral toiles (Indiennes):
Left, Wood block print (detail), Factory in Mulhouse, Alsace, around 1760
Right, Wood block print on cotton (detail), factory Oberkampf in Jouy, 1785
Photos © Musée de l'Impression sur Etoffes, Mulhouse, France
Then, in 1770, Oberkampf introduced a novel technology from the British Isles to his factory: copperplate printing.
So The 'French Toile Fabric' We Know Today ...
... was not  invented in Jouy. The technique of copperplate printing onto fabric was first developed by Francis Nixon of Drumcondra, Ireland in 1752, and then practised at several textile printworks in England.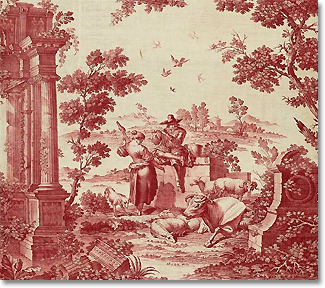 Robert Jones (printer), Length of furnishing fabric, Old Ford (London), England 1761
After an etching by Nicolaes Claas Pietersz (1620-1683), Berchem, Holland
Photo © Museum Of Fine Art, Boston, USA

Printing with engraved copperplates had two big advantages:
The plates were much larger (ca. 30x40") than wood blocks (ca. 12x15.5"), so you could create wider, more varied repeat patterns;
The fine lines of etched copperplate made it possible to print sophisticated, finely shaded, naturalistic images onto fabric - the print quality was almost as good as copperplate prints on paper.
Copperplate printing onto fabric had one disadvantage:
You could only print monochrome (= single-color) prints.  It was, of course, possible to add color by overprinting with a second or third block, and/or by filling color in with a paintbrush. This was  done occasionally, but it was fiddly, time-consuming, and made the fabric much more expensive. Here's an example: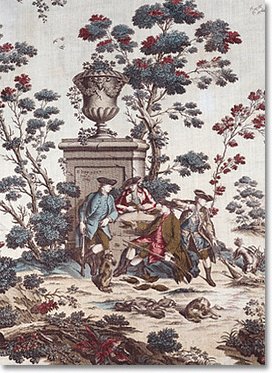 Robert Jones & Co. (printer), Length of furnishing fabric
Old Ford (London), England 1769
Linen and cotton, printed from engraved copper plates
and wood blocks, with hand painted blue
Photo © The Victoria & Albert Museum, London, UK
Monochromatic French Toile Fabric
From Jouy-en-Josas
Oberkampf hired some of the best designers of his day, and chief among them was painter and engraver Jean-Baptiste Huet (1745-1811). Many of the toile de Jouy designs we know and love today were his creations. Below are a few examples of Toile de Jouy themes and designs.
You'll find similar - including the occasional authentic Huet design from the Oberkampf factory - in the online shop of my friend, . I can't recommend Wendy enough. She's a rare breed: a passionate, experienced textiles dealer with encyclopedic knowledge of French country fabric and very reasonable prices!
So here are some of the original French toile fabric designs that started a big trend, 250 years ago:
1. "Country Life" Toiles de Jouy


The Pleasures Of The Countryside, Design: Jean-Baptiste Huet (1745-1811)
Manufacture: Christophe-Philippe Oberkampf (1738-1815), Jouy-en-Josas, ca. 1800
Photo © The Victoria & Albert Museum, London, UK

The 'country life'-themed toiles de Jouy show an idealised perspective of the countryside, with few hints at the backbreaking toil of the people who actually lived there.
On interconnected 'islands' floating on a white(ish) background, these French toile fabric designs display the imaginary pursuits of shepherds and shepherdesses, country folk herding cattle, fishing, hunting or celebrating, well-dressed couples in compromising situations - a fantasy 'holiday' countryside sprinkled with antique ruins.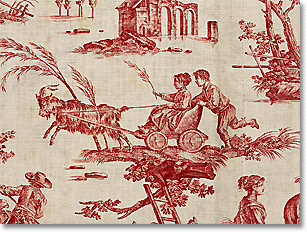 The Pleasures Of The Countryside (detail), Design: Jean-Baptiste Huet (1745-1811)
Manufacture: Christophe-Philippe Oberkampf (1738-1815), Jouy-en-Josas, ca. 1800
Photo © The Victoria & Albert Museum, London, UK
2. "Chinoiserie" French Toile Fabric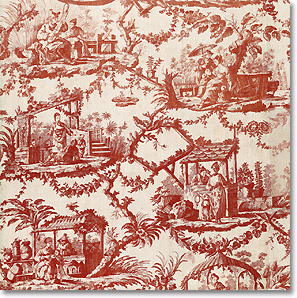 Chinese design, Copper plate printing on cotton, Oberkampf factory in Jouy, 1785
Photo © Musée de l'Impression sur Etoffes, Mulhouse, France

Luxurious Chinese painted silk fabric and fine Chinese porcelain ("China") were highly desirable luxury goods in the 18th century. Intrigued by their exotic origin, artists copied images from Chinese porcelain and mixed them freely with French rococo decoration, creating "Chinoiserie" designs of European fancy and fascination with a faraway, mysterious culture.
3. Ancient Times, Myths & Heroes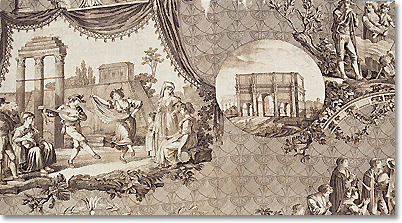 Scènes Romaines (detail), Design: Bartolomeo Penelli
Oberkampf factory (Jouy-en-Josas), 19th century
Photo © The Metropolitan Museum Of Art, New York, NY, USA

"Scenes of Rome" displays vignettes of Roman street scenes against a backdrop of antique Roman ruins, with inset round or rectangular 'post card' views of ancient Roman buildings scattered over the fabric.
This toile is an example of the copper roller printing process, patented by Thomas Bell in England (1783) and introduced in Jouy-en-Josas in 1797. Here is another example: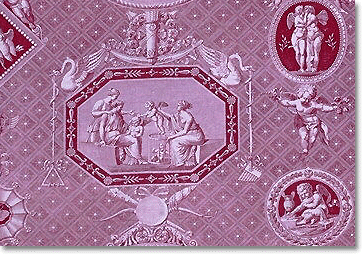 La marchande d'amours (The Merchant of Love / The Cupid Seller) - Detail
Design: Louis-Hippolyte Lebas (1782-1867); Print: Oberkampf (Jouy-en-Josas), ca. 1816
Photo © The Metropolitan Museum Of Art, New York, NY, USA

This toile has its name from the octagonal cartouche that shows a woman selling winged cupids from a cage (what an utterly  brilliant design idea :-)  Very popular in the first two decades of the 19th century, this type of neo-classical design shows framed images against a geometric background.
At about 20" wide, the copper printing rolls were narrower than the copper print blocks, but you could get a whole length of fabric with an uninterrupted pattern out of them, and the printed fabric production at Oberkampf's factory increased by a factor of 30.
French Toile Fabric And Politics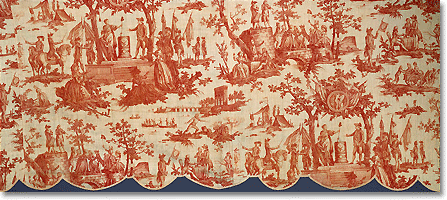 Fall of the Bastille and the Confirmation of the Constitution
Design: Jean-Baptiste Huet (1745-1811); Print: Oberkampf, Jouy-en-Josas 1792
Photo © The Victoria & Albert Museum, London, UK

Christophe-Philippe Oberkampf successfully steered his enterprise (and up to 1500 employees) through the political cataclysms of his time.
In 1783, King Louis XVI of France declared the factory at Jouy a Manufacture Royale.
Four years later, Oberkampf received from King Louis XVI the title of squire as well as the right to use arms.
Two years after that, in 1789, the French Revolution began with the storming of the Bastille (a medieval fortress and prison in the center of Paris that represented royal authority). This event is commemorated (minus the bloodshed) in the French toile fabric pictured above.
What happened to Oberkampf, royal manufacturer, only 15 miles away from the power center of France, during the French Revolution? He became mayor of Jouy-en-Josas in 1790 and continued to produce French toile fabric, while King Louis XVI was guillotined by the revolutionaries in January 1793.
At the same time, Napoleon began his rise to power. He crowned himself 'Emperor of the French' in 1804.  Then, in 1806, he visited the printworks at Jouy-en-Josas and awarded Oberkampf the Légion d'honneur, the highest decoration in France. Way to go!
Stuff Worth Knowing About French Toile Fabric
Toile de Jouy  literally means "cloth from [the town of] Jouy".  So when we talk about "French toile fabric", what we're actually saying  is 'French fabric fabric'.  However, it's not quite as daft as it sounds. The meaning of "Toile de Jouy" has both expanded and contracted a little over the past 250 years.
Expanded:  Toile de Jouy does not have to be made in Jouy (or in France, for that matter). The Oberkampf family never trademarked the term, and the Oberkampf factory closed its doors forever in 1843.
Contracted:  'French Toile Fabric' has come to mean a monochrome, copperplate-style printed fabric that is patterned with isolated motifs or scenes, usually on a light (white, cream or écru) ground. "French Toile Fabric" no longer generally includes polychrome, allover floral designs (Indiennes), even though these designs formed a large part of the Oberkampf factory's output, long after the introduction of copperplate printing.
Study Resources
To the scholarly minded, I'd like to recommend three publications that are freely accessible and cost nothing to use.
Gillian Moss, Printed textiles 1760-1860, in the collection of the Cooper-Hewitt Museum, the Smithsonian Institutions National Museum of Design. Smithsonian Institution / Cooper-Hewitt Museum, 1987 (ISBN-10: 0910503575) This skinny, out-of-print booklet is occasionally offered for sale on Amazon. You can also read it free online at archive.org.  It comes with an excellent bibliography.
The Musee de la Toile de Jouy in Jouy-en-Josas has a six-page Museum Press Kit that you can download from this page. Well worth reading.
Another great place to forage for knowledge are museum websites. French toile fabric is collected by museums all over the world, and their prized possessions are usually presented with a motherlode of information.  My fave: the Victoria & Albert Museum, London.
Library
Here's a selection of books currently available at Amazon.com:
Get Decorating Tips & Buy French Toile Fabric Here:
Yet to find the information you're looking for?
Type a word or phrase into the search box below: