Country French Decorating Ideas:
Authentic French Provincial Decor
30 Country French decorating ideas are 'hidden' in this French provincial house tour of gorgeous homes in Provence and the Loire valley. You'll find the list of 30 style tips from the tour below on this page as well.  (Remember to turn your loudspeaker on before entering ;-) 

Further to the French provincial house tour above, check out these additional country French decorating ideas & tips:
Country French Decorating Ideas
For Doors & Doorways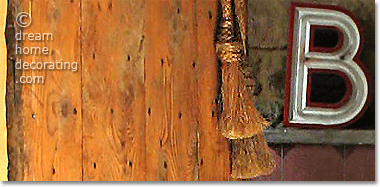 Tasseled rope (dangling from the wooden kitchen door
in a French provincial house)

Ideas to try:
Adorn interior doors with unorthodox items: a beautiful tassel, or something small & shiny that hangs from the doorknob on a colorfully elegant silk ribbon. You could even frame & mount an interesting (antique) find directly onto the door itself. In a French provincial house, doorways can be pure magic.
Display beautiful things above the lintel as well, e.g. porcelain plates, pictures, ornaments. They don't need to be large, imposing pieces - a small tile or plate is usually perfect. You'll find plenty of ideas for French style doorway decorating on the page about French wall art, plus a list of (slightly whacky) ideas in the article about French country interior design. This is a lovely, fun thing to do, and you can't really go wrong! For super stylish French provincial decor, try black 'toile' dinnerware!
Place a large ornamental terracotta urn (with or without a plant) near the foot of a flight of stairs or to the side of a doorway.
Country French Decorating Ideas
For Windows, Ceilings & Lights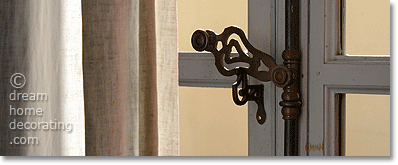 French style decor:
hand-forged hardware on a French country window

Ideas to try:
Hang extra long curtains that drop into 'puddles' on the floor. It's a very French thing to do! You'll find lots of ideas on the page about French country curtains. As for fabric, simple linen curtains or toile de Jouy curtains are two great options.
A crystal chandelier is not for every type of room, but you could always hang a few single glass crystals in a window, on elegant ribbon, to let them catch the sunlight and sparkle up the room.
Sometimes all you need for a curtain with attitude is a long flat sheet that ends in a big knot.
Use interesting light sources - mix antique and modern, and add individual touches. Surround your lighting 'objects' with space to enhance their perceived value.
Mount antique light fixtures (or other fine antique pieces) on raw, natural backgrounds: an old tile, a slab of slate or wood. The contrast makes them look even more refined.
French Provincial Decor:
Creating Atmosphere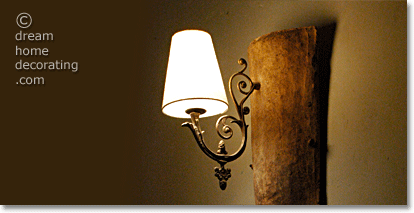 Tile mounted wall lamp in a French provincial house

Ideas to try:
Keep the rooms simple - in French style homes, the beautiful things get a lot of breathing space. Create oases of tranquility by keeping surfaces largely free of clutter.
Use French text for labels or inscriptions where appropriate. For example, if you make food preserves, write the labels in French and make them poetic  :-)
Use some gold in a room - a stripe at chair rail height or under the crown moulding can add just the right amount of French glamour. (Caution: do NOT do this if the dominant metal color in the room is silver!)  Check out some 'golden' country French decorating ideas on the page about designer French country bedrooms.
Speaking Of Bedrooms:
Dreamy  Country French Decorating Ideas

Ideas to try:
One of many French bedroom decorating tricks: Instead of buying a bed with a headboard, buy a simple platform bed and paint the headboard on the wall.
Turn unusual items/materials into head"boards": a mirror, a wall hanging, a piece of fencing.  (More ideas for headboards and painting bedroom walls here.)
Country French Decorating Ideas
For Artsy Displays


French style decor:
cut-glass cloche over seashells on a side table

Ideas to try:
If you have loads of pictures that work well as a group, use up a whole wall and hang them all the way to the ceiling.
Show off one fine piece (e.g. a porcelain vase) against a plain background, or combine it with several inexpensive, single-color ones to show off the 'star'.
Exhibit beautiful kitchen objects in the kitchen or dining room. Baking dishes with gorgeous shapes are great - if you focus on round shapes, you could also stir a few rustic dried wreaths into the mix.
Assemble a collection of treasures on a small side table for display in a hallway (underneath a mirror or picture) or in a corner of the room.
Group similar things: colors, shapes, themes. (One French matchbox on its own may not be desperately convincing, but 30 different ones, all colorful, presented in a box frame, amount to genuine wall art).
Country French Decorating Ideas
For Floors & Walls


Country French style decor for the floor: encaustic tiles.

Ideas to try:
If you have colored walls, paint your light switches & switchplates the same color to 'disappear' them visually (clear switchplates are an alternative, but I find them a bit too snazzy for country  French style decor).
Use unusual items to hold up a wall shelf, or as bookends, or as doorstops. (Here's a lovely idea from a Tuscan style bathroom!)
For a beautiful Mediterranean-style floor (e.g. in the conservatory), create a central 'area rug' of encaustic tiles and surround them with solid-color ones (or with stained concrete flooring).
Line a splashback with small mosaic tiles (great for uneven walls in old houses!) - simple cast washbasins look great tiled as well.
Country French Decorating Ideas:
Ceramics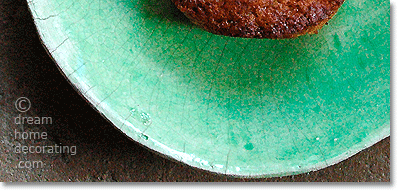 Essential for French style homes:
Handmade ceramic plates & bowls

Ideas to try:
If you have white crockery, throw in a few colored pieces that are not part of the set. Don't be slavish about matching colors.
Have something on your table that rises above the rest - a footed bowl, a crystal cakestand.
Have your nicest china on view always. Hang some plates on the wall if that works in your home.
Use beautiful things in your daily life: special bowls or plates, a fine spoon. Surround yourself with beauty - particularly in small things - as much as you can. (More about that on the 10 Top Tips page!)
French Style Homes:
Outside In, Inside Out!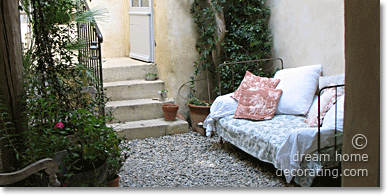 Interior courtyard of a French provincial house

Ideas to try:
Create a daybed from a single mattress wrapped in an old quilt or covered in a rugged, textured fabric. Accessorize with overstuffed cushions in loosely matching fabrics (some toile de Jouy but not all ... try to err on the side of simplicity!)
Plant an indoor 'flowerbed' in a large, securely lined wicker basket.
Find an antique garden gate to use as metal wall art on the back patio. (If it looks unremarkable, hang flowerpots from it, Italian-style).
Not everyone has outside space to their homes. Create an 'outdoorsy' space inside - with garden furniture, modular decking tiles, or plants.
Yet more  country French decorating ideas - check out this 'library' I have put together for you (in partnership with Amazon.com):
Yet to find the information you're looking for?
Type a word or phrase into the search box below: