Tuscan Canisters:
The Best Tuscan Kitchen Canisters From Italy
Tuscan canisters, hand painted in Italy: Here's a selection of the prettiest Umbrian & Tuscan style canisters
from Montelupo, Deruta, and Gubbio.
These decorative kitchen canisters glow in a warm Tuscan color palette, perfect for Italian themed kitchens. (And if you're looking for Tuscan gifts, personalized canisters
could be just the ticket - at no extra cost!)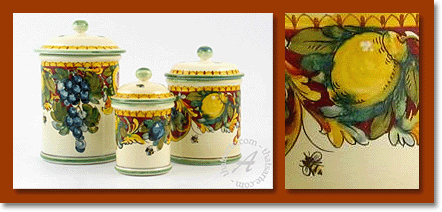 The first Tuscan canister set (click the pic to explore!)
is from Montelupo Fiorentino, just outside the city of Florence in Tuscany.
The design: a glorious Tuscan summer feast of grapes, plums, pomegranates, lemons, apples and pears, complete with a band of bees on their afternoon nectar-tasting excursion.
Use these Tuscan style canisters on their own, or as part of a kitchenware
, serveware
and/or dinnerware
set that looks mouthwatering even with no added food :-)

Tiziana and Manuela of thatsArte.com
have sourced the beautiful collection
of Umbrian & Tuscan kitchen canisters on this page - check out their site, it's full of classy designs in superb product quality, plus a ton of insider information about Italian majolica.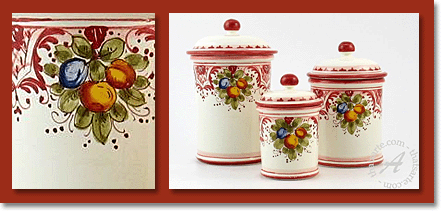 Above is another take on the 'ripe Tuscan summer fruit' theme: plums and peaches on a cream colored ground. From Montelupo as well, this Tuscan canister set comes in three colorways ( red
, blue
and green
) to fit in with the Tuscan color palette of your kitchen.
And of course, there are complementary dinnerware
, kitchenware
and serveware
sets for you to choose from!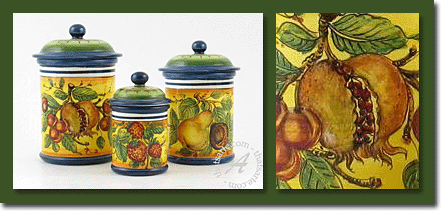 The next set of Tuscan kitchen canisters (above), in warm colors and a luxuriant painterly design, takes you right into the Tuscan countryside.
If you're looking for canister sets Tuscan style that can easily adapt to various kitchen color schemes, this trio of Tuscan pottery canisters
is great. It looks good with yellow (anything from lemon to amber), as well as with earthy reds, deep blues and natural, leafy greens.
Which, of course, makes these Tuscan style canisters great Tuscan gifts, too!
Combine them with Tuscan style dinnerware
, kitchenware
, or serveware
in the same design for a warm & welcoming Tuscan dining room, or to put a 'Tuscany look' into Italian themed kitchens.

Non - Tuscan Canisters
From Deruta & Gubbio (Umbria)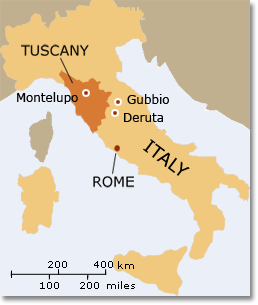 The following decorative kitchen canisters were not made in Tuscany, but they're used in many Tuscan households.
So don't let the fact that they were produced 30 miles outside the Tuscan border keep you from having these non - Tuscan canisters in your Tuscan dining room!
Deruta Italian ceramics are famous the world over, and decorative kitchen canisters from Deruta are a great asset for Italian themed kitchens.
Besides, if you're looking for personalized
canisters from Italy, these are as gorgeous as it gets.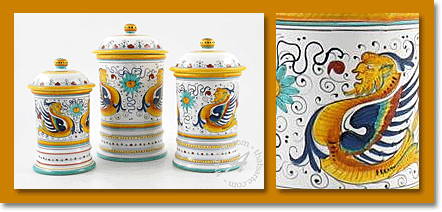 The "Raffaellesco"
design goes back to the Renaissance painter and architect Raphael (1483-1520) - in Italy he's known as Raffaello Sanzio Da Urbino.
He used to decorate the outlines of his world-famous frescoes with narrow bands that were teeming with mythical beings, like this little 'wind dragon'.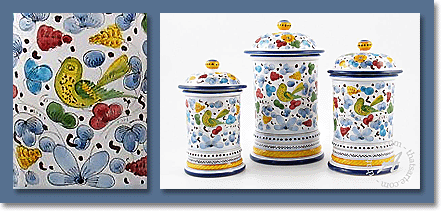 The Arabesco Classico
is another design that's - well, not quite as old as the hills, but 400+ years is pretty ancient, all things considered.
The luminous 'watercolor' look and the loosely drawn style refer back to antique Persian pottery pieces, and the pattern looks quite similar to many of the Tuscan style canisters and dinnerware sets that were produced in Islamic Spain and imported to Italy from the mid-15th century onwards.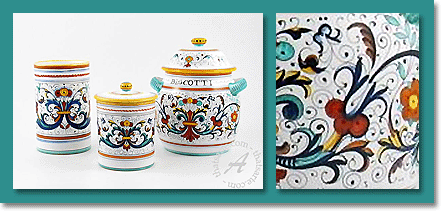 Ricco Deruta Classico
(ricco="rich") is also available in a blue-rimmed
version; the design has been in use around Deruta since the first half of the 16th century.
It is shown here on different kitchenware pieces - a canister, a cookie jar
and a utensil holder
. Of course, the pattern is also available on serveware
(with lovely, elegant lines) and dinnerware
.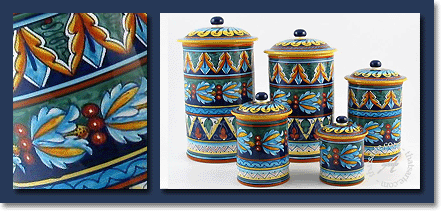 The Geometrico
canisters really make a splash with their deep glowing colors, bold graphics, and lovely variety of shapes, sizes and patterns
. These are highly decorative kitchen canisters, but they look equally at home in simple, pared-down Tuscany kitchen designs.
Just like other Renaissance patterns from Deruta, the 'Geometrico' patterns date back half a millennium, but they somehow manage to look quite modern! (For a Tuscan color palette with more emphasis on gold/orange and green, try the Vario
kitchen canisters!)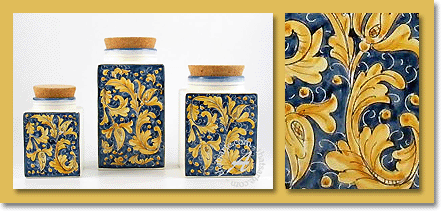 This square ceramic canister
set is made in Gubbio, an hour's drive up the road from Deruta in Umbria. You can't call these 'Tuscan' kitchen canisters, but the design is a generic Renaissance pattern that would look great in all manner of Italian-themed kitchens. The canisters come in four classic colorways:

The Umbrian and Tuscan canisters on this page all come in similar shapes and sizes, and as you can see in the Ricco Deruta Classico design above, the canisters combine well with other dinnerware/kitchenware/serveware items of the same pattern.
You could of course just choose your favorite piece and combine it with simpler (and less expensive) ceramic canisters in solid colors - this would give your Tuscan canisters a starring role (& all the attention they can handle ;-)
Yet another option is to
mix styles freely
, combining Umbrian and Tuscan canisters of different shapes and designs to a fabulously rich, colorful
canister collection
!
Whichever way you choose to go, you'll end up with a burst of Tuscan color in your kitchen, and most likely, a gorgeous family heirloom!
Neutral Color Schemes - The Book:
Learn about using neutral color palettes to give your Umbrian & Tuscan canisters a calm, elegant backdrop (it doesn't always have to be a full-on Tuscan color palette!)
Understand what makes neutral color schemes look their best, and what happens when you inject 'real' color into neutral color palettes.   It's FREE!!
Yet to find the information you're looking for?
Type a word or phrase into the search box below: