Tuscan Style Canisters:
Handcrafted Tuscan Canisters
& Personalized Canisters From Italy
Tuscan style canisters & jars are hard-working storage items and great looking accessories for Italian themed kitchens:
♦  With their warm glowing colors, Umbrian and Tuscan kitchen canisters can liven up even a simple, pared-down Tuscan style kitchen design;
♦  These decorative kitchen canisters come with a free personalization service
- personalized canisters make brilliant Tuscan gifts, and will be treasured family heirlooms for generations to come.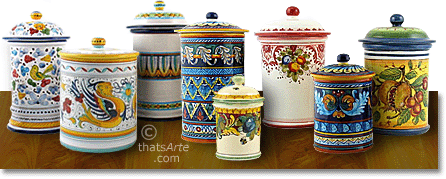 On this page, I've included some non-cylindrical shapes (mostly round bodied jars with lids), to give you ideas for combining Tuscan style canisters with other kitchenware and/or serveware pieces. (To focus exclusively on Umbrian & Tuscan canisters, click the pic
above!)
Decorative Kitchen Canisters From Italy, I:
The Classics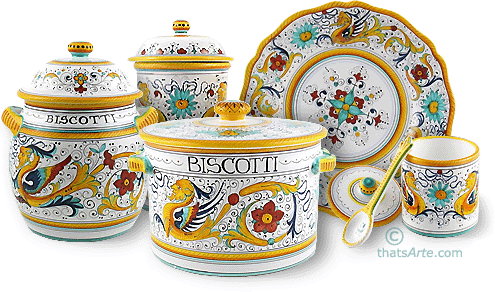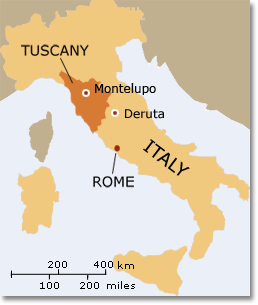 This collection of Raffaellesco
pottery is produced in Deruta, Umbria, but the design is loved (and used) all over Tuscany.
What I like so much about this particular set is the variety:
two basic shapes of Tuscan canisters (3 sizes each), plus
another four containers with lids (five if you count the soup tureen), plus, of course,
You could easily fill your kitchen countertops, china cabinets,
and
your Tuscan dining room with
Raffaellesco
pottery, and you'd be in excellent historic company - this decorating style has been around for
500 years
.
Ricco Deruta
and
Arabesco
(click the pics for more information) - these decorating styles go back to Middle Eastern pottery of the 1500s, imported into Italy and adapted to Renaissance Italian tastes.
Decorative Kitchen Canisters From Italy, II:
Geometrico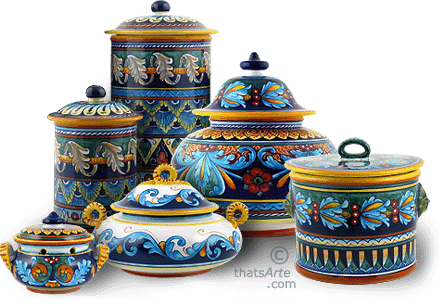 With bold geometric patterns of stylized leaves, fuits & flowers, this is one of the most recognizable styles of Italian majolica today. These Geometrico
jars are made in Deruta, and even though similar patterns appear on some antique Tuscan majolica pieces, it would be a stretch to calll these 'Tuscan style canisters'.
On the other hand, Deruta is only 30 miles outside the Tuscan border (and less than a two-hour drive from Florence), so this is perfectly appropriate pottery for Tuscan style kitchen design.
The collection is great if you want to mix & match - choose from 32 (!) designs
of dinnerware, kitchenware and serveware.
Tuscan Style Canisters From Montelupo
If you're looking for decorative kitchen canisters made in Tuscany, check out the next three options:
1. Tuscan Canisters 'Toscana Rosso'
With its exquisitely painted, mouthwatering design and gorgeous shapes, this Tuscan dinnerware design will always stand out from the crowd. The 'Tuscan summer afternoon' color palette fills Italian themed kitchens with sunshine and warmth.
Combine the Tuscan canisters with elegant Tuscan plates & cookie jars: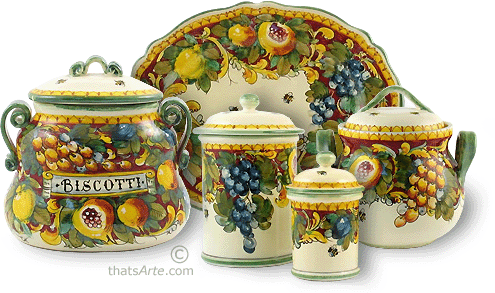 And as you can imagine, there's more in the serveware
and dinnerware
departments. (For a taster, just have a look at the bowls
!
2. Tuscan Kitchen Canisters 'Frutta Rosso'
Here's another take on the 'ripe Tuscan summer fruit' theme: peaches & plums, framed in a lacy decoration inspired by the Chinese porcelain that was prized (and copied!) by Italian majolica artists during the Renaissance.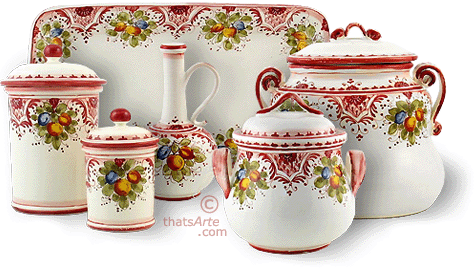 Combine your Tuscan kitchen canisters with cookie jars, an oil bottle
(one of six in this collection!) and maybe a majolica tray - or any other piece of Tuscan dinnerware
, kitchenware
or serveware
. (Also available in green
or blue
!)
3. Tuscan Style Canisters 'Campagna'
The rich warm colors of the Tuscan countryside - like a long leisurely meal under a vine-covered pergola, looking out over ancient rooftops and rolling Tuscan hills.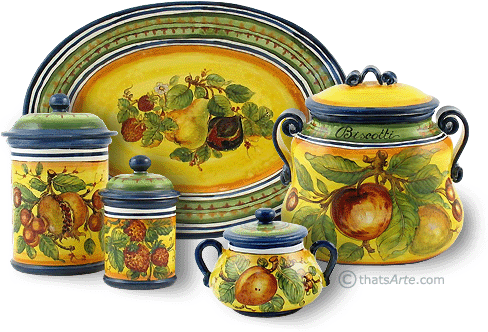 This majolica pattern goes very well with rustic Tuscany kitchen designs. It is also a great set to mix & match - dinner plates
and chargers come in six designs, and each piece of serveware
and kitchenware
is different from the others - loads of combination pieces for your Tuscan style canisters!
Not Really Tuscan Kitchen Canisters, But ...
... these two Tuscan biscotti jars from Montelupo
just had to make an appearance on this page. Colorful, exuberant pieces that will brighten up your day - whether you actually keep cookies in them or not!

Personalization Options
All the Tuscan style canisters on this page come with a free personalization
option.
But that's not all ... there are personalized canisters, and then there are Personalized Canisters!
If you're looking for a really special Tuscan gift
If you want to commemorate a

wedding
christening
anniversary
or another special event in your family

If you would like to have a tailor-made piece of Italian majolica in your home, made especially for you ...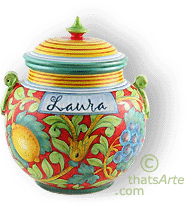 ... then you could commission a special piece from an Italian majolica artist.
Just like Italian aristocratic families of the Renaissance, you can have Tuscan style canisters, jars, and whole dinnerware sets made to your own specifications
.
Tiziana and Manuela, the owners of thatsArte.com
, will liaise between you and the majolica artist of your choice to ensure that your commission is a wonderful success.
Beyond Tuscan Kitchen Canisters:
Elegant Tuscan Style Canisters
& Family Heirlooms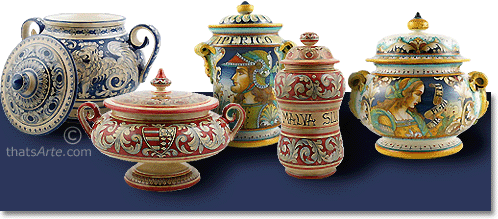 If you're looking for 'Tuscan style' canisters that would do an Italian palazzo proud, then these jars may be for you.  A collection of apothecary jars
, a fine footed jar
or a Renaissance-style portrait centerpiece
from Umbria will bring a sense of Old-World elegance and antiquity to your home.
These are large statement pieces (not meant to be filled with soup ;-) they'll look fabulous against a simple white 'museum' background or as part of a luxurious, prestigious collection.
So there you have it ... Tuscan kitchen canisters, personalized canisters and decorative kitchen canisters from the heart of Italy.  Maybe one of them will be yours!
Neutral Color Schemes - The Book:
Learn about using neutral color palettes to give your Umbrian & Tuscan style canisters a calm, elegant backdrop (it doesn't always have to be a full-on Tuscan color palette!)
Understand what makes neutral color schemes look their best, and what happens when you inject 'real' color into neutral color palettes.   It's FREE!!
Yet to find the information you're looking for?
Type a word or phrase into the search box below: