Home

›
Zen Design
› Asian Style Bedrooms
Asian Inspired Bedrooms:
7 Ideas For An Asian Theme Bedroom
There's something irresistible about Asian inspired bedrooms, and they're very popular in European decorating. With almost 50 Asian countries to choose from, there's plenty of inspiration for everyone! This page focuses on ideas from Japan, Indonesia and Thailand. (More Asian theme bedroom ideas here!)
Asian Inspired Bedrooms #1:
Creating A Japanese Look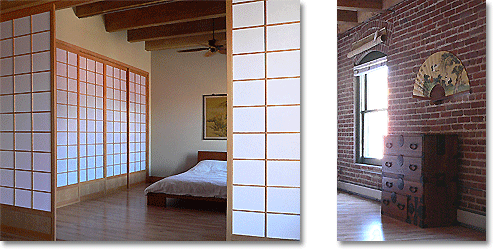 Japanese inspired bedroom in Denver, CO (USA).  Sliding shoji  screens replace an entire wall, and conceal built-in storage space (left).   © left & right: Peter Batty
This calm 'zen bedroom' was designed for an old industrial loft. The room avoids an overload of Japanese references - apart from an art print, a Japanese fan and an antique chest of drawers, nothing disturbs the clean lines and muted white-écru-brown-brick color scheme of this Asian theme bedroom.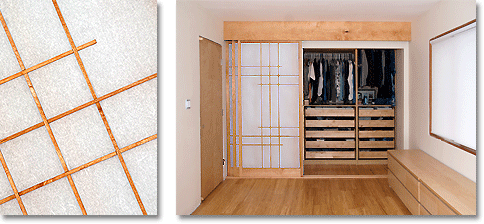 Built-in closet with shoji  screen doors, Seattle, WA (USA).  © photos: Katie & Ian

You can create an instant Japanese touch with elegant, minimalist shoji  screens. They're not very difficult to build: check out these SHOJI books
on Amazon!
You could go further and combine the distinctly Japanese look of shoji  screens with the equally strong cultural reference of tatami  mats. In Japan, these mats are traditionally used as floor coverings, but the West has come up with tatami  platform beds to evoke a Japanese spirit in Asian inspired bedrooms.

Here are a few examples of 'Japanese style' platform bed designs: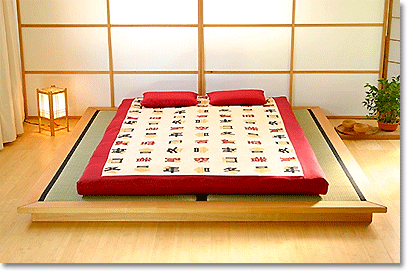 Idea for Asian inspired bedrooms: Tatami bed
, thick Western futon
mattress,
shoji screen
, shoji lantern
. (© FutonDream)
Shoji  screens in place of headboards are great for creating atmosphere and a restrained, clean, organized 'Zen' aesthetic.
TIP:
Install spotlights or tube lighting between the shoji  screen and the wall, close to the floor. Point the light upwards so it 'washes' the wall. It will reflect through the screen and spread a soft sheen over your Asian theme bedroom.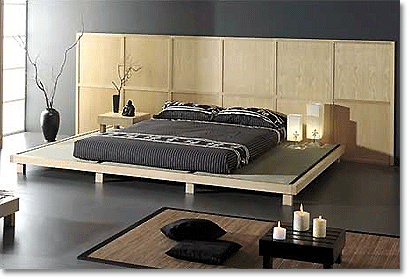 Asian style bedroom furniture: tatami
platform bed, Western futon
mattress,
Japanese paper lanterns
, on the floor a goza mat
. (© Rastro)
This room features too many knickknacks to be a bona fide Zen bedroom, but its redeeming feature is a fine headboard, and that's good for a ...
TIP:
Create a 'coffered' plywood headboard like this one - it's much sturdier than a shoji  screen, easy to DIY, inexpensive, and elegantly simple.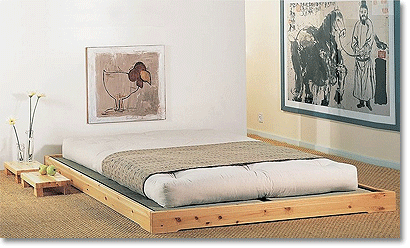 Asian theme bedroom: tatami
platform bed,
Western futon
mattress, plant fiber flooring. (© ArchiExpo)
THis Asian style bedroom has a beautiful neutral color scheme, a lovely variety of textures and a superbly simple bed frame. To increase the calm meditative spirit of the room, replace the large scale artwork with a simple Japanese scroll.
TIP:
Don't feel you have to use tatami  mats anywhere. They can look contrived in a Western setting. A handsome, textured wall-to-wall natural fiber carpet like this one perfectly embodies the spirit of an Asian theme bedroom. (More about this below!
Japanese Decorating Bookshop For Your Research:
If you would like to add a traditional Japanese touch to your home, check out this mini bookshop (in partnership with Amazon):
Asian Inspired Bedrooms #2:
Natural Materials - Bamboo, Raffia, Straw
Asian interiors often have distinct, sophisticated surfaces woven out of palm fronds, grasses or bamboo strips. Two examples: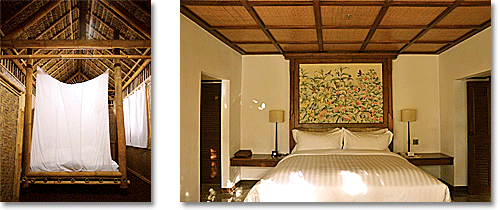 Natural materials in Asian bedroom decorating, Bali (Indonesia).
© Jeff Werner (left); Eustaquio Santimano (right)

You could easily integrate these inexpensive and beautiful materials into your home to add interest to plain surfaces (while keeping the color scheme fresh and calm):
Floor coverings made of coir, jute, seagrass or sisal;
Floor cushions woven out of water hyacinth or raffia;
Wall/ceiling coverings like palm leaf or bamboo matting. (The photo above [right] shows how a 'natural fiber ceiling' could be mounted on/under a simple wooden trellis);
If you don't want to cover large areas of a room in these materials, you could always just add a few accessories, like a woven basket or woven picture frames.
Asian Inspired Bedrooms #3:
Carved Screens For A 'Wow Factor'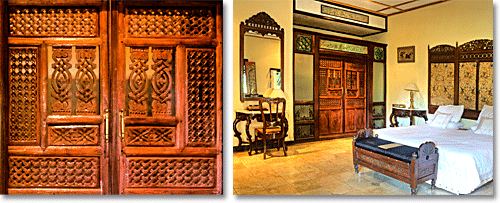 Wooden fretwork screens in Asian bedroom decorating, Bali (Indonesia).  © Anne Roberts

Asian fretwork screens are widely available in the Western world, and they're a simple means to add character to your Asian theme bedroom. If you own an antique piece carved out of wood or stone, make sure you install it center stage: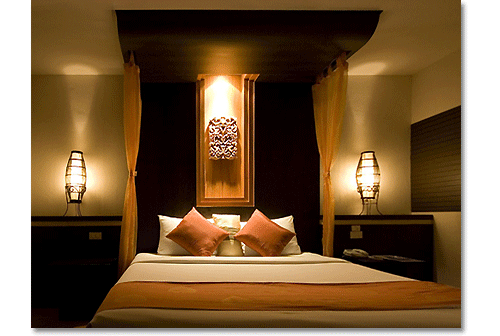 Carved stone ornament in Asian bedroom decorating, Thailand.  © Raymond Bosma

Asian screens can also add great flair to non-Asian bedroom decorating. Here's an airy bedroom-cum-office/study from Sweden, all-white and thoroughly contemporary. But imagine how bland this room would look without  the screen!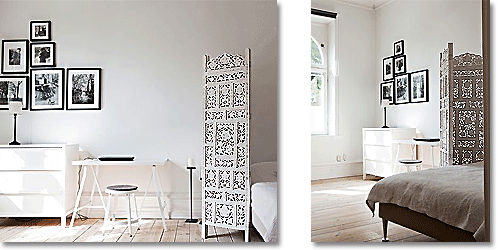 Fretwork screen painted white for contemporary Swedish interiors.  © bolaget
For More Asian Inspired Bedrooms, Click A Pic:
Yet to find the information you're looking for?
Type a word or phrase into the search box below: