Home

›
Bedroom Colors
› Neutrals
Neutral Bedroom Color Ideas & Tips:
Easy Neutral Colors For The Bedroom
Neutral bedroom color schemes are among the most popular bedroom colors, because they give you complete freedom to change the color mood of your bedroom on a mere whim (and at low cost!)  Start with a bedroom in white, gray, brown or black-and-white, and then add fun and character with color accents!


This page has neutral bedroom color schemes for
♦   dramatic, exciting bedrooms,
♦   subtly atmospheric bedrooms in neutrals,
♦   balanced, calm & easy spaces,
♦   ideas for cool/warm neutral color schemes and
♦   color-infused palettes on a 'base' of neutrals.
In addition, click to learn more about the psychology of white / gray / black & brown.
When you're (re-)decorating, hold off on the bedroom wall colors as long as you can.

There's always a bigger choice of paints than of fabrics, carpets & furniture.
Neutral Bedroom Color Ideas, 1:
Create Drama Through Contrast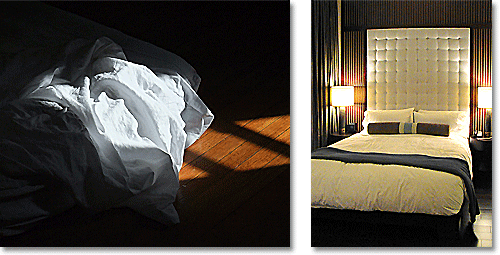 Dark/light neutral bedroom color ideas. © amd 5150 (left); Janet Hudson (right)
Light-dark contrast is one of the easiest 'drama tricks' for bedroom color schemes. You can create stunning effects, just with neutrals!
White bedding, for example, looks amazing against a backdrop of dark bedroom wall & floor colors, especially in a small(ish) bedroom. You can heighten the drama further by adding texture to one or more elements of the room ... more about that below!
Bedroom Color Ideas In Neutrals, 2:
Create Drama Through Texture & Pattern

Neutral bedroom color ideas with added drama. © theilr (left); Gail Dedrick (right)
Above left:  With a ceiling like this, it's smart to paint the bedroom walls in neutrals and decorate it as simply and sparsely as possible, to give center stage to the powerful log 'stripes' and natural wood texture. - Don't have a stunning ceiling? Just paint subtle, broad stripes (or another pattern) on your ceiling. You'll find ideas for good neutral color combinations on the page about neutral color schemes.
Above right:  The louvered shutters hide an actual window, but in addition, they provide a dramatic 'headboard' that defines the room all by itself. (In other words, add neutral bedroom wall colors, plus a tiny bit of wall art, and you're done!)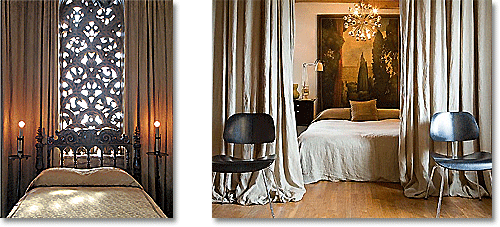 Elegant neutral bedroom color ideas. © Keith Daly (left); C. Lavalle (right)
Above left:  Neutral paint colors for the bedroom so  don't have to be boring! Create drama by mounting a screen in lieu of a headboard. (The window is optional - it's actually not considered good feng shui  to have your bed directly under a window). For a suitably striking effect, pick something with a strong pattern: a great fabric print mounted in a wooden frame, an old wrought-iron gate, a radiator cover grille, a garden trellis, or something you create yourself from inexpensive foamboard! (You'll find more headboard ideas on the pages about bedroom wall colors and country French bedroom design.)
Above right:  Unbleached linen curtains and bed coverings made from antique provide a raw yet luxuriant background to a large-scale painting (itself in neutral paint colors). This is one of the most gorgeous oversized 'headboards' I've seen! Instead of a painting, you could have an atmospheric landscape photograph enlarged and mounted as a headboard. The modernist chairs, anglepoise and 'starburst' lamps put this gloriously elegant bedroom firmly in the 21st century.
Neutral Bedroom Color Ideas, 3:
How To Create Atmosphere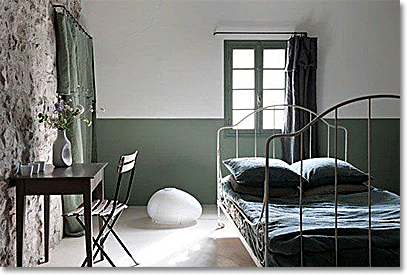 Atmospheric neutral bedroom in Provence, France. © Nicolas Mathéus for Côté Sud

The ethereal spirit of this contemporary Provençal bedroom (above) comes from its sparse decor and its subdued, cool coloring (it is not entirely  neutral - there's more than a hint of sage green and Prussian blue). The rough antique sandstone wall contrasts beautifully with the subtly rounded white paper lamp and the simple wrought-iron bedstead.

Bedroom built into the rock face (near Avignon, France). © Clos Saint Saourde

Contrast is the magic ingredient in this 'golden' bedroom, too: Bare rock meets plain sandstone tiles and smooth white fabrics - and the muslin bed curtains are hung directly from the rough-hewn ceiling beams.
The iron garden furniture gives away the French pedigree of this room (bringing the outside in is a very French thing to do). The oversized headboard adds drama through its sheer height, and the gray distressed paint surface contrasts beautifully with the smooth white bed curtains and coverlet.

But ... just in case you  (like most of us) don't  have a bedroom with rough stone walls ... or you don't fancy cold floor tiles in your bedroom ... here's a no-fail trick for creating atmosphere in any  bedroom, neutral or otherwise:

Simple canopy ideas for neutral bedrooms. © sköna hem (left); ktbuffy (right)
A bed canopy need consist of nothing more than a length of cloth hung from four hooks in the ceiling. You don't need a canopy bed or a tester bed for this, and you certainly don't need an antique bed crown to create a 'princess' look. All you need is a sizable piece of quality fabric in the right neutral color - and the result will be irresistibly glamorous.

Neutral Bedroom Color Ideas 4:
How To Balance Neutrals

'Chocolate' colored bedroom near Marseilles, France. © La Maison Sur La Sorgue

"Balancing" a neutral color scheme doesn't mean you must end up with equal parts of light and dark (or cool and warm) color. But in this lovely brown bedroom, the light/white accents look great because they're repeated around the room in pillows, picture mats and window frame.
If, instead, the room just had one large chunk  of white color somewhere to the side (say, a white armoire), this would throw the dark/light distribution off kilter and the room would look unbalanced.

Below are two more examples of well-balanced bedroom color schemes - much lighter overall, and with a softer dark/light contrast than the room above: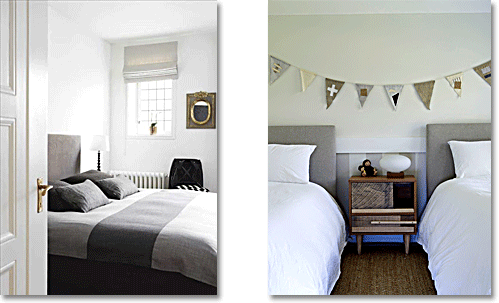 Neutral bedroom color ideas in gray and white. © left & right: sköna hem

You'll find additional information about balancing neutral color schemes on the info page about neutral color palettes and most of all in my FREE e-book about Stylish Neutrals!

Neutral Bedroom Color Ideas 5:
Cool & Warm Neutrals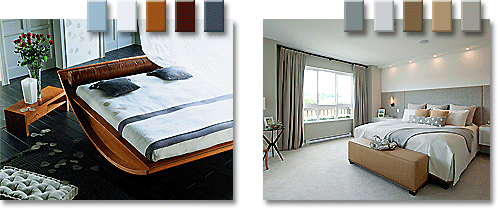 Warm/cool neutral bedroom color ideas. © Mazzali (left); Polygon (right)
Here are two examples of warm/cool bedroom color combinations that really work. Contrast is much higher in the left picture - the white is brighter, the brown and bluish charcoal tones are darker than in the bedroom to the right.
When you look at the underlying colors in these 'neutral' bedrooms, you can see that the left bedroom contains a desaturated orange/blue complementary color scheme, whereas the bedroom to the right has a gentle, toned-down blue/yellow opposing color scheme. When you're pondering neutral bedroom color ideas, it helps to look at your bedroom in terms of the underlying  colors!

Here is another, gorgeously subtle example of well-balanced cool and warm neutrals (with a touch of real  blue):


Neutral bedroom color ideas in warm & cool neutrals.  Photos left/right © Holley & Gill

Neutral Bedroom Color Ideas 6:
"Real" Color Accents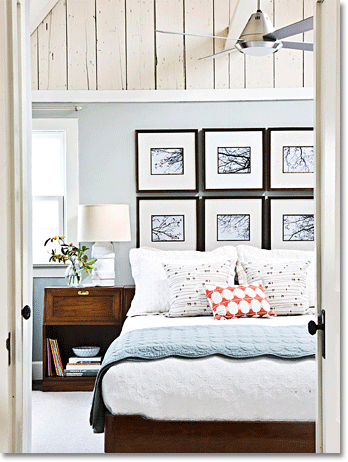 Neutral brown & white bedroom with small color accents. © better homes & gardens

This deceptively simple bedroom in layered creams, whites and browns gets a wonderful boost from blue-orange complementary accents. The orange-patterned throw pillow has the most saturate color and can easily hold its own against the pale misty blue wall paint and quilt color.

Neutrals show off bright color accents to great effect; the more truly neutral  they are (i.e. the less subtle underlying color they contain), the more they make colors 'pop'. A bright green vase will look much more brilliant against a pale grey background than, say, against a warm brown.
This is even more the case with white: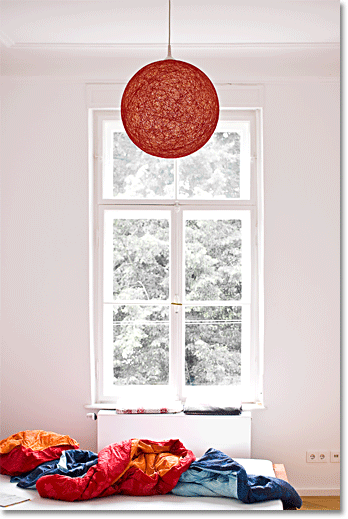 Neutral white bedroom with red & blue color 'accents' in Munich, Germany. © tim lawrenz

White is the neutral that really brings out the 'character' of any color by making it look both darker  and more saturate. White bedroom paint color also tends to reflect other colors - you can see how 'pink' those white walls on the right look.
For More Neutral Bedroom Color Ideas,
Click A Pic:
Mini Bookshops (In Partnership With Amazon)
a) Neutral Colors In Interior Design:
b) Bedroom Inspiration:
c) Color Wheel Charts:
Yet to find the information you're looking for?
Type a word or phrase into the search box below: