Home

›
Bedroom Colors
› 21 Bedroom Color Palettes
Bedroom Decorating Colors:
21 Bedroom Color Schemes & Style Tips


Bedroom Color
Photo Galleries
Bedroom decorating colors are the single most important, nay, the magic ingredients of a gorgeous bedroom.
To view bedrooms by color, check out my Picture Galleries of real  bedrooms in popular bedroom colors.
You'll find easy-to-copy, inspiring bedroom color schemes from Europe (plus a few more exotic ones)!
How To Create A Mood
With Bedroom Decorating Colors


Here's a selection of popular bedroom colors to help you create ...
 ♦ a haven of tranquility;
 ♦ a glamorous, seductive space;
 ♦ a cool, sleek minimalist cube;
 ♦ a warm, feminine retreat;
 ♦ a chic multi-purpose room for work and rest/play, or
 ♦ a place where your dreams come alive.

The series of illustrated bedroom color schemes below are all based on the same, simple blueprint, so you can compare the effects of each set of bedroom colors without being distracted by room details.
Bedroom Colors
For a Haven of Tranquility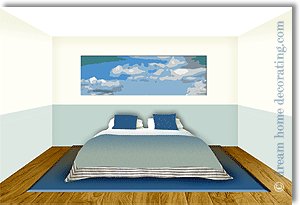 You can get the most tranquil bedroom color schemes by using
 ♦ neutrals (black, white, grey & brown)
 ♦ blues ('water' colors)
 ♦ and greens.

Tips, Tricks & Accessories:
To create the best color scheme for a tranquil bedroom,
Avoid visual clutter, e.g. large-scale pattern and/or stark contrast between light and dark colors.
To maximize light, keep the walls a light color, and the ceiling white.
Cheap and effective wall art idea: Take a photo of a beautiful sky ('cloudscape') and have it turned into a large-scale canvas.
More Examples
Of Restful/Neutral Bedroom Color Schemes:

a) White, grey and pale blue are among the best bedroom colors for a clean, pristine, restful bedroom. Incredibly popular from New England to the Mediterranean, these are very easy bedroom colors to get "right".

b) For a warmer feel in the room, increase the amount of warm neutrals, e.g. natural grey (the color of unbleached linen). Use dark colors in blocks rather than as busy patterns.

c) Duck egg blue and sepia (or a warmer, reddish ocher) make great bedroom colors. Use pale neutrals for the background, and freshen the composition up with an 'edge' of crisp white.
When you're (re-)decorating, hold off on the bedroom wall colors as long as you can.

There's always a bigger choice of paints than of fabrics, carpets & furniture.
Bedroom Decorating Colors
For a Glamorous, Seductive 'Boudoir'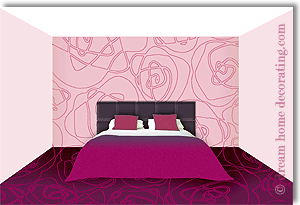 In the ancient world, purple was the color of kings.
Purple always carries with it a sense of luxury.

A purple bedroom, though, is a delicate matter and can easily be overdone!

Tips, Tricks & Accessories:
The secret to creating elegant purple bedrooms lies in the combination of sophisticated deep color and seductive materials:
Luxurious flocked wallpaper or suede-effect wall paint;
Silk/velvet bedspread in complex, deep purple hues (beware of anything garish; test the color under all lighting conditions!)
Elegant white or grey satin bedlinen;
Silk lampshades with Swarovski crystals (of course ;-)
Check out some purple bedrooms and color combinations with purple!

Colorway Ideas For Purple Bedrooms:

a) With a purple bedroom, it's good to err on the side of desaturated color. Even a small amount of purple goes a long way when you combine it with 'clean' gray and black!

b) Camel/manilla beige is a wonderful color to pair with purple. Play with light and dark lavender hues, and add white for freshness.

c) Brighter purples are great for throw pillows and other accents; lime green/pistachio adds freshness from the opposite side of the color wheel.

Some Bedroom Color Ideas
For A Sexy Masculine Bedroom:
Few men tend to go for purple bedrooms, but a similarly sexy effect can be created with 'soft blacks', e.g. deep inky blues, charcoal, or espresso.
Tactile and luxurious materials could include suede, velvet, fine linen, and soft (21-wale) corduroy.
Here are three bedroom color scheme ideas:
a)  dark indigo, grey & ochre
b)  espresso, chocolate & cream
c)  charcoal, white & ivory.
(More brown color schemes here!)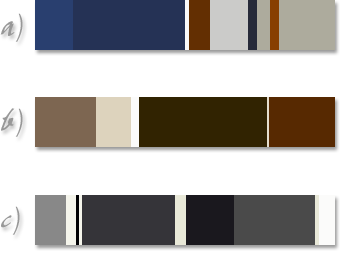 Bedroom Decorating Colors
For a Sleek, Minimalist Space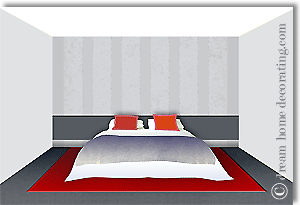 In current minimalist home decorating trends, dark woods (floors and/or furniture) are often played off against white (or grey) walls and fabrics.

Color is kept to a minimum, and reserved for a few 'statement' pieces of furniture or art.
Tips, Tricks & Accessories:
There are some issues you need to keep an eye on while creating a clutter-free, minimalist bedroom color scheme.
Dark-light contrast:
◊  Use contrast to draw attention to shapes and lines, e.g. by displaying dark furniture against white walls, or showing off light pieces against walls in midnight blue, espresso, or charcoal.
◊  To soften the visual impact of very light or very dark objects, use mid-tones (e.g. gray walls).
Add interest through soft or vibrant colors for special items and statement pieces (e.g. a lipstick-red chair, rug, or throw pillow).
More Choices
For Contemporary Bedroom Decorating Colors:
a)  aubergine, taupe & mustard
b)  chocolate & powder blue
c)  'vintage' colors like grayed blues, warm grays, bright reds & bronze.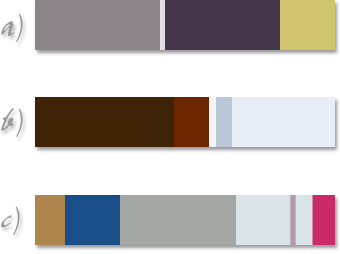 Bedroom Decorating Colors
For a Warm, Feminine Retreat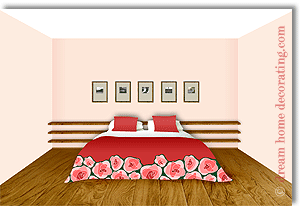 Warm, peachy pinks 'hug' you when you enter a room. They make the walls feel a little closer than they really are.
But unlike orange and red, pink bedroom color schemes are generally very calming and comforting.
Here are a few:

Bedroom Color Scheme Ideas With Pink

a)  A happy, 'sweet pea' color scheme that mixes pinks, light blues and green accents. Makes a great color scheme for a sunny bedroom.

b)  This is almost a light terracotta, paired with turquoisy blue and a bit of grey/white for freshness. Looks great with vintage decor.

c)  The best bedroom colors for an understated yet summery, fresh bedroom color scheme with pink: Combine several pinks with different shades of cool and warm neutrals (cool grey, warm grey, cream).
Bedroom Decorating Colors
For a Multi-Purpose Room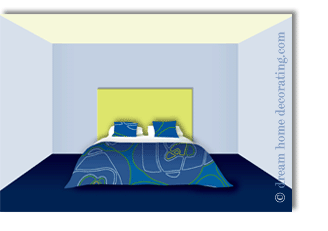 If you're using your bedroom during the day, for example as a home office, you're likely to want some brightness and maybe also a bit of 'wake-up' color in there.
In the picture to the left, the bedroom decorating colors are a combination of sky blues and a yellow-biased, zesty lime green (an 'opposing' color scheme).
This works well for bright, sunny rooms; it may not work quite so well if your bedroom is north facing or very dark.
In that case, light-reflecting, slightly warmer colors will serve you better - for example bedroom color schemes of
a composition of pale apricot and light, chalky greens.
Bedroom Decorating Colors
to Kindle Your Dreams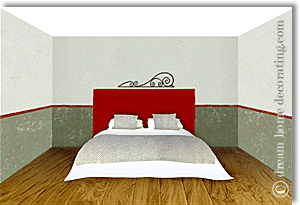 Almost everyone dreams of "a place in the sun" where they'd rather be, or where they hope to retire to one day.
Which is it for you?
♦  A lakeside villa in the Italian Alps?
♦  A windswept stone cottage in the Scottish Highlands?
♦  A Mediterrranean island paradise?
♦  A cozy stuga in the Swedish countryside?
♦  A chic city apartment on a Parisian boulevard?
Whatever it may be - you can use bedroom decorating colors, images, crafts and antiques to conjure up the place of your dreams in your current home.

For many people here in northern and central Europe, that magical place is the Mediterranean - so the illustration above shows a room design made up of Mediterranean bedroom decorating colors.
It's another red-green complementary color scheme, with some neutrals thrown in. The walls are ragged to produce a rustic, slightly aged look.
The lower part of the wall has an undercoat of earthy, muted red - the same color as the "chair rail" stripe and the "headboard" (both are painted onto the wall!)
You could put an ornament above the 'headboard' as a token of your dream - I've used an antique piece of ironwork from the South of France.
Here are some more ideas for headboard accents:
♦  an old photograph
♦  framed bits of antique fabric from the place of your dreams (which might also serve as a cue for your bedroom color scheme)
♦  decorative trims from an original piece of furniture
♦  an ornate piece of woodwork
♦  or anything else that keeps your dream present for you.
Your bedroom decorating colors could reproduce original bedroom color schemes from your 'place in the sun', or just remind you of the landscape, the colors of earthenware plates and bowls, floor tiles or fabrics.

A Word About The Basics:
Cool, Warm & Neutral Bedroom Decorating Colors
Neutral Bedroom Paint Color ...
... allows quick changes to the overall color scheme.
Neutrals make a great background for color experiments, too: new bedding, accessories, wall art or window treatments are much easier to integrate into a neutral 'setting'.
The articles about black-and-white bedroom color ideas and neutral bedroom paint colors show how to use light and dark neutrals, and how to add real  color into the mix. With lots of pictures/examples!

Cool Colors For The Bedroom ...
... are among the most popular bedroom colors. Cool bedroom decorating colors can be calming, mysterious, regal, meditative or refreshing - it all depends on the hue and tone you use.
The pages about cool colors for the bedroom show the effects you can create with these colors, how to accent them, and how to keep your bedroom from looking too icy:
♦   blue and white bedroom color ideas;
♦   blue bedrooms;
♦   purple bedrooms;
♦   green bedroom paint colors.


Warm Bedroom Decorating Colors ...
... can help you create a wonderfully welcoming 'nest'. Learn how to use red, pink, orange, yellow & gold to the greatest effect, and to avoid the typical pitfalls of these colors. You'll see that not all reds and pinks are warm, and there just may  be such a thing as too much red!
♦   yellow & gold bedroom color schemes;
♦   red bedrooms;
♦   pink bedrooms;
♦   orange bedroom color ideas.

Explore more Bedroom Decorating Colors:
Click a Pic!
Mini Bookshops (In Partnership With Amazon)
a) Color In Interior Design:
b) Color Wheel Charts:
Yet to find the information you're looking for?
Type a word or phrase into the search box below: