Home

›
Zen Design
› Zen Decorating Tips
Zen Decorating & Furniture:
Contemporary Zen Home Decor Made Easy
Zen decorating / Zen design and contemporary spaces are made for each other: the less 'period' features your home has, the better for Zen interiors.
For the basic philosophy behind Zen decor, please check out the page about Zen Interior Design.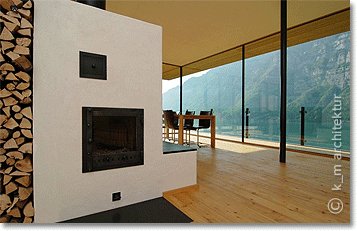 Walensee Lake House, Unterterzen (Switzerland)
by k_m architektur, via Contemporist

This page is about translating the essential elements of a Zen aesthetic ...
... into well-edited interiors that sparkle with clarity and revitalize mind and body.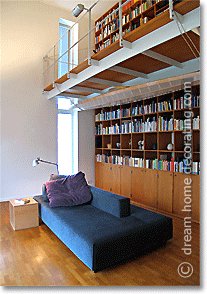 Contemporary Zen Decorating
Living room / Library

Basic elements of Zen decorating:
♦  A Simplified Home:
The quiet, unpretentious elegance of Zen decorating can calm, collect & soothe the mind. When you know the basics, it's easy to achieve the look!
♦  In a Zen environment, Nature & Art interact with each other.
♦  The right Color Choices are essential for Zen home decor: Four color scheme examples & plenty of tips.
♦  Zen Furniture should both look good and  enhance your well-being.
Zen Decorating:
Three Steps To Simplify Your Home

Zen Home Decor, London (UK)   © photos left & right: Nicolas de Camaret

How To Simplify, #1:
Lose What You Don't Use.
Most people have much more stuff than they need ... or like.  Have you ever said to yourself, "One day I'll tackle that stack of [...] over there"? In Zen decorating, de-clutter projects become your top priority.
♦   Furniture.
Do you have any seating you don't need? End tables, side tables with cluttered surfaces? Storage filled with things you haven't looked at in years?
In Zen interiors, everything is surrounded by plenty of clear space. So when you clear out just one or two pieces of furniture, you'll immediately feel lighter and breathe more freely.
♦   Surfaces.
Do you have lots of mementoes, keepsakes and photos on your walls and other flat surfaces?
Clear all surfaces. Clear the floor, too. Repaint a few walls if necessary. Then, allow yourself a few days (or weeks) to enjoy the pure, clear, luminous space you have created in your home, before deciding on any Zen home decor.
♦   Color/Pattern As Visual Clutter.
Do you have large-scale, 'loud' patterns in your home - on curtains, sofas, rugs? Do you have a lot of dark and light colors close together (e.g. throw pillows, fabrics)?
Zen decorating is restrained and 'quiet'. Strong patterns attract attention and scatter the mind. Calm down the color scheme by slipcovering in solid colors, painting over, getting rid of strong pattern as much as you can. (Learn how to look  at a room to understand what issues need addressing.)
To sum up: The first step in Zen decorating is to 'undecorate' - to clear your home of all unnecessary items and store what you aren't currently using out of sight.

How To Simplify, #2: Focus On Quality.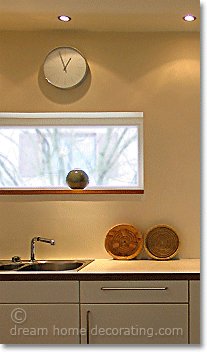 Zen Decorating:
Simple Kitchen in Germany

In true Zen interiors, every thing counts.
So keep only simple, useful, comfortable, high-quality items that are aesthetically pleasing.
This does not mean, of course, that Zen home decor has to be expensive: Zen decorating materials are natural and in plentiful supply.
Here's a selection of typical 'Zen materials':
♦   wood & natural fibers (e.g. rattan, wicker, straw)
♦   natural fabrics (e.g. wool, linen, cotton)
♦   non-precious metals, stone, and simple ceramics.

How To Simplify, #3: Decorate Sparsely.
Choose carefully what you display in your home. You will see it every day, and it will influence your thoughts and feelings more than you may think.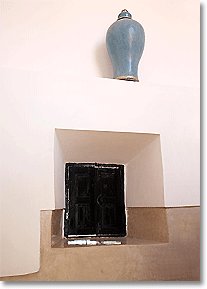 Zen Aesthetic   (© J.Laceda)
Display things so they enhance each other instead of competing.
A great trick for displaying Zen decor is contrast:
♦   Rough/smooth (e.g., a raw woven basket against a polished wall, glazed ceramics against unifinished wood or rough pebbles);
♦   Intricate/plain (e.g., a highly patterned or textured artefact against a flat/solid-color background);
♦   Interesting shapes / basic geometrics (e.g., a rounded vase in a rectangular window).
Zen Decorating: Nature & Art

Tassajara Zen Mountain Center
(Ventana Wilderness, CA, USA)
Guest Cabin © Henry Rabinowitz

The Oneness of All is one of the basic tenets of Buddhism, and the whole point of Zen is to realize this Oneness through spiritual practice.
In other words, Zen is not actually about home decorating. But there are ways to express the essence  of Zen in home decorating. For example:
Celebrate nature - its colors, shapes and textures - through your choice of Zen decor and furniture.

'Sunken' Zen Rock Garden
Tokyo (Japan) © George Olcott
♦   Use natural materials as much as possible:
    ◊   oiled/waxed wood;
    ◊   basketry;
    ◊   ceramics;
    ◊   simple textiles.
♦   Keep an unfussy plant if this works for you. If you don't have outside space, consider a window box or some indoor planters.
♦   An indoor fountain
is another great way to soothe your spirit and connect you to the natural world. Go for a simple look, e.g. water bubbling out of a large pebble - the sound is incredibly pure and calming.
♦   Alternatively (or in addition), use wall art to keep the natural world present: a sweeping land-, sea-, or cloudscape, an (abstract) image of clear water or of rocks, blossoms, fruit or foliage. Here are some examples:
If you want a Japanese element in your home, you basically have two basic stylistic options. The first one is calligraphy.
I have found very few high-quality, large-scale prints of Japanese Zen  art (two are included in the carousel below). But pictured left is a book with lots of smaller sized examples.
The book is also an excellent introduction to the essence of Japanese Zen art as it has developed through the past 400+ centuries. (If you like the pictures, be ruthless: cut a few out of the book, frame them and group them on an otherwise empty wall).

For the second option, antique Japanese woodblock prints are widely available in large poster formats. (This is not Japanese Zen  art, though!)  Here's a selection from some of the greats: Katsushika Hokusai
(1760-1849) and Utagawa Hiroshige
(1797-1858) are two of the most well-known artists of the Edo period, shortly before Japan opened to the West in 1867.

Instead of photography or Japanese imagery, you could of course try abstract art as Zen decor for your walls. For example, Mark Rothko (1903-1970) is best known for his later work, large canvases that have a vibrant, luminous, and subtly spiritual quality:

Zen Aesthetic:
Erieau, Lake Erie, Ontario, Canada.
© Jennifer Squires Ross
What NOT  to do
in Zen decorating:
Do not scatter lots of small items around your home, even if they're beautiful finds from nature like pebbles, shells, driftwood, etc.
Instead, collect them into well-defined clusters, e.g. in a bowl, on a tray or plate.
There's a fine line between lots of lovely small things and just plain old clutter. Too much of either will distract your attention and annoy your spirit.
Zen Decorating: Color Schemes
The best color schemes for Zen home decor are built on a foundation of neutrals. (Download my free e-book for more information about neutral colors!)
Some rules of thumb for Zen decorating in color:
Avoid highly saturate colors in Zen decorating. Instead, use muted, natural palettes: earthy and/or watery colors with a high content of gray, brown, or black. (Here are some examples!)
Avoid large pattern, too (e.g. large-scale florals) - visually, it's clutter.
Here are three examples of 'Zen color palettes':

1. Zen Monastery In The USA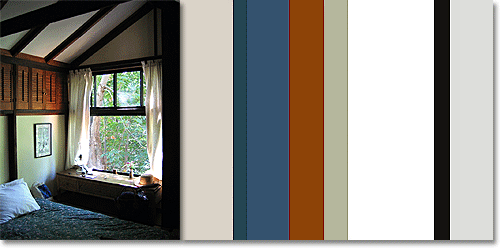 Tassajara Zen Mountain Center, Ventana Wilderness, CA (USA)   © earthw.
Tassajara was the first Zen monastery outside Asia. Founded in 1967 by Shunryu Suzuki (author of Zen Mind, Beginner's Mind
and Not Always So
), Tassajara embodies the spirit of Zen in a Western setting. (The photo shows one of the guest rooms.)
2. Frank Lloyd Wright's Pope-Leighey House: Small Kitchen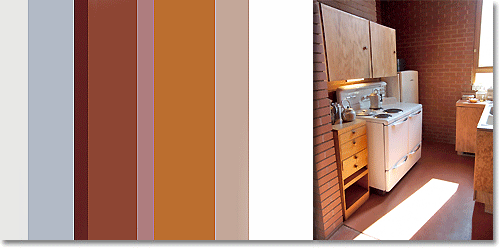 Kitchen, Pope-Leighey House, Alexandria, VA (USA)   © cliff1066
What does Frank Lloyd Wright (1867-1959) have to do with Zen decorating? On the surface, not much. But his work was greatly influenced by a Japanese aesthetic (he lived and worked in Japan part-time between 1917 and 1923). And while he isn't known to have studied Zen, he did proclaim that architecture, art and religion are joint spiritual expressions of the 'Light' of humanity. (That's close enough in my book :-)
The photo shows a small, state-of-the-art kitchen of the 1940s. The space is reduced to essential elements, with a color scheme dominated by warm muted reds and browns (the concrete floor is painted in Wright's signature color, Cherokee red). The earth tones are balanced by brilliant white appliances and the 'industrial', cool metal colors of the cookware.  (More color schemes like this one here.)
3. Living Room In Muted Colors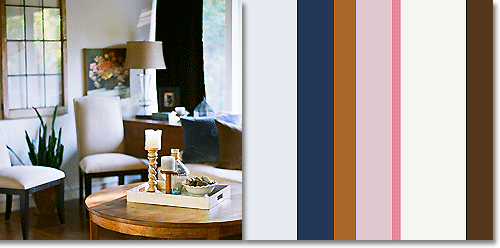 Simple Modern Living Room (USA)   © Jen Badalamenti
This room pushes the limits of Zen decorating - you could simplify the space further by taking a few accessories out of the picture. But the color scheme is infused with calm neutrals and clean simple lines; the photo portrays a general mood of serenity.  (More color schemes like this one here.)
Zen Furniture
When it comes to Zen furniture, the philosophy could be summed up like this:
Have no furniture in your home that you don't need,
but make sure what you do have
is simple, comfortable  and beautiful.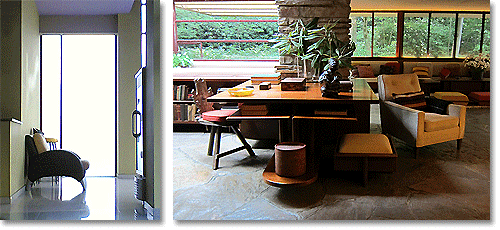 Zen decorating: Furniture
Left: © Eo Kuro;  Right: Frank Lloyd Wright, Fallingwater, Mill Run, PA (USA) © Wally Gobetz

There is no rule book that prescribes a particular furniture style for Zen decorating, but some styles definitely work better for Zen furniture than others.
(Page in preparation!)   In the meantime, a few ...
... Rules of Thumb
for a serene, spacious, clear 'Zen' look:
Built-in, minimalist storage is essential for a clutter-free look.
Frilly, undulating lines are best avoided.
Multi-functional furniture is perfect for Zen interiors.
Avoid anything that screams for attention, and
Don't feel you need a 'Japanese'  look for it to be 'Zen furniture'. Because you really don't :-)
More Zen Interior Design (Click A Pic):
Zen Decorating Bookshop
If you would like to add a traditional Japanese touch to your home, check out this mini bookshop (in partnership with Amazon):

For non-Japanese Zen decorating ideas, you can't go wrong with books from this collection:
Yet to find the information you're looking for?
Type a word or phrase into the search box below: