Home

›
Zen Design
› Asian Bedroom Ideas
Asian Theme Bedroom Decorating Ideas:
3 Essential Elements From 6 Countries
The Asian theme bedroom ideas on this page are from China, Laos, Thailand, Indonesia and Malaysia. (I've also snuck in a few pics of Fiji  ;-)   For Japanese inspired bedrooms, click here!
Asian Theme Bedroom Element #1:
Net Canopies

Mosquito netting in Fiji.  © Bell & Jeff

Mosquito netting is a bare necessity in many parts of Asia, but the thought of going to sleep under a dreamy cloud of translucent white has many Westerners hooked, too!
You can turn even the most pedestrian bedstead into a gloriously poetic space by installing a white net canopy over it. The possibilities are endless, from sculptural, easy elegance to a regal, 'princess' look.

Mosquito net canopy draped over a wooden trellis, Laos.  © luang say

However, there's no need to go for fanciful or elaborate constructions. The simplest way to have a gauzy canopy is to buy a simple mosquito net that hangs from a single hook in the ceiling.
You could also consider dyeing your canopy to match your bedroom color scheme: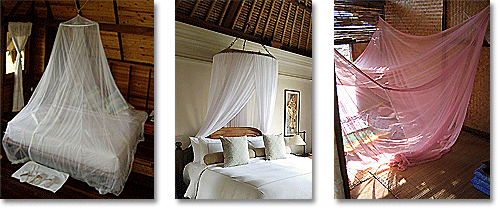 Simple mosquito net canopies in Thailand and Indonesia.
© David Corcoran (left); Ting Cheng (center); Earthw. (right).
Asian Theme Bedroom Element #2:
Authentic Asian Fabrics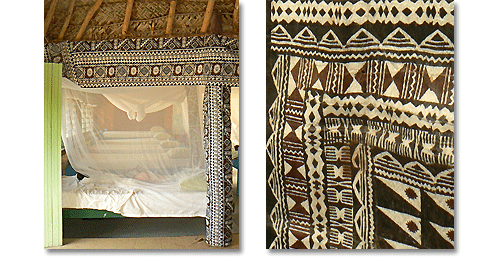 Bark cloth bedroom decor in Fiji (South Pacific).  Close-up view to the right.
Note how the canopy pillars (= tree trunks) are wrapped in the cloth as well!
© Matt Westoby
The above isn't a 'zen bedroom' by any stretch of the imagination, but the pure white beds and white netting exude a calm, ethereal beauty. Intricate patterns take center stage when the colors are strictly neutral.

Once you add strong color into the mix, you get a very different vibe: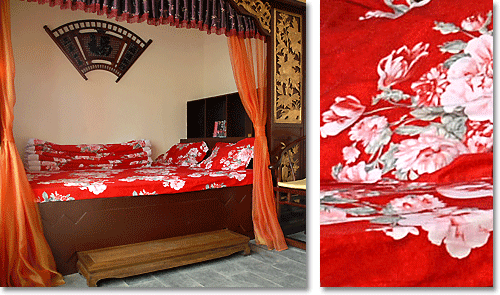 Traditional Chinese bedroom in Beijing.  © Malcolm Browne
Red bedrooms are not for the faint-hearted, and this Chinese bedroom is no exception. In general, Chinese bedding tends towards more intense, vivid color schemes than, say, traditional fabrics in neighboring Japan.


Japanese sashiko stitching on indigo dyed hemp/cotton.  © Mary Harrsch
Use original fabrics from Asian regions to re-create an authentic look and feel for your Asian theme bedroom:
Batik from Indonesia, Malaysia, Thailand, Azerbaijan or China;
Ikat weaves from India, Japan, Uzbekistan and all over South-East Asia;
Patchwork & quilts from Laos, China, Pakistan, India & Bangladesh;
Block printed, hand painted and tie-dyed fabrics from India, Korea, Japan;
Embroidery from practically everywhere, with typical techniques, colors, pattern and imagery according to each region.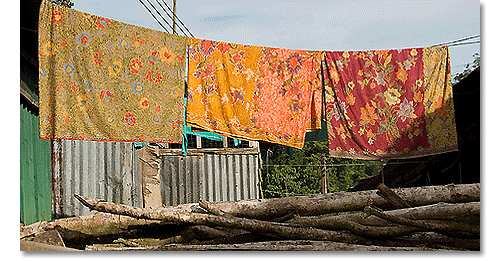 Colorful batik fabrics in Malaysia.  © Jess Cheng
Asian Theme Bedroom, Element #3:
Wall Murals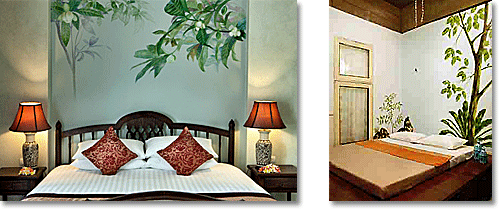 Painted wall murals in Thailand.  © ping nakara (left); Hanumann (right)
Exotic foliage, blossoms and fruits on your bedroom wall evoke a luxurious paradise in faraway lands ... complement the look with elegant fabrics like raw silk or fine cotton damask (with a high thread count)!
Related Pages (Click A Pic):
Yet to find the information you're looking for?
Type a word or phrase into the search box below: