Home

›
Bedroom Colors
› Red
Red Bedrooms,
From Country To Castle
Red bedrooms are not for the faint-hearted. They are exciting and highly energizing.

Romantic red bedroom in Jaisalmer, India.  © killa bhawan

If you're looking for bedroom color ideas that will get a lot of attention, the color red is your perfect candidate, and you'll find there are loads of gorgeous color palettes with red to choose from.
When you're (re-)decorating, hold off on the bedroom wall colors as long as you can.

There's always a bigger choice of paints than of fabrics, carpets & furniture.

The Power Of Red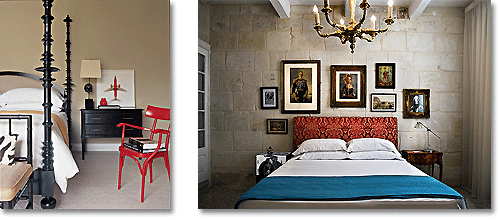 Red detail in neutral bedroom color schemes.
© Burnham Design, USA (left), Maison La Vallette, Sicily, Italy (right)

Even if you use red only for bedroom accent  colors, this color will dominate any palette of colors for the bedroom.  The more saturate a red tone, the more eye-catching it is, and the more powerful are its psychological effects.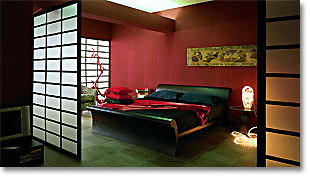 Red bedroom paint color & accessories. © Mazzali

Therefore, bright red is a great color for details you want noticed ...
... a piece of furniture with great bones, an attractive line, or a few rather gorgeous accessories.
However, when it comes to red walls  for bedrooms, opinions are divided. Some people love it, some run away screaming!  Red is an 'advancing' color, and it can feel claustrophobic in a bedroom.

Bright red colors for the bedroom, France.  © la maison sur la sorgue

So before you start painting, you may want to test the waters (or rather, your nervous system) and find out how much red in the bedroom you can personally handle.
Rule of Thumb:

A little bit of red goes a long way!  If you're unsure how red-painted bedrooms agree with you, try the color out in limited amounts first.
Red Bedrooms, European Country Edition

Red bedspreads instead of red walls.  © Yew Tree House (left), Roberto Ferrito (right)

Red bedroom walls  are rare in traditional European country homes. But red quilts (as well as red-and-white checked or embroidered bedlinen) have been bedroom staples in my part of the world for centuries.
(A red quilt can look great on the wall, too, particularly when you use it in place of a headboard for a bold, dramatic statement.)

Now, clearly the following bedroom doesn't qualify as 'red', but I love the idea of defining a white bedroom by adding just one  color - in this case, the wonderful red toile de Jouy pillows:

Red pillows: color accent for an atmospheric
white country bedroom in Sweden.  © sköna hem
Red Bedrooms, Castle  Edition

Red bedroom color scheme in the castle of Versailles, France. © Bentley Smith

Pattern  is a nice way to dial down the power of red color. It gives you a 'red bedroom' without the claustrophobia of all-out red walls.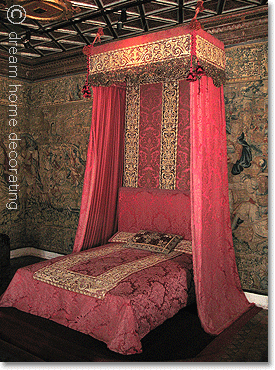 Red half-tester bed in the castle of
Chenonceau, Loire Valley (France)
Above is a gorgeous historic example from Versailles, in cherry red & pale gold.
Note how light and airy the room looks, while retaining all of its royal grandeur - the combination of red and gold almost always guarantees an aristocratic look!

Silk damask or velvet are the natural fabrics of choice if you want to (re-)create a regal Old-World bedroom.
In this imposing bedchamber at Chenonceau castle in France (right), red damask bed textiles were emblazoned with gold-thread embroidery.

Here is another fine example of aristocratic bedroom elegance: A Venetian bedroom in red, green & gold that is now at the Met Museum in New York.

Venetian bedroom in red, green & gold (detail),
© Metropolitan Museum of Art, New York, NY (USA)

You could create a toned-down version of all this lavish opulence by using a giltwood headboard frame, upholstered in red silk or velvet, complemented with a quilt of the same fabric and plain walls painted green (in a matt finish). Hang a cluster of giltwood frames for an added layer of luxury.

For a more low-key, contemporary version of the 'castle look', check out this red & silver  bedroom color scheme from England:

Bedroom color scheme in silver, red and fuchsia pink. © Chalon Handmade

Also, note how cold  some reds can look!  Many people assume that red is always a 'warm color', but that isn't true at all. (When you look at the four-primary color wheel, you can see how every color has a warm and a cool side.)
Red Bedrooms: The Fun Part

'Retro red' bedrooms look great with green & yellow accents (left, © sköna hem)
or with a clean white background (right, © vt wonen).

Red is a wonderfully life-affirming color, and it goes well with other 'happy' colors. These two red-based bedrooms in Sweden (left) and Holland (right) are abuzz with clear-cut pattern and lovely bright, upbeat color schemes.
Accent Colors For Red Bedrooms

'Venetian bedroom' in red, green & gold (detail).
Metropolitan Museum, New York (USA)  © allison hope nichols
More Color & Paint Ideas For Red Bedrooms
(Click A Pic):
Mini Bookshops (In Partnership With Amazon)
a) Bedroom Inspiration:
b) Color In Interior Design:
c) Color Wheel Charts:
Yet to find the information you're looking for?
Type a word or phrase into the search box below: