Home

›
Room Color Schemes
› How To Use Color Ideas In Your Home
Interior Paint Color Ideas
Paint color ideas for great color combinations are listed here.
This  page shows you how to ...
1. find new, inspiring paint color ideas, and

2.
how to
translate
these ideas into room color schemes that work.

Read on below for the details!
Getting Inspired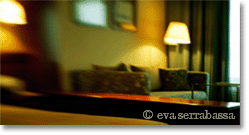 There are two major ways to find paint color inspiration. I suggest you try them both. They work even better in combination.
A) Collect Systematically
Start with the most promising places with the richest yield-per-minute of decorating ideas and color inspiration:
Interior decorating books (there's a 'carousel' of suggestions at the bottom of this page.)
Interior decoratig magazines, and
the Internet, particularly hotel websites (more about that below).
If you're planning a thorough trawl, you could end up spending a lot of money on books and magazines, so check your local library first. You don't need up-to-the-minute glossies to get good, useful color information, at least not at this stage.
However, it's a good idea to collect photos of decorating ideas and color inspiration as you come across them. A digital camera would be perfect for this. I've snapped magazines, shop windows, hotel rooms (see below) - any good (color) decorating ideas that struck me as noteworthy at the time. (You can always delete it later.) Think of it as an ideas diary.
Once you've exhausted the library, look further afield - here's a full list of things and places to research for color decorating ideas!




Find interior paint color ideas in unexpected places!
(Read on below & learn how to turn them into decorating color schemes.)


B) Notice Your Own Response To Color, Anywhere
Keep your antennae out for color schemes all around you, and notice how particular colors make you feel - Happy?  Heavy?  At home?   Alive?   Relaxed?  Depressed?  The most promising places for practicing this are:
Model homes (and real people's homes),
Restaurants or cafés with good interior design, and
Boutique hotels.
To save money on hotel rates, have a look around travel websites for images of great hotels and B&Bs. These places are often at the cutting edge of decorating ideas and color design.
Apart from these virtual holiday trips, nothing beats experiencing real color in a real-life environment. Nothing can sharpen your senses more effectively to the kind of interior paint color ideas you like and the ones you find so-so, uninspiring, or downright awful.
Here's an article to support you with that: A step-by-step instruction for choosing paint colors, it takes you through the process from brainstorming color ideas for your home to shortlisting your actual paint color ideas.

(Return to Top)

From Paint Color Ideas
To Finished Rooms
The great thing about interior paint color ideas is that they are relatively inexpensive to carry out: a tub of paint comes at a fraction of the cost of a New York loft or a Tuscan farmhouse!
At the same time, painting the walls may not always be enough to create a room you love. So here, we're going to look at decorating ideas and color inspiration within a slightly wider scope (and larger budget): we're going to include a rug, accessories, and occasionally curtains as well.
So ...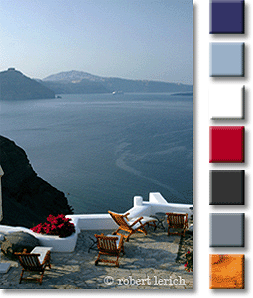 ... imagine you've just returned from a trip to a Greek island.
Here's one of your prized shots - the view from your hotel window across the Aegean Sea!
Now let's assume that this view has inspired you with some color decorating ideas for your home.
Your living-room is currently decorated in neutral colors.
You're planning to keep your sofas, your coffee table, and your curtains.
However, you want a new wall color, as well as a new rug, a few sofa cushions, and a new picture on the wall.
Here's what your NYC living room might look like after the makeover: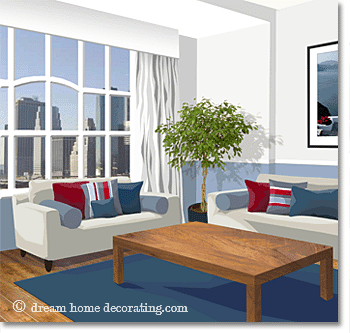 "Greek" Color Ideas For Your Home
Notice how the proportion of color has changed - even though the picture is mostly blue, you don't want this amount of blue in your living-room: it would look like an aquarium.
By the same token, the red accents shouldn't take up a lot of visual space because red is a dominant, 'advancing' color. (If we'd put in a red carpet, for example, it would have thrown the whole color scheme out of whack.)


So, that was the first example.
Next, let's assume your best friend has just returned from Portugal. In a street market, she shot this glorious mouthwatering pic of ripe peaches (not true - in reality, this is one of Luc Gillet's photos - we're just pretending!)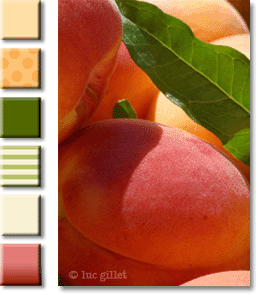 Ah, yum.
Let's go all peaches and cream with this one.
For comparison purposes, let's use the same room as before, the one with the sensational views.
Most things will remain the same - the flooring, the couches, the coffee table, and the chair rail.
Curtains can be expensive, too, so if we can get away without having new ones made, so much the better.
Just like we did with the "Greek Island" room, all we're going to change is the wall colors, the rug, the picture, and the sofa cushions. Of course, there are many ways to 'do' this color scheme, and the effect would be different every time.
The version below is quite full-on, and you can probably imagine a pastel-colored version of this room, or a version where the colors are more grayed and subdued. However, this time ...
... we've created a room where it's summer all year round: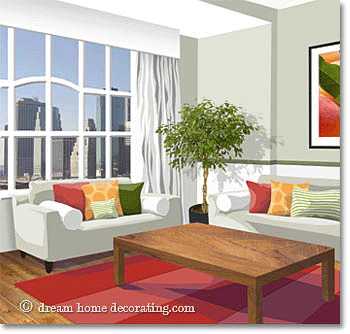 "Peaches And Cream" Color Decorating Ideas
Notice how the wall color above the chair rail is a rather grayish sage geen? If it were any more vivid and saturate, we would have ended up with a very 'citrussy' room. So the green really needed a lot of gray in it to tone down the juiciness of the deep pink and apricot colors.


Next (and last), let's tackle a room in almost-neutrals.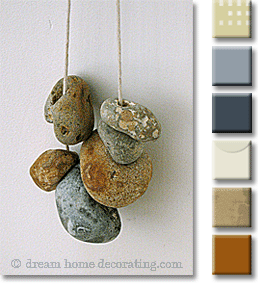 Many people think that neutrals are the easiest colors to decorate with, but that's not true.
They are pretty much just as easy or difficult as the 'real' colors that appear on the color wheel.
In the image to the left, you can see that these pebbles actually contain considerable amounts of color.
However, when you look at the color swatches I think it's obvious that they don't provide enough 'oomph' for decent color decorating ideas - maybe not even enough for paint color ideas.
As they are, the pebbles suggest a very muted, orange/blue complementary color scheme, with maybe a background of warm, slightly greenish gray and chalky beige. (The warm gray will prevent the color scheme from getting too cool for comfort.)
Let's play up the complementary contrast a bit, and see what we get! (This time, we'll have to include new, darker curtains in the budget as well.)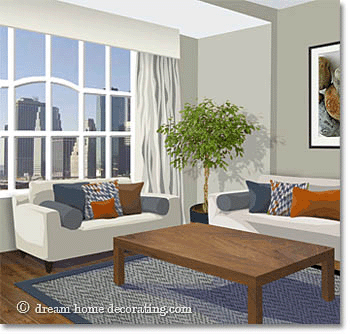 "Beach Pebbles" Color Decorating Ideas
With this room, the interesting part isn't really the wall color ideas, it's mostly the textiles with their combination of texture, color, and pattern.
Now, I'm sure you can think of at least 10 alternative decorating ideas and color combinations that would go with this entirely neutral wall color scheme, the sofas, and the wooden flooring ... there, that's versatile neutrals for you!


To Recap ...
Collect interior paint color ideas and examples wherever you can find them: Books, mags, interior decorating catalogs, shops ... anything with inspiring color ideas for your home.
Keep a camera about you to record any good color decorating ideas you come across.
Notice how colors affect you. The more you pay attention to this, the more you will notice.
Look for basic decorating staples, like seating, in neutral colors - this gives you the most scope for decorating your home, and you can really go to town with interior paint color ideas.
Play around and test your decorating ideas and color candidates under a lot of different light sources. Keep going until you really like the results!
Enjoy ... !
(Return to Top)


One Room - 3 Interior Paint Color Ideas
Check out this little "library" for more paint color ideas:
(Return to Top)
Yet to find the information you're looking for?
Type a word or phrase into the search box below: