French Country Living Room:
Ideas To Steal From Southern France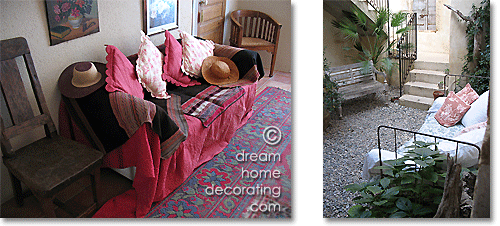 French country living room ideas: French living style, indoors & outdoors.

A French country living room is never slick and polished.
Southern French living rooms have a distinctly earthy feel, a rough edge with a nonchalant touch of elegance.
Here are some gorgeous ideas to steal from authentic French living rooms!

Furniture For A French Country Living Room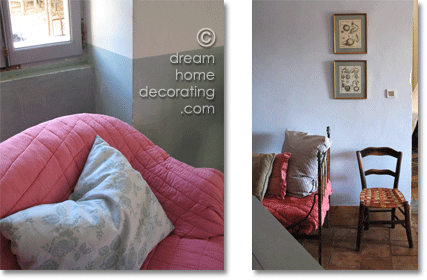 French style living room furniture: Sofa, day bed & ladderback chair.

Apart from a traditional Provençal rush-seated ladderback settee (very popular in older French country interiors), the main ingredients of rustic French living rooms are these:
sofa (contemporary or antique, it doesn't matter),
vintage(-looking) metal daybed and/or
wooden chairs, generally with woven straw seats, as well as
a low-key coffee table of some kind.
Add to that a few plain quilts and some toile de Jouy  cushions, and you're pretty much done! Here's a Southern French farmhouse living room: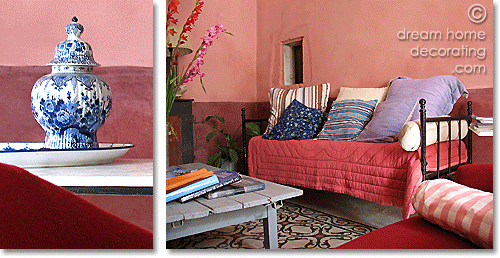 French farmhouse living room in pink, red, and bluish grey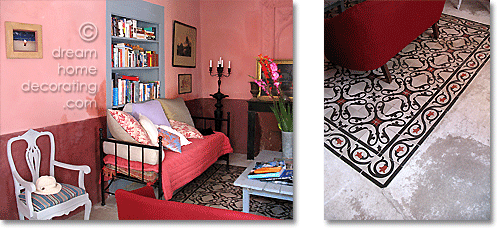 Note how the luxurious touches - the elegant porcelain, the antique candelabra and the vintage etchings - contrast with the rough wooden coffee table, the undulating walls and the raw concrete flooring with inlaid colored-cement tiles.
The textiles are a mix of vintage and contemporary, simple geometrics plus a bit of toile. (For more info & inspiration about authentic French country fabrics, check out this richly illustrated interview with a French specialist textiles dealer!)
And in case you're wondering about the dominance of pink in this room - it's definitely a favorite color in French interior decorating! However, it's not the only one, as the following photos of rustic French living rooms show:

Seriously Rustic French Living Rooms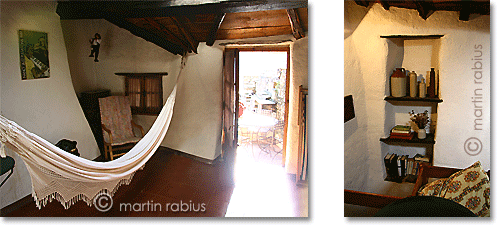 Antique, rustic French living room with a hammock and built-in shelving

Just like authentic Tuscan living rooms, their French counterparts tend to have open-beam ceilings and terra cotta flooring.
The walls are often just rendered and whitewashed, so there is not much vibrant color in there!
However, Provençal textiles are beautifully colorful, and they perfectly complement these low-key, rustic interiors.
Alternatively, you could keep the look understated by using a mix of vintage French ticking and velvet, as it was done in this gorgeous 'cubbyhole' seating: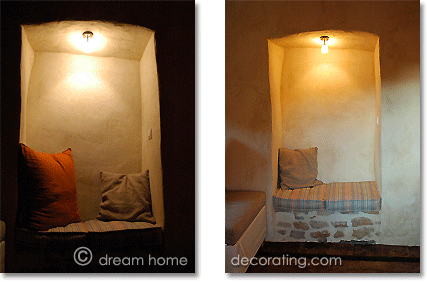 Rustic seating 'nook' in a French farmhouse living room

Neutrals-plus-red are a perfect fit for French country decorating; red accents invigorate the laid-back neutrals and add up to a warm, welcoming color scheme.
Here is an example from a newly restored, double-height farm outbuilding in Southern France: ticking, raw linen and velvet were used to add visual and tactile interest to this modern-day French country living room (it's one of my favorite spaces ever. That is why you, ahem, get to see it on every page :-)

Modern rustic living room in a restored French farmhouse building
Related Pages:
Yet to find the information you're looking for?
Type a word or phrase into the search box below: